Jamaica Culture-2

Beliefs, Behaviour, Families 
Jamaica Culture-2 -  Beliefs
Jamaica culture-2:  Belief is a fundamental part of culture. Whether it is religion or superstitions, these are very much part of Jamaica's culture. When it comes to religious practices, Jamaica has more churches per square mile than any other country in the world.
While a high percentage of Jamaica people consider themselves Christians, all are not necessarily church goers but will attend on special occasions such as funerals, weddings and christening.
For those Jamaicans who are ardent church goers, these are predominantly followers of Christianity.
| | |
| --- | --- |
| | Apart from traditional churches, there are several other denominations in Jamaica; you will find synagogues, mosques and temples etc serving the minority of Jamaicans who practice other faiths. |
Craft Vendor
Jamaica Culture-2 -  Social Behaviour
Jamaican's behave in accordance with their socialisation. Socialisation varies slightly depending on what area of Jamaica you are. If in Kingston, there is the mix of uptown and downtown behavioural differences. If you are in rural Jamaica, cultural behaviour is also markedly different.

Click here for Jamaica pictures
Jamaicans on the whole love to laugh and have fun, love to win, love sports and coming first in everything.

Being number two is not good enough...part of the reason why Jamaicans do so well at sports for example, is the fierce desire to win.

Jamaica culture-2: They know very well that among their peers only winning matters – coming second is easily forgotten!
| | |
| --- | --- |
| | Jamaicans love a great party and wherever the music is you will find a crowd. You don't have to go far in Jamaica to hear reggae music blazing in the air or in the background. |
Jamaicans are strong and determined people, if they are ambitious and get a break, they will not waste it. They will reach for the stars and touch them.
Jamaica Culture-2 - Families and Lifestyle 
Jamaicans are very family orientated and this strongly includes the extended family members. Most Kingstonians originate from a parish outside Kingston - loosely referred to as "country"
In Kingston it's not "which parish are you from" it's "which country" - as anywhere outside Kingston is considered "country". It took me a while to get used to this when I first came back to Jamaica.
Jamaica culture-2:  Although living in Kingston, Jamaicans often have family members in other parishes. As a child in Kingston, it is great fun on school holidays to go and stay with your aunt or grandparents in the country.
Often the relatives in the country raise the child while parent/s are working elsewhere. Extended families are very much involved with the immediate families in Jamaica and an important part of Jamaican culture... I know…I was raised by my grandparents in the country during my formative years – the best years of my childhood!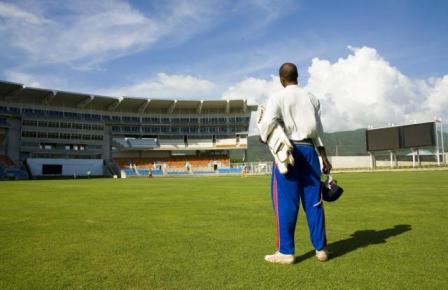 Sabina Park Cricket Grounds Kingston Jamica

Jamaica Culture-2 - Education and Travel Culture
Jamaicans are avid travellers, while the population of Jamaica is 2.8 million today; there are millions of Jamaicans worldwide. Jamaicans travel abroad to study/complete their tertiary education or to work for an improved lifestyle, with the aim to work abroad for a short while before returning home.
Jamaica culture-2: The majority stay longer than planned as they find themselves establishing new lifestyles, creating own families and a change of plans with new families to support and raise.
Having gone the course raised their families in their adopted countries, at retirement many return home to Jamaica to their island in the sun.
Jamaican Culture-2 - Music
Jamaica is home for reggae music and the majority of international reggae artists originate from the Jamaican culture. Home is where the heart is and for most Jamaicans home or abroad, they will tell you that "there is nowhere better than yard!"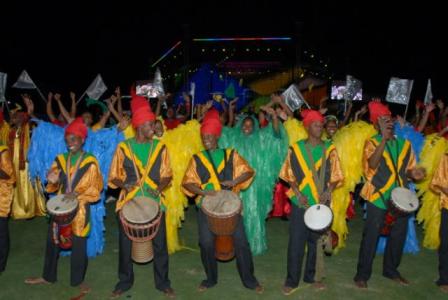 Jamaican cultural musicians
 Music is deep in the Jamaican culture and wherever in the world you find Jamaicans, music is one step away.

Jamaicans love, their music cricket, athletics and football but if I had to choose one, I think Jamaica music culture would win every time. Jamaica – no problem! 
Jamaican Culture-2  - Language
Jamaica is English speaking and all Jamaicans speak and understand English.  However, there is also another language/dialect (known as "Jamaican patois" – pronounced patwah) spoken by Jamaicans and understood by all local Jamaicans but can be very challenging for the visitor to grasp at times.   

This is not a problem to visitors as Jamaicans are very adept at switching to Standard English when the need arises.  For the most part if you are a visitor and your English is clear or reasonably clear, Jamaicans are able to understand and interact with you.
Jamaican Culture-2 - Accents
Accents in Jamaica differ depending on where on the island you are.    For example an uptown Kingston accent is distinctly different from that of a native of Montego Bay.  I have found that the people are not often aware of it but like anywhere else, accents vary depending on the region or areas.
Even some words used to mean the same thing are used differently in certain communities.  Some Jamaican accents are clearer than others but as it relates to clarity, a well spoken English speaking Jamaican pronounces and speaks English with a precision that is a pleasure to listen to.
Jamaican Culture-2 - Speech
Speech - I have also found that the speed at which Jamaicans speak varies.  I often have to ask some speakers to slow down in order that I can decipher and understand what they are saying.  On radio talk shows, I also hear talk show hosts asking some callers to slow down so that others listening may be able to understand clearly.
If a local Jamaican does not feel sufficiently confident about their ability to converse in what is locally known as "standard English", you might find that they are hesitant in conversing or they will speak the way they know how and you might have a problem understanding. 

Jamaican Culture-2 -   Schools
School uniforms are mandatory in Jamaica's schools – wherever you are in the island the vibrant colours of the schoolgirls' uniforms identifies them and their schools.

Schoolboys predominantly wear full khaki with the exception of a few institutions where boys wear a different colour shirt with khaki pants. 

Uniforms are an important symbol of the Jamaican school culture below tertiary level.  The past student network is very strong in Jamaica.

Jamaican Culture-2  - Working Environment


In corporate Jamaica you are expected to be "properly attired for the office" which means uniforms for staff members and formal office wear for management level.  The company  such as banks provides the uniforms for the staff with and an allowance for accessories.  

Corporate Jamaica's office environments are fully air conditioned and dress sense is formal…two piece attire or smart day dress for females.  The male dress code is long sleeve office colour shirts, with tie, smart pants and closed up shoes during office hours – Jacket or Blazer is optional.   

Executives will more often than not wear suits or  pants with shirt and tie with jacket or blazer close by...just in case... Read more on Jamaican Culture

Return from Jamaica Culture-2 to Jamaica
---
My Jamaica Blog keeps you up to date with news and reviews of the Best of Jamaica please subscribe below.  Thanks, see you again soon.
---