Jamaica Vacations

 Beautiful Caribbean Island In the Sun


Realise your Jamaica vacation expectations
View Larger Map
Jamaica Vacations - Does the thought of spending time in Jamaica fill you will wild anticipations?  Yes, well join the club!  The first time I visited Jamaica, I was so excited...I could not wait for the plane to land.  As I stepped out out of the aircraft, I felt the warmth of the sun embrace my legs. 
I smiled and took a deep breath as I walked down the steps to the tarmac at Norman Manley Intl Airport Kingston.  Even the ride to the hotel felt special. 
Explore Jamaica
Kingston was my destination but soon we were in Montego Bay.  Doctor's Cave was my first beach stop and it was just amazing.  It was my first experience of seeing so many scantily clad people outstretch on the beach enjoying the sun. 
After spending a couple of hours on the beach we went for a walk on the "hip strip" (Gloucester Avenue Montego Bay) checking out the various shops along the way.  
Soon we got tired and hungry and went in search of lunch.
We chose a small restaurant from the many on the "hip strip" and the ackee and saltfish was delish...yum yum!  The next day we were in Negril on seven mile beach; then Treasure Beach St Elizabeth; Dunn's River Falls Ocho Rios; Frenchman's Cove, Port Antonio…
And it went on like that until...before we knew it, 10 days had slipped away without notice.  A great time was had by all and off we went back to the airport for home but to return real soon.
That was some years ago and  the infrastructure of Jamaica has improved considerably over time.  We have better roads; Highway 2000; more vacation rooms, more activities, more places of interest, attracting more visitors.
Find the best attractions in Saint Elizabeth here
Jamaica Vactions - Welcome
Jamaica is a much sought after vacation destination and this is your opportunity to discover some real Jamaica; prepare to have some fun.  I am still having fun!
In December 2013 Jamaica recorded its two-millionth stop over visitor for the year.  Be part of 2014's visitor stats.
Find the best Jamaica hotel deals, compare prices, and read what other say
Having lived in Jamaica for 20 years, I welcome you to our island in the sun. Allow me to introduce you to today's Jamaica and what it offers. Whether you are local or visiting as a group, with friends, family or single, Jamaica has something for everyone.    
Find the best Jamaica family hotels deals here

Jamaica Vacations - Getting Here
With international airports at Montego Bay and Kingston and three main cruise ship ports, Jamaica is readily accessible.  Montego Bay's Donald Sangster Intl Airport is the hub of several international airlines and the busiest airport in the region. Read more on flights to Jamaica
Fly direct to Montego Bay or Kingston or get a connecting flight from your nearest city.  Cruise Ship it into Jamaica via Ocho Rios, Falmouth and Montego Bay cruise ship ports. 
Having arrived if you want to move around Jamaica by air, internal carriers  and are available to whisk you off to your destination.    Read more on getting around Jamaica
Jamaica Vacations - Accommodation
Jamaica offers a wide variety of accommodation: 
All inclusive resorts with top shelf service
All inclusive packages
Kids friendly hotels/resorts
Small intimate family run hotels
Villa rentals and more…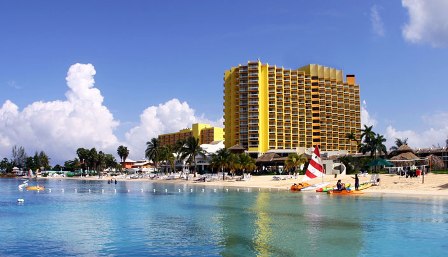 Sunset Jamaica Grande Ocho Rios
Things to do in Jamaica
Celebrate a special event - Looking to fill your vacation with things to do? – do as little as you like…or get as much in as you can.  Jamaica has activities to keep you going for several trips over!  So what are you planning to do in Jamaica?  Do you have a special occasion to celebrate? Read more here...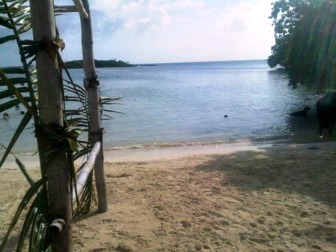 Half Moon Beach Negril
an anniversary 
a birthday 
a milestone or 
a beach wedding  
No problem! – Jamaica's best resorts have experts in handling such events – all you have to do is tell them what you want and turn up on the day.  They will do the work and ensure that you have a memorable occasion.  
 Jamaica Vacations - Out and About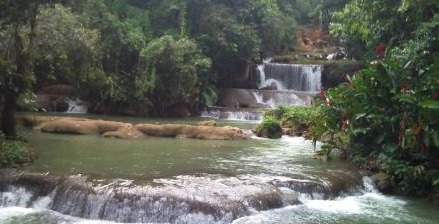 YS Falls St Elizabeth Jamaica
Get out and about Jamaica - do some sightseeing, parasailing, ziplining and more... 
Waterfalls 
Rivers
Historical sites
Cultural Events
Gulf Courses
Sunsets   
 Jamaica Vacations - Kids Entertainment 
No time for dull moments here.  Jamaica is very family oriented and kids friendly. Many facilities available for kids' entertainment such as water parks, zoos, bird sanctuaries, water parks and more…
Kids' friendly resorts have special facilities for children's activities and special foods prepared especially for kids.  If you are parents with toddlers, trained nannies are available at resorts for your assistance.
Eating in Jamaica
Food in Jamaica is easily accessible, whether at a restaurant, a cook shop on the corner, or a snack bar, try out the local cuisine. 
Be prepared to liven up your taste buds with Jamaican flavours some of which are totally irresistible.
Enjoy Jamaica's freshly prepared foods. 
Getting around in Jamaica 
Taxis, private buses and urban transport system operate in Jamaica.   Hail, or hire a cab; book a seat on a privately run air conditioned bus.  
If in Kingston you can hop on a town bus or hail a route taxi – a good way to meet the locals.  As a seasoned visitor you may choose to self drive.

Whichever you choose, do not leave your "street smarts" behind - get around Jamaica and discover your favourite spots.

 Jamaica Vacations - Currency to use in Jamaica
What currency to use?  The J$ and US$ dollars are accepted by all in Jamaica.   Small bills makes things easier - no change is given in US$ - strictly Jamaican.  
From my experience  in Jamaica taxi drivers are always short of change, so small bills are good to go.
Return from Jamaica Vacations to Jamaica
---
---
---
My Jamaica Blog keeps you up to date with news and reviews of the Best of Jamaica please subscribe below.  Thanks, see you again soon.
---