Jamaica Food 

Guaranteed to tantalise your taste buds 
For those of us who still cook at home, Jamaican food is prepared with love and the special herbs and seasonings that are readily available are added to create a flavour which is quintessentially Jamaican. The diverse mix of meal preparation stems from the rich mix of cultures that make up the  society.  
Free Winter Samples from QualityHealth!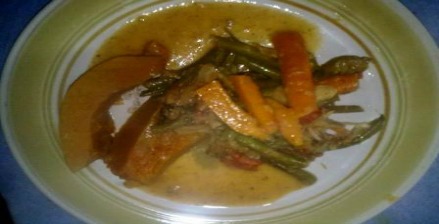 Steamed Mix Vegetables with pumpkin
Jacob Bromwell

Jamaica Food
Breakfasts are wide ranging from pretty simple snack to a full meal.  You may be spoiled for choice depending on your early morning eating habits.   What you get offered for breakfast in Jamaica will depend on where you are – hotel, restaurant or private home...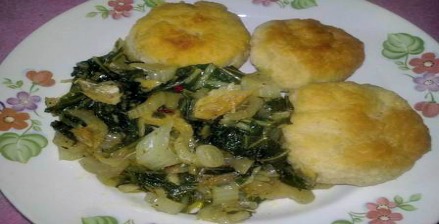 steamed veg with fried dumplings.
Find the best Kingston Restaurants here
Lunches –An average Jamaican lunch menu, will offer several dishes.  Most common on the menu will be chicken as almost everyone eats chicken.  Depending on the restaurant or cook shop, you may also be offered,  ackee and salt fish, seafood etc with a variety of side dishes such as rice and peas, boiled green banana and other ground provisions...   

Breadfruit - Although not indigenous to Jamaica, the Breadfruit is grown throughout Jamaica.  It originated from the Far East and was introduced and used in the Caribbean as a part of the staple diet on the plantations of the past...

Find the best restaurants in Trelawny Jamaica here
Jamaica Food 
Green Bananas can be found throughout the island but more so in eastern parishes such as St Mary and Portland with higher levels of rainfall. They also form an important part of the Island's food export market...

Find the best Restaurants in Montego Bay here
Plantain is closely related to the banana but the fruit of the plantain is often larger than the banana.  The Plantain also bears a smaller number of fingers per plant than the banana.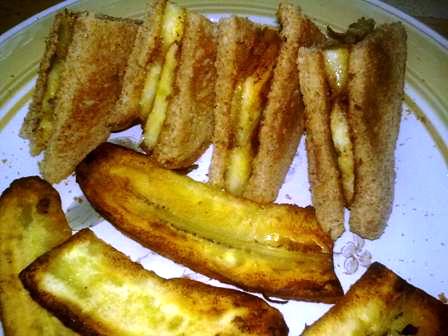 Fried ripe plantain sandwich
Mangoes are many in shapes sizes, aroma and tastes.  Some parishes have more than others and parishes such as Kingston, St Andrew and St Catherine seem to have year round mango crops.

Get 20% Off All KitchenAid Bakeware. Use Promo Code "BAKE20"
Patties are pastry pockets filled with pre-cooked fillings which can be beef, chicken, seafood or vegetables.  You can also get a cheese patty which is a beef and cheese filling.  Jamaican patties are a great pick-me-up snack. 

Free Winter Samples from QualityHealth!
Have A Great Jamaican Recipe?
Do you have a great Jamaican recipe? Share it!
My Jamaica Blog keeps you up to date with news and reviews of the Best of Jamaica please subscribe below.  Thanks, see you again soon.
---