Getting Around Jamaica

Taxis - Bus - Drive
Getting Around Jamaica - To get the most out of your Jamaica vacation, try getting out and about. The safety rules are the same as in any country. Leave your crown jewels at home and travel with small amounts of cash, preferably in small bills.
Find the best Jamaica Resorts here
US$ are readily accepted everywhere in Jamaica, so if you use US$,(the intl currency) smaller bills are more user friendly and more convenient.
The more well know intl credit cards, such as visa and master card are accepted in the majority of business outlets in Jamaica.  
| | |
| --- | --- |
| | Street smarts rule where ever you are, so just apply what you would do in unfamiliar places while you are out and about. |
Find the best vacation deal rentals in Ocho Rios/Runaway Bay, here
Don't allow 'potential sellers'  to spoil your day with their insistence to sell something, a polite no thanks is usually good enough.   for info on Jamaica tour operators

Getting around Jamaica - Driving
In Jamaica you drive on the left and vehicles are right-hand drive. The speed limit in built up areas is 50km per hour and on the open roads the maximum limit is 80km per hour.
On the toll road highways the maximum speed limit is 110km per hour.
Find the best Montego Bay Attractions here

By Taxis and Buses
Taxis and mini buses are the main mode of getting around Jamaica. All  official public passenger vehicles carry red PPV (public passenger vehicle) plates.
Air conditioned coaches and coaster buses can be booked for day trips; these will also display PPV red plates.
You will find (white plated) vehicles running taxis also...but these are licensed for private use only.

Jamaica Public Passenger Vehicles (PPVs)
Stick to the red plated PPV vehicles as they are  officially registered public passenger vehicles.
All PPVs  are licensed and regulated by the Jamaica Urban Transit Company (JUTC). and IDs and Registration are required to be displayed on the driver and in the Vehicle. 
JUTC Kingston Buses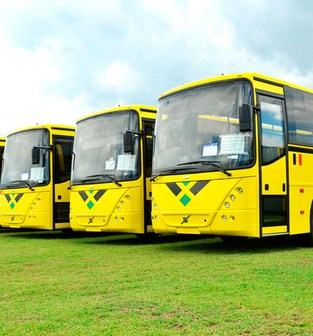 JUTC Kingston Buses
Find the best last minute Jamaica hotel deals
Local mini buses  connect villages and towns within parishes. Bus fares are cheap but they can become overcrowded at times. For long distance travel, it's not the best ride unless you are up to the challenge. If not, consider looking at alternative ways of getting around on your long distance explorations.

Getting Around Jamaica - Long Distance Road Travel
Comfortable long distance coach travel is also available for getting around Jamaica - Operators such as Knutsford Express, based in New Kingston St Andrew; offer several daily trips between Kingston and Montego Bay via the Jamaica's north coast and Kingston to Negril via the south coast. 
Check the time table for Knutsford Express on line and book…round trip in advance.   Relax and enjoy the view of the lush green country sides and the majestic undulating Jamaican mountains. Local tour operators also operate tour schedules to various Jamaica sightseeing tours.

Getting around Jamaica - By Car Rental
If you plan to rent a car and self drive to get around Jamaica the major car rental companies Island Car Rentals, Hertz and Avis have offices at both Jamaica main airports.
| | |
| --- | --- |
| | Alternatives such as Rhino Car Hire offers attractive discounted rates for Jamaica and many other countries. Book on line and pick-up your vehicle at Montego Bay or Kingston Jamaica airports.  Check rates here  Rhino Car Hire Rates  |
Car rental in Jamaica can be expensive, so shop around and get the best deal. You must have a valid driver's licence...be driving for at least a year and be between 23 and 75 yrs to hire a vehicle in Jamaica.
Find the best Kingston vacation rentals here

Island Car Rental Jamaica
Island Car Rentals' head office is at 17 Antigua Avenue Kingston 10 Jamaica. Rates vary depending on the size of the vehicle required and a refundable deposit is payable. Check their website for full details and conditions of hire.  They also have offices in both of Jamaica's main airports.  

If you decide to drive in Jamaica, book your rental cars in advance for pick up on arrival…it may work out cheaper as part of your Jamaica vacation package.
Ensure you 23+ yrs and have a valid drivers' licence and remember; drive on the left in Jamaica and vehicles are right hand drive. Be sure to check and note the visual condition of hired vehicles before you drive away.

Gas Stations
Gas stations are open daily but some, particularly in the rural areas, close between 7 and 10.00 pm. daily. J$ and US$ cash are accepted at all stations and credit cards at the majority. 

Currency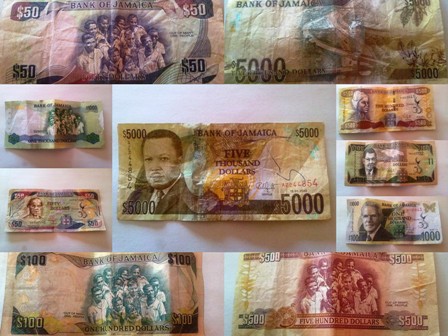 Jamaican Currency Notes
Currency – While US$ is acceptable and sometimes preferable in Jamaica, change will be in local dollars, and needless to say, exchange rates will vary.
So, ensure you have some J$ preferably in small bills before you get going on road. I recommend you use Jamaican dollars for cash purchases  and taxis on your Jamaica vacation…its better value for you.

Getting Around Jamaica - By Excursions
Jamaica's hotel resorts include sightseeing tours in your packages. Check when booking your vacation, or at the hotel desk on arrival to find out what excursions are included in your package. Customise your excursions in accordance with your interests.
Check out the independent operators and compare prices, they are often cheaper than the resort tours.
If you would like to climb Dunn's River Falls in Ocho Rios or visit Devon House in Kingston for lunch, check out the schedule of your Jamaica vacation resort tours...arrange a private tour or book a return trip on the Knutsford Express.   
If you are in Negril and want to take a trip to Devon House Kingston, the Knutsford Express is available - book directly on their website.
For the Black River safari or if you want to visit Jamaica's Treasure Beach, again chech out the Knutsford Express . Also Jamaica-tour.com  has  a list of available tours.

By Internal flights
Internal flight Travel -You can also get around Jamaica by air. There are at least four domestic airlines operating in Jamaica and they all have services between Sangster International Montego Bay and Tensen Pen Aerodrome Kingston; Ken Jones Aerodrome Portland; Boscobel Aerodrome, Ocho Rios and Negril Aerodrome.
Find the best Jamaica family hotels deals here
The carriers are:
Jamaica Air Shuttle – www.interairlink.net
International Airlink - www.jamaicaairshuttle.com
Skyair Airways – (876) 935 7102
Timair – www.timair.com – (876) 952 2516/977 1114

Getting around Jamaica - However you do it, getting out and about in Jamaica makes for a more memorable vacation.
Return from getting around Jamaica to Jamaica Travel
Return from getting around Jamaica to Jamaica Vacations

Favourite fun things to do in Jamaica
Share your favourite fun things to do in Jamaica and tell us the story behind them.
My Jamaica Blog keeps you up to date with news and reviews of the Best of Jamaica please subscribe below.  Thanks, see you again soon.
---