Jamaica Parishes

Explore Jamaica's Parishes

Jamaica Parishes are fourteen in total.  Each has its own personality and is unique in its own way.  To really appreciate and learn more about the island and its people, plan to get out and about and explore as many parishes as possible. 
Meet the people and learn about what their parish has to offer.  Jamaicans all have a special fondness for their parish of birth and they are more than happy to enlighten you on what their parish has to offer.
View Larger Map
Jamaica Parishes and sizes
Hanover         451.15 sq.km
St James        592.28 sq.km
Trelawny        874.62 sq.km
St Ann           1210.28 sq.km
St Mary           610.44 sq.km
Portland          815.06 sq.km
St Thomas       742.48 sq.km

Source STATIN Jamaica.  

St Andrew          432.9 sq.km
Kingston           22.66 sq.km
St Catherine     1197.2 sq.km
Clarendon       1195.59 sq.km
Manchester      829.01 sq.km
St Elizabeth    1205.67 sq.km
Westmoreland  789.54 sq.km



| | |
| --- | --- |
| | The well known coastal parishes are more familiar to the vacationer whose focus is on great beaches and water sports activities. |
Jamaica Parishes 
If you are not yet ready to self-drive in Jamaica, hire a vehicle with driver from within the particular parish to take you around and enjoy the tour.  
Your driver will be able to go home at nights, get a good night's sleep and be fresh to pick you up next morning – start each day with a well rested driver and no extra expense to you!
Find the best Jamaica Hotel deals

Saint Andrew 
St Andrew parish Jamaica is 432.9 sq km. Kingston is 22.66 sq km.  These two parishes were amalgamated in 1923 to form the Kingston and St Andrew Corporation and the joint population as at end of year 2012 was 666,041.  Source STATIN Jamaica Read more on St Andrew here
Westmoreland
Westmoreland is very attractive parish on the coastal low lands and unspoilt on the higher grounds.  Savanna-la-mar is the capital, and Negril further west is its main tourist resort with beautiful aqua marine Jamaican shores and pristine soft white sand beaches. 
| | |
| --- | --- |
| | Bordered by Hanover to the north, St James to the east with St Elizabeth to the south, Westmoreland is 789.54 sq km with a population as at end of year 2012 of 144,817.  Source STATIN Jamaica.  Read more on Westmoreland  |
Find the best Jamaica family hotels deals here
St Catherine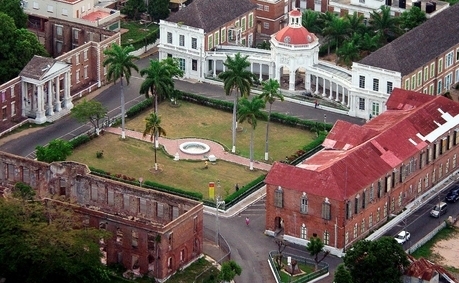 Emancipation Square Spanish Town St Catherine - pic courtesy of the Jamaica Gleaner
St Catherine is home to Spanish Town, the original capital of Jamaica. After the Spanish were deposed by the British, Spanish Town remained as the capital city for a over 200 years before it was changed Kingston.   Read more on St Catherine Jamaica here
Jamaica Parishes - St Ann 


Find the best Ocho Rios Hotel deals here
St Ann is known as Jamaica's "garden parish" with much flora and fauna and natural beauty with   St Ann's Bay as its capital.   Ocho Rios is  the busy tourist town with several cruise ship stopovers per week.  
Trip A Day Giveaway!
Bordered by Trelawny to the west, St Mary to the east with Clarendon and St Catherine to the south; at 1210.28 sq km, this is Jamaica's largest parish with a reported population of 173,232 as at end of year 2012. Source STATIN Jamaica.  Read more on St Ann here  

Clarendon 


Clarendon parish lies between St Catherine and Manchester and is one of the three largest Jamaica parishes.  

This parish is roughly half way between St Thomas and Westmoreland…the middle of the island so to speak. Read more on Clarendon here
Manchester 
Manchester with its capital Mandeville is high above sea level is a high rainfall parish and temperatures are much cooler that other parishes. Because of its cool hills, this parish attracts a large number of returned Jamaicans and others from colder climes as residents.  Read more on Manchester here
St Elizabeth 


Find the best Attractions in Saint Elizabeth
St Elizabeth is Jamaica's second largest parish and is considered the bread basket parish of Jamaica.  This is due to its highly fertile soil and high percentage of farming communities. 
St Elizabeth also enjoys cooler temperature in the hills of Potsdam and Malvern which attracts a high volume of returned Jamaicans and others  more on St Elizabeth and Treasure Beach Jamaica
Portland 
Portland Jamaica is 815.06 sq km and known as the "green parish". Located on the eastern side of the island with St Mary to the west and St Andrew and St Thomas to the south.  
This Parish records the highest rainfall levels in Jamaica.  It is known for its fertile soil and lush green beauty with superb waterfalls, great beaches and magnificent views of the Caribbean Sea.  
The capital is Port Antonio and the population of Portland as at end of year 2012 was 82,183. Source STATIN Jamaica Read more on Portland here 
Find the best Port Antonio Attractions here

Hanover


Driving through Hanover towards St James is a site-seeing tour in itself.
I find the coastal scenery breathtaking for the most part and as you pass through the coastal villages, you will experience old and new Jamaica coming together as one.  Read more on Hanover here
Find the best villa rentals in Jamaica here

St James 


St James Parish is sandwiched between Hanover and Trelawny on the north west side of Jamaica with Westmoreland and St Elizabeth to the south.  The capital Montego Bay is Jamaica's second city. Read more on St James 
Trelawny


Trelawny parish is  874.62 sq km bordered to the west by St James, east by St Ann and St Elizabeth and Manchester to the south.  Falmouth is the capital and the population as at end of year 2012 was 75,558. Read more on Trelawny here 
Find the best Jamaica Resorts here

St Mary 


Find the best deals in St Mary Parish
St Mary Jamaica parish is 610.44 sq km bordered by St Ann to the west Portland to the east and St Catherine and St Andrew to the south.  Port Maria is the capital and the population of St Mary as at end of year 2012 was recorded as 114,227.  read more on St Mary here
St Thomas 
St Thomas is Jamaica's most eastern parish with its capital of Morant Bay having gone down in the history books as the place where Paul Bogle, one of Jamaica's national heroes was hanged.
A commemoration statute of Paul Bogle stands in front of the Morant Bay Court House. Read more on St Thomas here 
Return from Jamaica Parishes to Jamaica Vacations
My Jamaica Blog keeps you up to date with news and reviews of the Best of Jamaica please subscribe below.  Thanks, see you again soon.
---