Jamaica Beaches

Sugary Soft Sands 
Jamaica Beaches - Jamaica is blessed with many beautiful beaches, several of which I have visited and all of which are amazing in their own unique way.  
Depending on your location, you will enjoy a mixture of white, black, grey and golden sugary soft sandy beaches.  
Just top up on your sun blocks, UV shades, swimwear and have a great experience.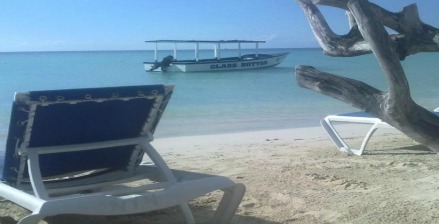 Negril Seven Mile Beach
Find the best Negril attractions here
Jamaica is surrounded by water and is blessed with several beautiful relaxing quiet beaches and hotel resorts.  
Some really nice beaches remain undiscovered by visitors, simply because they are not part of the travel brochures.
Montego Bay Beaches
Doctor's Cave Beach Club Montego Bay Jamaica. Doctor's cave beach is a well known Jamaica beach worldwide and is used by locals and tourists alike but gets very crowded in peak times.
Find the best Jamaica family hotels deals here
If you are lucky to be there during the quiet times, it's a great place to visit, relax and take a swim in the exquisite turquoise waters of the Caribbean Sea.  
Doctor's Cave Beach has clear white sands and is about 200m long. The expanse of this Jamaica beach is quite broad and it is shaded by trees in part.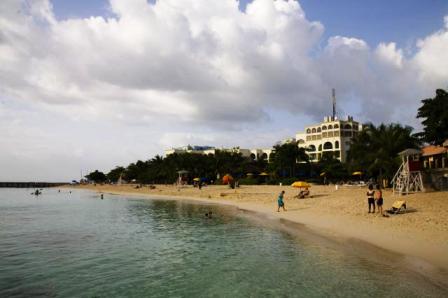 Jamaica-Doctor's Cave Beach Montego Bay
Changing rooms and showers greet you as you enter and are included in the small cover fee. Beach chairs and umbrellas and snorkelling gear are available for rent.
There is a bar and restaurant and you can also hire aboat ride on the beach to go out to sea and view Jamaica's Beach marine life.
Find the best Jamaica family hotels deals here
| | |
| --- | --- |
| | Aquasol Beach Park, Montego Bay - Aquasol Beach Park is an events Beach. There are many fun things to do here for adults the children alike. Enjoy the glorious waters of the Montego Bay coastline. |
Find the best Negril attractions here

Negril Beach


Negril Beach is 7 miles of white sand beach and stretches across two parishes – Westmoreland and Hanover. You don't to stay at an all inclusive hotel to enjoy the wonders of Negril Beach.
Enter the beach at any point and walk the whole length of it of you wish. If you find that you didn't actually walk seven miles that ok, as in reality it only just over 4 miles long...but who wants to argue with legend!
Find the best Restaurants in Negril here

St Mary Jamaica Beaches
James Bond Beach, St Mary . James Bond Jamaica Beach is located off the main Road at Oracabessa and is about 8 miles from Ocho Rios.
The first time I went to James Bond Beach the drive off the main did not prepare me for the memorable clear crystal waters that complemented the beach with a backdrop of fresh green mountains as far as the eye can see.
Scenes from the first James Bond movie Dr No, were filmed on location in this area, hence the name James Bond Beach.
Find the best deals in St Mary Parish
James Bond Beach is known for staging large events such as reggae, jazz or blues concerts where international and local musicians perform on the lawns of this Jamaica beach.
Locals and tourists alike enjoy the facilities of James Bond Beach. Eat or just hang out with friends at the spacious Moonraker Bar over your favourite mixed drink.
Swim and enjoy the clear crystal waters of Jamaica's James Bond Beach. You might even bump into a celebrity or two on your visit...friends of the owner maybe!
Reggae Beach is a beautiful long stretch of beach located on the border of St Mary and St Ann with cliffs at either end.  It is one of Jamaica's quieter less crowded beaches -  

This beach is considered by some to be one of Jamaica's best kept secrets. Its evening activities of music and sea food dinners served in the open air is a main attraction.  



In 2010, Reggae Beach was voted by Readers of Lonely Planet guide book and magazine as the Greatest Cultural Tourism Experience.

Portland Beaches
Hotels in Portland Parish
Frenchman's Cove, Port Antonio. Frenchman's cove in Portland has wonderful blue/green crystal clear waters to die for. Some of the prettiest waters I have ever seen.
This is a picnic or event type beach although if all you want to do is relax and enjoy the beauty of the Caribbean Sea, this is the perfect place to be.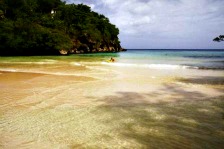 Frenchman's Cove Beach Port Antonio
Boston Jamaica Beach in Portland is about 9 miles east of Port Antonio. It is a public beach and one of the few beaches in Jamaica for surfers. Boston is home of the best jerk in Jamaica.
There is also a refreshing mineral spring spa club in the Boston Mountains, so if you are the adventurous type, it's worth a visit.
Getting to the spa is "off main driving" on narrow roads...if you self drive, go slowly and look out for the hazards...better still book a tour.
Westmoreland Beaches



Bluefields Beach. Bluefields Beach in Westmoreland Jamaica is fresh and rugged, the type of Jamaica beach to go for a morning swim or a day out with family.
It's a narrow beach about 1km long with wonderfully soft white sands. A passing hurricane has resulted in the beach being affected by stones and pebbles in areas.. so beach shoes may be good to have.
Find the best hotel deals in Negril here
The swimming area at this Jamaica Beach is good but there are no shaded areas and no facilities such as beach chairs or umbrellas for hire so consider bringing your own stuff.
The Beach car park, however, is in a shaded area with a restaurant and bar. Showering, changing, and toilet facilities are also available for use.
Ocho Rios Beaches
Ocean View Beach is off Runaway Bay and is privately owned and controlled by the Cardiff Hall Owners Association on Jamaica's north coast. It offers standard facilities such as showers, changing rooms and toilets.
This Beach has golden soft sand and is shaded by large almond trees perfect for a family picnic. Swimming is free and beach chairs are also available for use free of charge.
Find the best Ocho Rios Hotel deals here
South  Elizabeth  Beaches
Treasure Beach – South Coast. Treasure Beach consists of 4 cove beaches 
Calabash Bay
Frenchman's Bay
Billy's Bay
Great Pedro Bay  
These beaches are quiet and great for walking , picnicking or just enjoying the view. No white sands here so no high volume tourists sun bathers. 
Waves are pretty rough on the south coast, so if you want to swim, mornings and early afternoon may be the best time.  
Hotels in Treasure Beach
If you are looking for a very quiet beach location Treasure Beach is a good choice. There are small hotels and guest houses which will accommodate your stay. 

Interact with the local people and experience some Jamaican village hospitality.



Little Ochi, Alligator Pond Jamaica 
Font Hill Beach St Elizabeth is on the south coast of Jamaica. It has pretty golden sands and swimming is area is roped off due to a shallow reef.
Fonthill is more of a weekend beach as it is almost deserted during the weekdays. Usual beach facilities are available – and there is a small entry fee.  

Kingston Beaches


Hellshire Beach Kingston - Hellshire Beach is located in Portmore about 10 miles out of Kingston.
The sand is white with a sprinkling of black sand visible depending on the direction of the sea. Apart from Lime Cay, Hellshire is the nearest beach to Kingston. 
On Hellshire beach you have a beautiful view of the blue mountain peaks overlooking the city of Kingston.

Hellshire Beach is known for its fried fish restaurants and bar and swimming in its calm waters is most refreshing.
Lime Cay Beach Kingston - Lime Cay is a small island off the coast of Port Royal with beautiful white sands where Kingston folk hang out mainly at weekends to relax, swim, picnic and water sport.
Find the best Kingston Hotels deal here
There is nothing there but the beach, so you will to stock up with all you need for the day before taking hiring a boat to take you over...the only way to get there.
If you are in Kingston, visit Lime Cay and have a great experience of the little island beach in the middle of the ocean.
More Jamaica Beaches
Half Moon Bay  – Negril
San San - Portland
Long Bay Beach - Port Antonio
Winnifred Beach - Port Antonio
Alligator Pond - Manchester
Crane Beach – Black River 

Cornwall Beach  - Montego Bay
Rafters Nest –  Duncans
Silver Sands - Falmouth
Burnwood Beach T- Falmouth
White House Beach - Westmoreland
Cosmos Beach Westmoreland – Negril
Return from Jamaica Beaches to Jamaica Vacations 
Share your story on your best Jamaica beach
What's your favourite Jamaica Beach?
My Jamaica Blog keeps you up to date with news and reviews of the Best of Jamaica please subscribe below.  Thanks, see you again soon.
---
Share your story on your best Jamaica beach
What's your favourite Jamaica Beach?
return to top