Jamaica  - Land We Love


Jamaica is the largest island in the Commonwealth Caribbean (wiki) at 10,911 sq km (4,213 sq mi).  It is 90 miles south of Cuba; 120 miles west of Haiti and Dominican Republic in the western Caribbean Sea and less than 2 hours flight from Miami Florida.
Negril 7 beach view from Tree House Hotel
Find the best Jamaica Resorts here
Jamaica is home for approximately 2.8 million people (2012 census).  
The island is divided into 14 parishes, each with its unique personality and is the largest English speaking Caribbean island with Kingston as the capital city. 
| | |
| --- | --- |
| |  Culture1 - What is the "culture" of a people? Culture means different things to different people, but I think it's more to do with where you grew up and how you were socialised...   |
Jamaica
Culture-2 - Belief is a fundamental part of culture. Whether it is religion or superstitions, these are very much part of the culture. When it comes to religious practices, Jamaica has more churches per square mile than any other country in the world.
| | |
| --- | --- |
| | Rivers - With their beginnings in the mountainous areas, Jamaica's rivers are many and varied - they can be found throughout the island from different points and destinations winding their way to the Caribbean Sea... |
Map of Jamaica – With year round sunshine, beautiful beaches, historical sites and many beautiful attractions; enjoy your vacation as you relax by the beach with a cool beverage of choice with reggae music filling the air in the background.  A nice way to melt away the stresses of life!

| | |
| --- | --- |
| National Flag | Brand Jamaica is a popular and sought after tourism product.   More and more people choose Jamaica as their Caribbean vacation destination; a short getaway; and as a cruise ship stopover...   |
Find the best last minute Jamaica hotel deals
Visa Requirements - Jamaica welcomes all law abiding visitors and for the majority of countries no visa is required...a valid passport is a must though...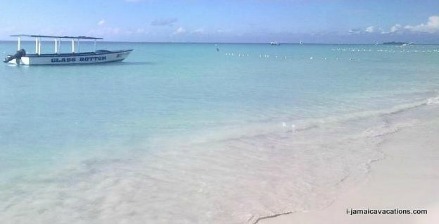 Negril Beach - view from Tree House Hotel Negril
Find the best Jamaica Resorts here

Jamaica - a little history
The original people pre-Christopher Columbus named the island Xyamaca which means "Land of Wood and Water".   Spanish explorers led by Christopher Columbus captured the Island in 1494, named it Santiago and occupied it up until 1655.  
| | |
| --- | --- |
| | In 1655 English explorers ousted the Spanish renamed it Jamaica and colonised the island for over 300 years. In August 1962 the island was then declared an independent nation. |
The Spanish Town Square now known as Emancipation Square was the seat of government during the rule of the Spanish and British.who eventually moved it to Kingston.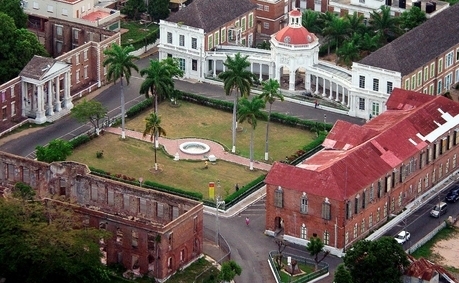 Emancipation Square Spanish Town. Pic by Robert Davis - courtesy of the Gleaner
Jamaica remains a sovereign state within the Commonwealth of Nations and has Queen Elizabeth II as head of state represented by a Governor General.  However, the head of Government and the Prime Minister hold full legislative powers of the Country.
read more on Caribbean Islands
Jamaica trivia
Main television stations:  Television Jamaica (TVJ)  and CVM Television
Main commercial Banks :  NCB; Scotia Bank; and Sagicor Bank 
Main News papers : Gleaner, Observer and The Star
Main Intl Airports: Sangster Intl Montego Bay  and Norman Manley Kingston
Jamaica Vacations › [Jamaica]
My Jamaica Blog keeps you up to date with news and reviews of the Best of Jamaica please subscribe below.  Thanks, see you again soon.
---