Jamaica Recipes

Try cooking Jamaican-style
Jamaica Recipes - Its funny how you don't think of how many different recipes that have passed through your kitchen until you decided to write a page about Jamaican Recipes.  
Although my recipes are not always 100% authentic Jamaican, based on dual cultures, I have tried to focus on the Jamaican side of my culture and have kept  the recipes on this page simple and 100% Jamaican.
Jamaica Recipes - Brown Stew Fish 
If you love lots of gravy, then brown stewed fish is the choice for you.  Here is my brown stew fish recipe.  If not, just leave the gravy in the pan when you serve.
4 medium sized whole snappers or 4 slices of your choice of fish
2 onions
Sprig of thyme
2 cloves garlic
2 small carrots
2 tomatoes
2 stalks of scallion

8 oz (230g) string beans
1 whole scotch bonnet pepper
2 oz (60g) flour 
1 teaspoon black pepper
Oil to fry
Salt to taste
1 tablespoon of gravy browning/soy sauce

Jamaica Recipes - Method


Prepare fish for cooking  - clean and wash
Mix flour and black pepper and salt on flat surface and slightly flour fish on both sides
Heat oil in saucepan and lightly fry fish (seal) on both sides and remove from pan
Drain used oil from frying pan leaving about two tablespoons
Cut/dice vegetables except pepper and sauté for  5/8 minutes 
Add cup of water or fish stock and gravy browning and leave to simmer for five minutes.
Return lightly fried/sealed fish to the pan 
Cover and leave to simmer on low heat until the fish is cooked – 10-15 mins
| | |
| --- | --- |
| | Serve with your choice of side dish.  Rice and Peas, Plain Rice or boiled green bananas are a few Jamaican choices. |
Find the best Jamaica family hotels deals here
More on Jamaica Recipes

Jamaican Recipes  - Steamed Fish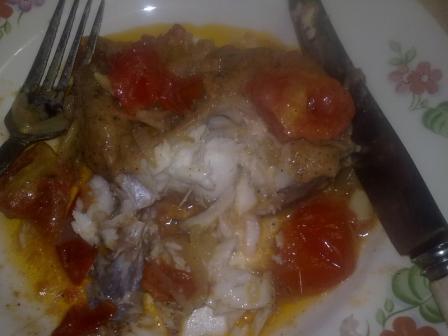 4-6 medium whole snappers or your fish of choice
2 onions
Sprig of thyme
2 cloves garlic
2 small carrots
2 sweet peppers
2 oz (60g) butter
2 oz (125ml) coconut oil or oil of choice
2 tomatoes
2 stalks of scallion
1 whole hot pepper (scotch bonnet)
8 oz ochroes  or other green vegetable
1 teaspoon of ground pimento
8 oz (230g) coconut milk
Salt to taste

Method
Clean and prepare fish with a little lime juice
Stir fry onions, scallion thyme and all vegetables in coconut oil for a few mins
Add coconut milk and allow vegetables to cook for 5 mins.
Add fish, and baste with with liquid and vegetables
Add ground pimento  for extra flavour, if available - optional
Add whole pepper, cover and allow to simmer on low heat for 15 mins
Baste fish with contents of pan while cooking
Add a little water if necessary
Remove whole pepper before serving
| | |
| --- | --- |
| | Jamaican steamed fish is usually served with steamed/fried bammy, or festival.  A side dish of mixed salad is also a good choice. . |

Jamaica Recipes - Cream of Pumpkin Soup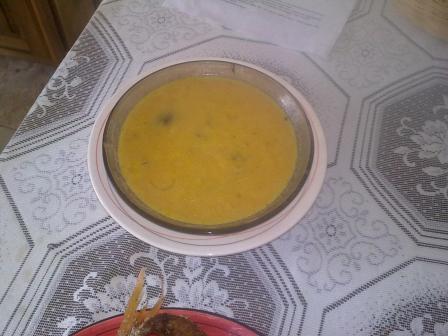 Ingredients:

2lb pumpkin
2 tablespoon butter
8 oz (230g) potatoes (Irish potatoes)
1 onion 
2 sprigs of Thyme
2 oz (60g) butter
1 clove garlic
Salt and pepper to taste
1 small scotch bonnet pepper
1 cup (250ml) of coconut milk/or regular milk
2 pints (1.1l) Water
 
Method
Cut pumpkin into small pieces and wash – peel is optional
Peel and wash potatoes and cut in small pieces
Put pumpkin and potatoes in saucepan with salt to taste and whole pepper, cover with water and cook on medium heat.
When cooked crush pumpkin and potato (add more water if required)
Add thyme, crushed garlic, chopped onion, whole pepper, black pepper  milk and butter.  Test if additional salt is required
Leave to simmer for 15 mins 
Leave to cool 
Once cooled puree contents of pan in blender in stages then return to saucepan
Reheat on low heat and serve – (do not allow to boil)

Jamaica Recipes - Pepper Pot (Callaloo) Soup
Ingredients 

2 lb ( (0.9kg) of callaloo
1/2  lb (230g) kale (optional)
1 dozen ochroes
Half pound (230g) yellow yam
2 Cho chos (carrots will work too)
4 quarts (2.0L) water
4 oz (250ml) coconut milk
2 lbs (0.9kg) stewing beef
1 green scotch bonnet pepper
1 clove garlic
2 stalks scallion
Sprig of Thyme
8 oz  (230g) flour
Salt to taste
 
Method
Cut meat into small cubes and cook until tender – 60-80 mins
Or pressure cook meat for 25/30 mins to shorten cooking time.
Wash callaloo and kale and when the meat is cooked add to stock
Leave to cook for a further 15 mins.
Remove callaloo from stock and puree in blender and leave to stand
Peel yam and cho cho and cut into small bite-size pieces 
Cut ochros into small pieces also
Add chopped yam, cho cho and ochro and whole green pepper to stock
Make dumplings/spinners and add to stock together with pureed callaloo and kale
Leave to simmer for about 30/40 mins until soup thickens.
When you are ready to serve add coconut milk, scallion and thyme and cook for a further 10 mins on low heat.
Remove whole pepper
Serve Hot


Jamaica Recipes -  Salt Fish Fritters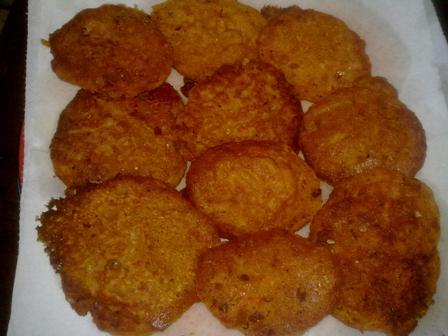 Ingredients:
8 oz (230g) salt fish
8 oz (230g) plain flour
2-3 onions
2-3 tomatoes
2 cloves garlic
1 small hot pepper (Jamaican scotch bonnet)
Black pepper to taste
2 stalks scallion
2 tablespoon cooking oil
1 teaspoon baking powder (omit if using self raising flour)
Method
Soak codfish overnight.  Drain and rinse under cold water.
If still too salty, bring to the boil for a few minutes
Flake cooled fish and remove all bones
Chop tomatoes, onions, garlic scallion and pepper or blend together
Add baking power to flour and mix in blended or chopped ingredients
Add a little water or milk if necessary to make a medium batter
Fry by tablespoon droplets in deep hot oil until golden brown
Place on kitchen roll to absorb excess oil.
Serve hot or cold as a snack or as finger food.
| | |
| --- | --- |
| |  Tip.  If you have no time to soak salt fish, boil and drain a couple of times until the salt level is reduced to your taste. |
Herbspro® - Vitamins, Herbal Supplements and Cosmetics

Gungo Peas Soup with Ham Bone Recipe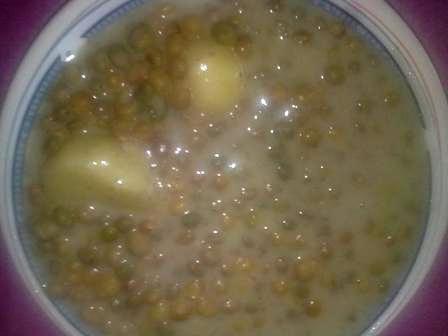 Ingredients:

4 litres water
1 Ham bone
1 tin Grace Coconut milk
1 tin Grace Gungo Peas
2 cloves garlic crushed
225 grams yellow yam
125 grams potatoes

120 grams sweet potatoes
1 pack grace cock soup
1 stalk scallion
1 sprig thyme
1 whole scotch bonnet pepper
4 whole pimento berries
225 grams flour
¼ cup water
Prep time 15 mins:  Cooking time 50 mins: Serves 8


Courtesy of Grace Kitchens Jamaica
Method
Pour water into a large pot and put to boil
Cut ham bone into three or four pieces, rinse and place in the boiling water and
leave to boil for 20 minutes
Stir in Grace Coconut Milk, drained Grace Gungo Peas and crushed garlic
Peel and cube yellow yam, potato and sweet potato and add to the boiling mixture.
Make dumplings  

Mix together flour and salt.  Add water and knead to form smooth dough.
Shape into small dumplings and add to boiling mixture.
Add Grace Cock Soup, scallion, thyme, scotch bonnet pepper and pimento berries.
Stir, cover and leave to simmer for 20 minutes.
Serve hot
Get 20% Off All KitchenAid Bakeware. Use Promo Code "BAKE20"
Return from jamaica recipes to Jamaica Vacations
My Jamaica Blog keeps you up to date with news and reviews of the Best of Jamaica please subscribe below.  Thanks, see you again soon.
---