Jamaica Golf Resorts

Looking for a world class golf course?

Jamaica Golf Resorts - Jamaica has a number of excellent world class golf courses open to the public. The majority of Jamaica's golf courses are located in the main tourist areas of Ocho Rios, Montego Bay and Negril, with Kingston boasting at least two.
Some higher end all inclusive hotel resorts have golf course on site, or have access to one close by.  
Others are associated with a golf course where packages can be arranged for an additional fee.  Caddies and golf equipment may also incur additional fees.
Find out what is included on making your reservation. Costs may very depending on whether its peak or off-peak season year and other considerations such as time, date and availability.
Negril Golfing
 Negril Hills Golf Course - As you drive into Negril from the south west Jamaica, your first main indication of having arrived in Negril is the sign "Negril Hills Golf Course" eloquently etched into the hillside of this tree lined property.
This Jamaica Golf Course is an 18 holes par 72, 6,333 yards course complimented by meandering fairways, elevated tees and greens with lush tropical vegetation.
Tryall Golf Glub Sandy Bay Hanover - The Tryall Club, is an 18 holes 72 par course has often hosted international events.

This Jamaca golf course is built on a former sugar cane plantation and runs 6,772 yards.

It is located approx 5 miles from the Negril Hills Golf Course and within reasonable driving distance of Montego Bay. You will find some of the finest Villas in the Caribbean here also.

Montego Bay Golfing


Jamaica Golf Resorts - Half Moon Resort, Rose Hall - The Half Moon Golf Club course was designed back in the early 1960s and is 7,119 ft long.
Based on its location it is subject to constant sweeping winds with half the holes playing with the wind and the other half against the wind.
Fairways are wide and clear but the length of this Jamaica golf course and its deep bunkers can be a challenge for some.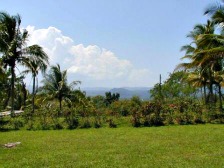 Golf Montego Bay Jamaica
Hotels in Saint James Parish
Ritz Carlton Golf & spa Resort – Rose Hall - The White Witch Golf Course opened in August 2000 is the centre piece of the Ritz Carlton Resort Montego Bay.
With a rugged mountainous terrain, the Golf Course is a 71 par, 6,718 yard course with the majority of its holes boasting ocean views.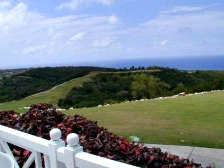 Cinnamon Hill Golf Course
Rose Hall Resort & Country Club - The Cinnamon Hill Golf Course at the Rose Hall Golf & Beach Resort is 6,637 yards, par 71.
While you will open your game with the Great House in the background, be careful not to loose your ball at holes 7 and 8 to a gentle sea breeze which will take it to the deep Caribbean sea.
If you survive this one, the back nine will take you to the hills of the plantation of this great property.
Travelers' Choice Hotels for Families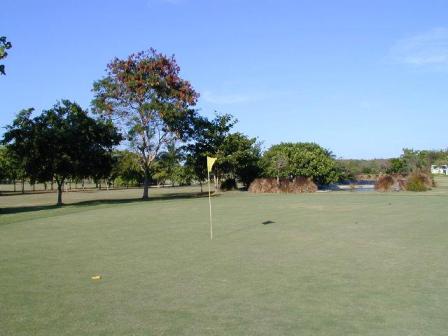 Montego Bay Braco - courtesy JTB
SuperClubs Ironshore Golf Club Mo Bay - Formerly the Ironshore Golf & Country Club, this Jamaica golf course is a par 72, of 6,570 yards.
Here you will find several water encounters and blind shots. The course is complimented by large pine trees, beautiful hibiscus and bougainvillea blooms.
Jamaica Golf Resort - Ocho Rios Golfing


Hotels in Saint Ann Parish
Sandals Golf & Country Club - Sandals acquired this Jamaica Golf Course in 1992 and have converted it into a 18 holes, 71 par, 6,502 yard course.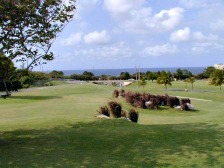 Montego Bay Golf Jamaica
This course offers many challenges such as narrow fairways, and greens that at times abruptly drop off across undulating landscapes.
Enjoy the breathtaking view of the mountains and the Caribbean sea while you improve on your golf on one of the finest golf courses in the region.
Beaches Boscobel Resort & Golf Club - If you are looking for a family beachfront getaway with an intimate private beach, a private island, water park and spacious accommodation look no further.
This all inclusive Jamaica resort offer golf programs for kids.
| | |
| --- | --- |
| | At Beaches Ocho Rios, unlimited rounds of golf, greens fees and round trip transfers are included for everyone at the nearby Sandals Golf & Country Club. |
Jamaica Golf Resorts - South Coast
Jamaica Golf Resorts - Mandeville Golf Course - This Mandeville Golf Course is the oldest Caribbean Golf Course, dating back to 1868.
This course boasts 9 greens and 18 teeing grounds. At par 35, you will be comfortable as a beginner or an expert.
This Course is scenically beautiful with vistas provided by its 2,201 ft elevation way up in the Manchester Hills of Jamaica's south coast.
Jamaica Golf Resort - Kingston 


Hotels in Kingston
Constant Spring Golf Club – St Andrew - The Constant Spring golf club is located in the northern side of Kingston in the residential setting of Norbrook in upscale Kingston residential area.
Built in 1920 and started with 3 holes, it was later upgraded to 18 holes in the 1930s. This course has some challenges but players of all skill levels will be able to negotiate this Jamaica Golf Course.
| | |
| --- | --- |
| | This par 70, 6,094 yards course from certain elevations gives great views of the city of Kingston and Jamaica's natural harbour. |
Jamaica Golf Resorts - Caymanas Golf and Country Club - This Jamaica Golf Course is situated a few miles outside of Kingston city and was opened for play in the late 1950s.
This course has hosted Jamaican and Caribbean championships on several occasions.
Features are elevated teens and greens and lush fairways meandering through the limestone hills of uptown St Andrew offering great views.
Return from Jamaica golf resorts to Jamaica Resorts
My Jamaica Blog keeps you up to date with news and reviews of the Best of Jamaica please subscribe below.  Thanks, see you again soon.
---