Top Hill to Kingston by Car


Top Hill to Kingston - Drive Top Hill St Elizabeth to Kingston through the interior of the island traversing four parishes namely St Elizabeth, Manchester, Clarendon, St Catherine and into St Andrew…drive  time approx 2.5 hrs or less depending on traffic and day of the week.  Distance about 140 km.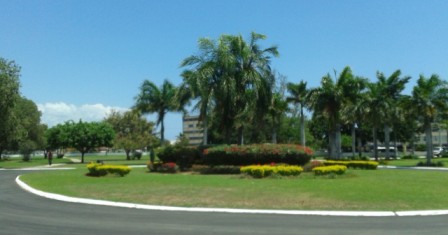 National Heroes Park Kingston Jamaica
Top Hill to Kingston
If on a day trip, start out early and have most of the day to enjoy Kingston and what it has to offer. Better still, arrange to stay over  in Kingston a couple of days and explore a little.  

Find the best Attractions in Saint Elizabeth
Time allowing you can visit  places in Kingston such as Emancipation Park, Bob Marley Museum, National Gallery, Devon House  to name a few.

Get in some night life and enjoy the cuisine of Jamaica in some of Kingston's best restaurants.

Top Hill to Kingston, Drive
Now back to the journey.  I usually start out at about 8 am taking the main road through Top Hill, Junction, to Gutters St Elizabeth.  Enter the parish of Manchester a little above the Gutter Gas Station on Spur Tree Hill and follow the main road all the way. 

Highway 2000 MayPen Clarendon
Stop on Spur Tree at All Seasons for a snack or lunch.  They do jerk pork and chicken to go or stop by the restaurant for a choice of local dishes.  
The main road takes you through to the first Mandeville round-about; turn right for the Mandeville Hospitals and town centre.  Straight ahead to bypass the town of Mandeville.

At the second Mandeville roundabout, take second left which keeps you on the main road downhill and towards the Melrose Hill bypass (80k road) and ends at the entrance of the old Melrose Hill Road.

Reduce speed here, this  takes you through the communities of Williamsfield, Porus  through to Clarendon Park.
Top Hill to Kingston, Drive
Stop at Clarendon Park for a Tastee Patti snack, breakfast lunch, or dinner or just to fill up at the gas station. Having refreshed yourself and vehicle, continue on the main road towards May Pen.  

Find the best luxury Jamaica hotel deals here
At the Osbourne Store area you approach the May Pen Clarendon leg of Highway 2000.  Turn right on to the highway (dual carriageway- speed limit 110kph) and enjoy the picturesque rock face in places through which the road was carved.  

Old Hope Road Kingston Jamaica
If prefer to a slow ride through the old main road (good surface) turn left at the  junction and  experience the small towns through to Old Harbour St Catherine and several other communities to Sydenham Villas.  
This road meets up with the highway 2000 road on your approach into Kingston at Ferry District.

Back on the toll road - At the first toll booth you pay a fee depending on the size of your ride (J$80 cars one way) and at the second toll gate (J$330 cars one way).  

The speed limit continues at 110 kph but look out for any reduced speed areas due to road works or other hazards.  

Maintain the speed limit here as speed cops are also on the look-out on highway 2000.  

Almost at the end of the highway on the approach into Kingston, the speed limit reduces to 80kph.  Get ready to adjust your speed (see the sign on the bridge) as you come into the Mandela Highway through to Washington Boulevard and Duhaney Park.

Find the best Kingston vacation rentals here
National Heroes Park Kingston
Drive Top Hill to Kingston
Turn left at the gas station into Duhaney Park leading to Meadow Brook Estate, through Perkins Boulevard and right at the junction into Red Hills Road.  Red Hill Road takes you through to Half Way Tree New Kingston and beyond.
Find the best Kingston activities here
Straight ahead at Duhaney Park on Washington Boulevard will also take you into Half Way Tree, New Kingston through to Cross Roads and downtown Kingston.   You have arrived!  Take a break and have a wonderful visit.  Great job!

Return from Top Hill to Kingston to Jamaica
My Jamaica Blog keeps you up to date with news and reviews of the Best of Jamaica please subscribe below.  Thanks, see you again soon.
---