Caricom Member States7 -

Trinidad and Tobago
Caricom Member States7 - The motto of Trinidad and Tobago is:  "Together we Aspire, Together we Achieve"
View Larger Map
Trinidad and Tobago are the southernmost islands of the Lesser Antilles; separated from Venezuela by the 11 km (7 miles) strait of the Gulf of Paria. 30 km (19 miles) separate the two islands.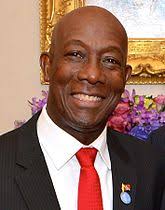 Dr. the Hon. Keith Rowley, Prime Minister of Trinidad and Tobago since 2015
| | |
| --- | --- |
| Both islands were settled by Amerindians. Trinidad became a Spanish outpost from the late 16th century. French and British settlers; African slaves, indentured labourers came during the 18th century.  | |
| | |
| --- | --- |
| The two islands became one state in 1888 and gained independence in 1962. In 1976 the twin-island State became a Republic within the Commonwealth with the President as Head of State.  | |
Caricom Member States7
Executive power lies with the Prime Minister and the Cabinet. The Legislature consists of an elected House of Representatives and an appointed Senate.

Tobago has a separate House of Assembly which is responsible for some of the island's domestic affairs.
Visiting the Caribbean? Find Deals, Compare Rates, & Read Hotel Reviews on TripAdvisor
The Airport: Piarco International (Trinidad); Crown Point International (Tobago).  
Capital Port-of-Spain.
Area 5,128 sq km (1,980 sq miles).  
Population approx: 1,300,000 (2004)
Trinidad and Tobago's National Holidays
 New Year's Day (01 January); Carnival (Monday and Tuesday preceding Ash Wednesday); Eid-ul-Fitr (as decreed); Good Friday; Easter Monday; Spiritual Baptism Liberation Shouter Day (30 March); Corpus Christi; Indian Arrival Day (30 May); Labour Day (19 June); Emancipation Day (01 August); Independence Day (31 August); Republic Day (24 September); Diwali (as decreed); Christmas Day (25 December); Boxing Day (26 December)
National Dish:  Callaloo; Pelau; Roti and Curry
Govt website https://www.gov.tt
Source: www.caricom.org
Return from caricom member states7 to Caribbean Islands
Return from caricom member states to Jamaica Vacations
My Jamaica Blog keeps you up to date with news and reviews of the Best of Jamaica please subscribe below.  Thanks, see you again soon.
---