Clarendon Jamaica Parish
Clarendon Jamaica Parish is approx 1196 sq km; bordered to the west by Manchester; St Catherine to the east with St Ann to the north. Clarendon is the fourth largest Jamaica parish and has the second highest population of 246,345 as at year end 2012.
(Source STATIN Jamaica) 
Clarendon Parish is roughly half way between St Thomas and Westmoreland …the middle of the island so to speak.  May Pen is the capital and lies on the banks of the Rio Minho River.
View Larger Map
The Rio Minho is the longest river in Jamaica at 92.8 km (57.7 mi).  It rises close to the island's geographic centre, flows generally south-southwest and reaches the Caribbean Sea at Carlisle Bay in the central south coast, to the west of the island's southern most Portland Point in Clarendon.  
Clarendon Jamaica - Denbigh Agricultural Show
Fruit and Veg Display at Denbigh Agricultural Show
The Denbigh Agricultural, Industrial and Food Show is a three day event held annually at the Denbigh showground, where exhibitors display the best of their products including ground produce and livestock.

Livestock at Denbigh Agricultural Show
The show is held during the first week of August and planned to coincide with the Jamaica Independence celebrations.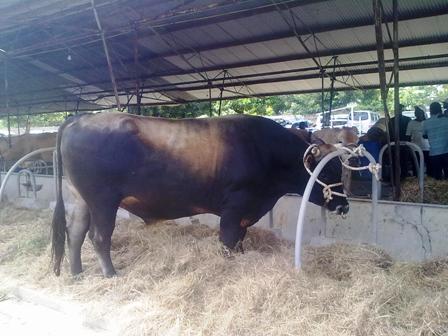 Livestock at Denbigh Agricultural Show
Places of Interest


Find the best Jamaica beach hotels deals here
| | |
| --- | --- |
| | Jackson Bay Caves A larger number of caves can be found in Clarendon the most famous of which is the Jackson's Bay Cove near Rocky Point.  This cave contains evidence of carvings and artefacts left by Jamaica's original people – the Arawak Indians, also known as the Taino people. |
Milk River Baths is visited by many local Jamaicans and visitors alike searching for the calmness and stimulants of a mineral bath.
There are those who believe that there are healing qualities gained from taking a mineral bath and those who just find it refreshing and different.
Whatever your reason, I found the waters soft, soothing and very relaxing.
Find the best villa rentals in Jamaica here
Halse Hall Great House - Take a left at the roundabout at May Pen by pass and through the mineral heights community.  About a mile up the road on the right you will come to the entrance to the Halse Hall Great House, now a used as office space by the current owners.
This house is now owned by Alcoa Minerals of Jamaica and as a heritage site is opens for tours on appointment  - contact Mrs Chambers on 986 2561, to arrange a tour and learn about the history of this Great House.
| | |
| --- | --- |
| | Vernam Field - Vernam field Clarendon was originally an airfield but now used as a drag and car racing track.  The annual car racing event  held around Easter time is a big event for Jamaica's racing enthusiasts.  |
Famous Sons of Clarendon 
Bruce Golding (former Jamaican Prime Minister)
Derrick Morgan - musician
Barrington Levy - musician
Freddie McGregor - musician
Return from Clarendon Jamaica to Jamaica Parishes
Return from Clarendon Jamaica to Jamaica Vacations
About Clarendon Parish
Do you live in this parish or are from there? Share your knowledge and favourite stories of your Jamaica home parish.
My Jamaica Blog keeps you up to date with news and reviews of the Best of Jamaica please subscribe below.  Thanks, see you again soon.
---