Day Out To Negril via South Coast Jamaica



Day out to Negril - On my birthday and a friend and I drove to Negril for a fun filled day out. The drive from home to Negril was about 2 hours and was very scenic.
| | |
| --- | --- |
| | As we journeyed along Jamaica's south coast down the slopes of south St Elizabeth, overlooking Treasure Beach and the Plains of St Elizabeth, the view of the Caribbean Sea to our left was clear electric blue. |
On our right side the calm lush green mountains of southern Jamaica was a delight to behold.
Entrance to Xtabi Restaurant West End Negril Jamaica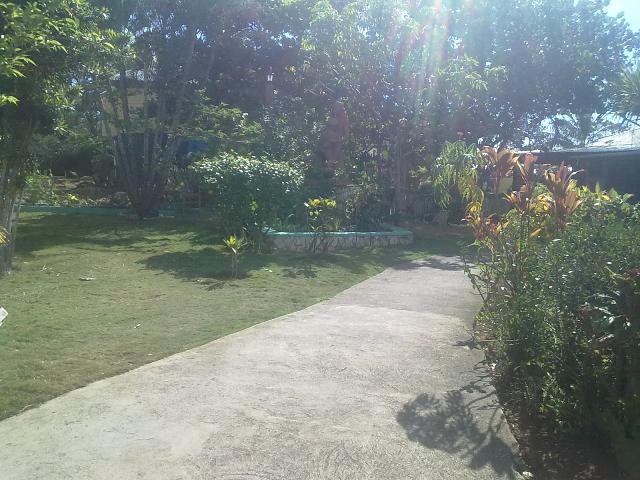 Our first close up view of the Caribbean Sea was as we approached the town of Black River at the district of Parrotee.  
Then, in the centre of Black River, the ocean in its vibrant aqua marine splendour welcomes you on the edge of the main road.
The Courts Office, the Anglican Church, Waterloo Guest House, Invercauld Hotel and the Parish Library has a front seat daily view of the ocean.
Find the best deals in St Elizabeth here
Day Out to Negril - Black River  St Elizabeth
Black River is a rustic town which has many relics of old Jamaica remaining.
To really appreciate the beauty of the coast and this small old town, I recommend you take a walk along the seafront and through the centre of town.
The Black River market has been renovated and if you are looking for a Jamaican souvenir, you will find several small shops and stalls in the town. 

There are a few restaurants/fast food shops serving tasty local foods at reasonable prices - take out or eat in.
View from Xtabi Restaurant West End Negril Jamaica

If you are facing north along the seafront, the ocean is on your right, complimented by the undulating St Elizabeth mountains in the distance...truly a spectacular view…and a must picture moment!
The Black River Safari boat trip starts in the centre of town by the old bridge. Try taking the boat tour early in the afternoon to finish before dusk when the mosquitoes are out to bug you.
Day Out to Negril - Border Food Stop 
As we continued on the road west, the scenery of horses grazing in the fields and the silver coloured winter grass painted a beautiful picture of the Jamaican countryside.
Not forgetting other livestock such as cows and goats grazing on the roadside – if you have driven through St Elizabeth Jamaica you will know what I mean and if you haven't, look out for them when you do.
Hotels in Saint James Parish
As we approached the border (called Border) of St Elizabeth/Westmoreland, the sellers at the fried fish and bammy stop are all ready to make a sale if you feel for food.
In parts of the parish of Westmoreland, between Whitehouse and Bluefields Bay and beyond, the Caribbean Sea was once again greeted us on the left in its magnificent splendour.
View from Xtabi Restaurant West End Negril Jamaica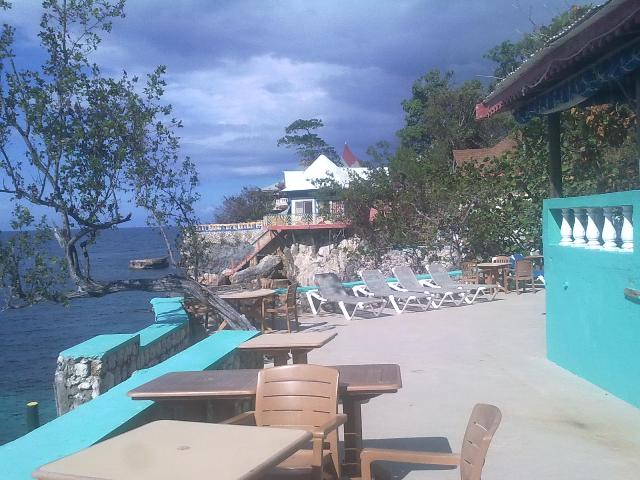 Day Out to Negril - Westmoreland Road Works
There were major roadwork on the Westmoreland main road for a few miles to Ferris Cross and my sparkling clean car I started out with was a mess by the time we got through the end of the road works at Ferris Cross (yes, the gas station where you turn right for/from Montego Bay).
As we passed through central Savanna-la-mar and headed towards Negril, we were once again travelling through inland countryside, and you guessed it overlooked in parts by the mountains to our right.
Find the best Jamaica family hotels deals here
N.B If you plan to drive or be driven to Sandals Whitehouse or Treasure Beach via Black River in the near future, from Montego Bay or Negril, be aware of road works, open trenches and reduced lanes along the route starting at Ferris Cross for a few miles along the way.
Extra care is required here...particularly at night.

Xtabi Hotel and Restaurant


Day out to Negril - As we arrived into Negril, we were greeted with the welcome sign of the Negril Hills Golf Club which is always a pleasure to see, mainly as it is my signpost that indicates "almost there".
We got into Negril at around 11.00am, did a little shopping then drove west end Negil to Xtabi Hotel and Restaurant for lunch.

Xtabi is one of Negril's many smaller hotel and restaurant properties which I have visited before and found to be friendly and comfortable.
Find the best last minute Jamaica hotel deals
View from Xtabi Restaurant West End Negril Jamaica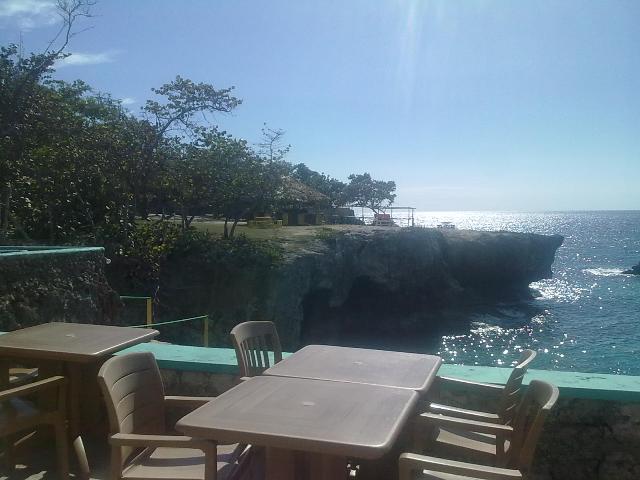 Xtabi restaurant opens out to the Caribbean Sea and the view is fantastic.
It was a clear sunny day and we sat and watched a few visitors snorkel below while the yachts and catamaran day trippers pass by in the distance.
It was a quiet day at Xtabi, a few people lounged and sunbathed, but there were many empty deck chairs out on the balcony.
Find the best Jamaica hotel deals here
We had lunch between 12.00 noon and 2.00 pm, so maybe it was too warm for sunbathing at that time. Anyway, we enjoyed the peaceful surroundings and had a great lunch of garlic lobster and more.
The Caribbean Sea
Day out to Negril - As we sat and enjoyed the beautiful view, we were intrigued by the jagged edges of the Negril Cliffs in comparison with the perfect skyline of the horizon. It was nature at its finest.
As we sat there lost in the wonders of nature and sipped on a cold, cold rum and coke, I thought that we should do this more often.
Before I had a chance to verbalise my thought to my friend, the bartender/ waiter came with our lunch.
View from Xtabi Restaurant West End Negril Jamaica

After Lunch
After lunch we went to Long Bay Negril to swim and spend time at the Tree House Hotel's entry to Negril's 7 mile beach.
Of course it was a lot busier on the Long Bay side of Negril, home of the Negril all inclusive resorts, where holiday makers had fun swimming, sunbathing and guys horsing around in the water.
Find the best Negril vacation rentals
The sea was as beautiful and as invigorating as it always is for me. Afterwards we met up with a few other friends at the Tree House Hotel Bar/Restaurant for a while but, unfortunately, we had to leave early for the long drive home again.
Notwithstanding, we had a great day out to Negril – can't wait to do it again.
View from Negril Tree House Negril Jamaica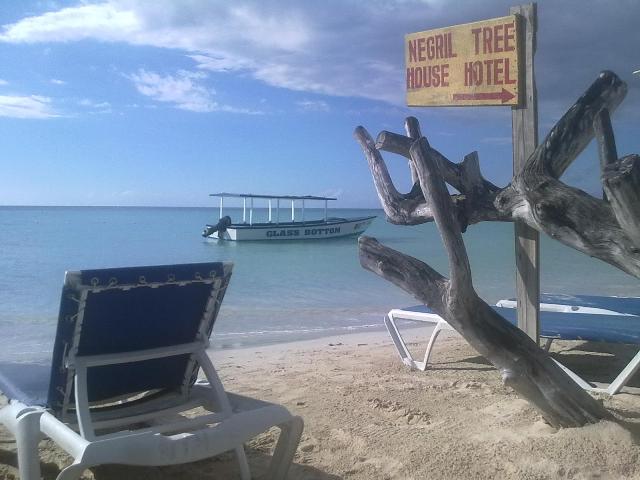 Return from day out to negril to jamaica attractions
My Jamaica Blog keeps you up to date with news and reviews of the Best of Jamaica please subscribe below.  Thanks, see you again soon.
---