Day Trip To FDR Runaway Bay

A  Kids' Friendly Jamaica Resort
Day trip to FDR Runaway Bay - Recently a friend and I visited this Resort to meet up with her daughter and family while they were on a short vacation break from the USA.  It was a good opportunity to have a personal experience of Franklyn D Resorts Runaway Bay. 
We drove from St Elizabeth on south coast Jamaica through the mountains of Manchester, Clarendon and St Ann parishes and arrived at FDR  Runaway Bay at 9.30am, on time for breakfast with several hours to have a great visit.
Find the best Ocho Rios Hotel deals here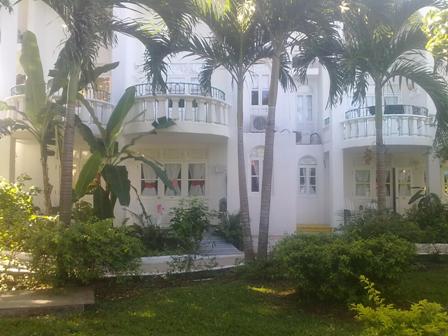 Garden view FDR Runaway Bay Jamaica
Day Trip To FDR
As we turned into the property, the brightly coloured FDR logo above the entrance stood out,
We were welcomed at the front desk by very friendly staff and soon after we met the cutest little 2 year old you can ever hope to meet and later we met her sister of about 8 months - equally adorable.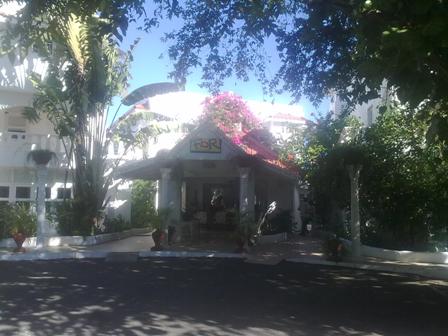 Entrance FDR Runaway Bay Jamaica
Day Trip To FDR -The Property
As we passed reception on to the grounds of FDR Runaway Bay, the setting is of a tropical garden style.
Lots of greenery, small ponds, a tennis court and shaded garden paths came into view. 
A walk through the gardens took us to a large swimming pool with loungers and water slides.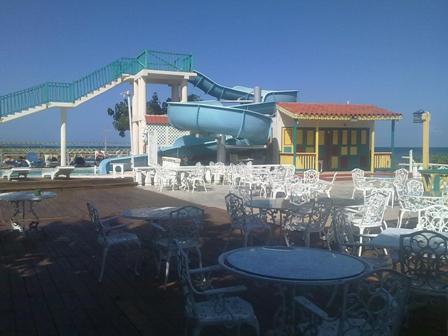 FDR Runaway Bay Jamaica
The spacious ground floor accommodation is decorated with vibrant Caribbean colour.  
Large wall mural and large kids friendly wall paintings  complimented by dark wood furniture.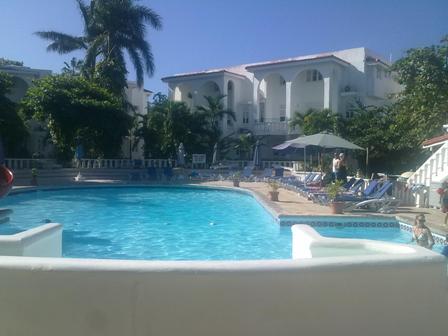 FDR Runaway Bay Jamaica
Find the best Jamaica family hotels deals here
The living space consists a double bedroom, shower room, lounge/diner with small child's bed, a comfortable two piece suite, baby cot/crib, a dresser, table and chairs and a refrigerator. 
The large settee could comfortably sleep another small child.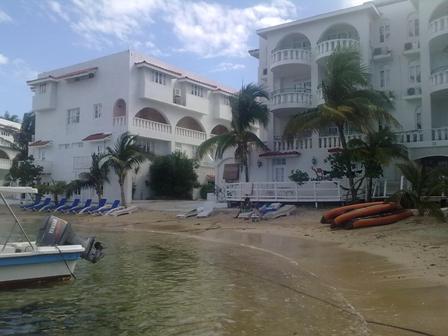 FDR Runaway Bay Jamaica

Day Trip To FDR - Resort's General Appearance
The Verandah Restaurant opens out to the pool on one side and the ocean on the other. Many white chairs and tables extend out to walkways and landings looking out to the ocean. 
Two piers stretch out along the coast where you can sit and enjoy quiet time, whether it's reading a good book/magazine or just enjoying the whoosh of the Caribbean Sea as the waves roll across to the beach area. 
Beach FDR Runaway Bay Jamaica
Hotels in Runaway Bay
To the left of the Pool is the main bar and piano lounge with a gym and fitness centre overhead and above the Verandah restaurant is a games room. Adjacent to the Verandah Restaurant is a Kiddies Centre, Teens Computer Centre and adult Cyber Centre.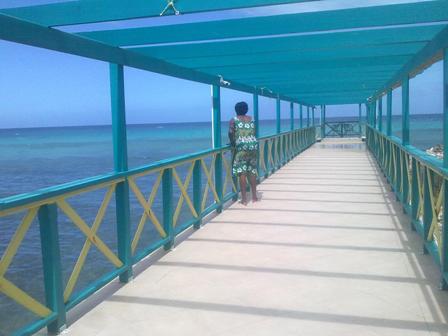 FDR Runaway Bay Jamaica
Day Trip To FDR - 1 Trained Nanny per Family
At FDR  Runaway Bay each family gets a trained nanny at no extra cost and they are available 9.00 am to 5.00pm daily.  The nannies are very energetic and excellent with the children. 
As I relaxed and took in the scenery, there were many kids running around having fun, each with the young nanny in toe, being the source of their entertainment. 
The nannies are extremely kids friendly – they sing nursery rhymes, organise games and generally run around with the kids as part of the game.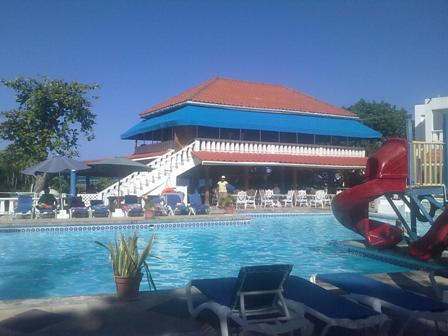 FDR Runaway Bay Jamaica
Hotels in Ocho Rios
My friend's daughter and her husband were extremely happy and comfortable with the Nanny (Karlene) assigned to them.  They felt she knew exactly what to do with the children, and was a pleasure to be around. 
Up to the time of writing this page, I have recommended FDR Runaway Bay to several friends with young children based the excellent child care facilities I witnessed  FDR.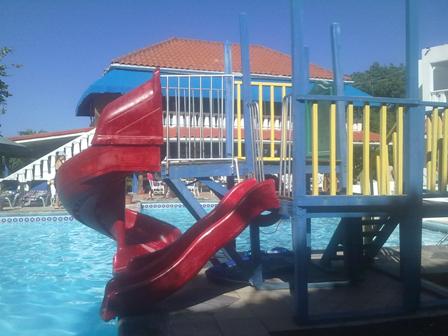 FDR Runaway Bay Jamaica
Restaurants
We had breakfast at the Verandah Restaurant which also serves lunch and dinner daily.  The menu is mixed, (international cuisine) with a focus on kids friendly foods such as frankfurters, sausages, potato wedges etc. 
For lunch we had the choice of honey roasted chicken, cheese pasta shells, and various side dishes. 

For me, the food in this particular restaurant was pretty average – but the kids were happy and that the most important. 

Day Trip To FDR - Adults only dining
Later I noticed that there were a couple of adults only restaurants on the property on the propert  and  if we had time, we would have stayed for dinner.  However on closer research, I noted the following:
The Pier Restaurant is Italian cuisine serving al la carte menu and is opened for dinner on Sunday's only - 6.30pm to 9.30pm and;   
The Overproof Restaurant serves authentic Jamaican cuisine opens for adults only dining Tuesdays and Thursdays only - 6.30pm to 9.30pm.
We were there on a Saturday so even if time was on our side, we would have had to take a raincheck.
Grill/Buffet at FDR
Find the best Ocho Rios Hotel deals here
If you prefer grilled foods, check out the Sea Cotton Tree Grill to the left of the pool and sample something grilled such as, jerk pork, chicken or even a Jamaican Patty. 
Grilled sandwiches are also available from the sandwich bar and they will also serve something kids will love here too.  They are open daily from 11.00 am to midnight. 
| | |
| --- | --- |
| | On the other hand if the kids prefer a buffet for dinner, check out the Kids Buffet which runs from 5.30pm to 7.00pm daily at FDR Runaway Bay. |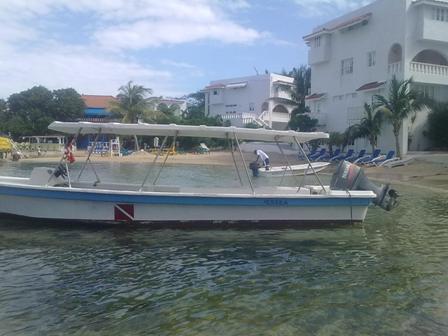 FDR Runaway Bay Jamaica
The FDR beach front with its shallow waters is perfect for small children to splash about together with a few kiddies playing pools dotted around.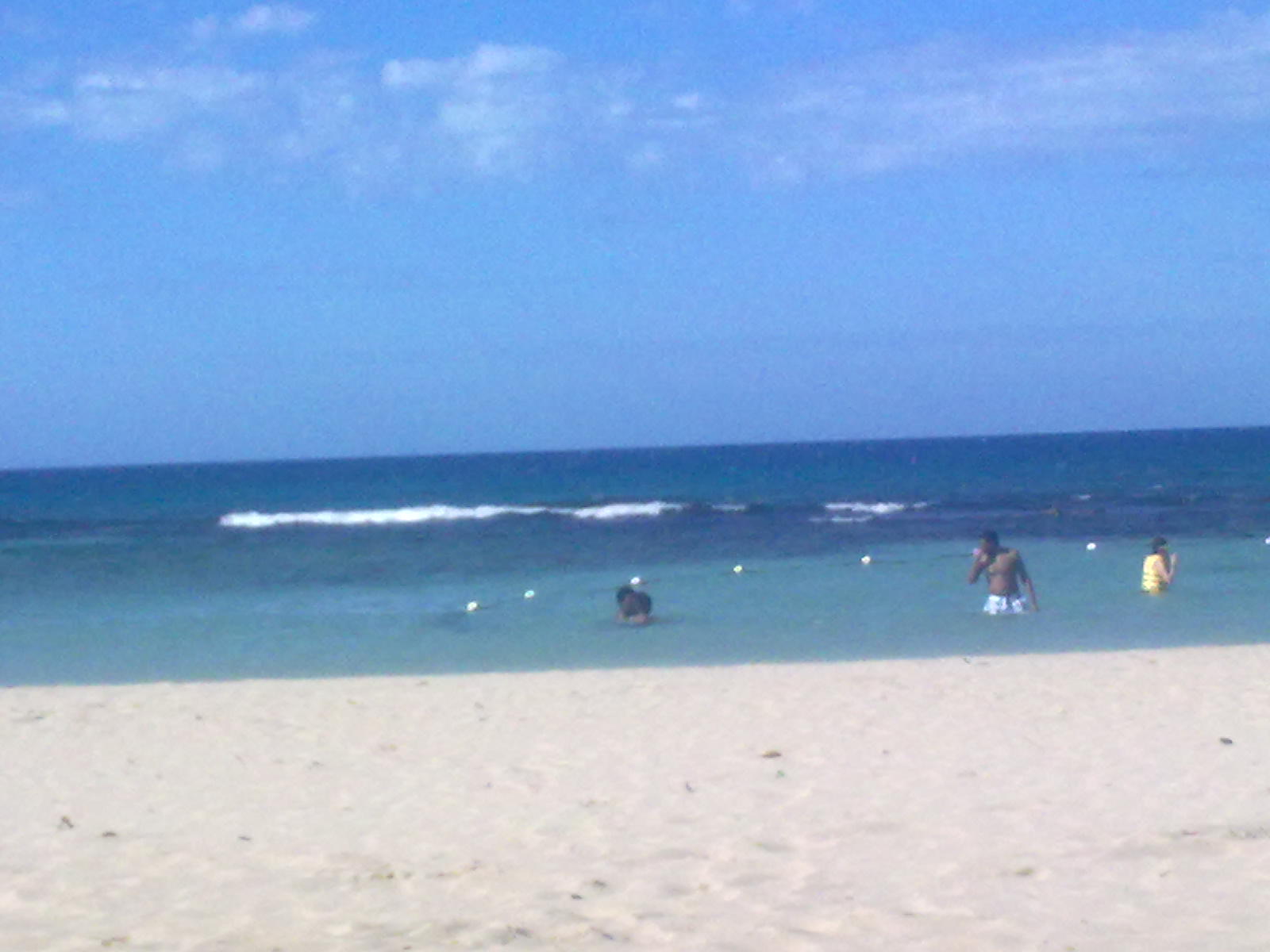 Jewels Beach Runaway Bay Jamaica
Day trip to FDR - After lunch, while the kids were down for their afternoon nap, we took the opportunity to get some adult time.
We went for a swim on the beach adjacent beach to FDR Resorts to the right which is fronted by Jewels Runaway Bay Resort.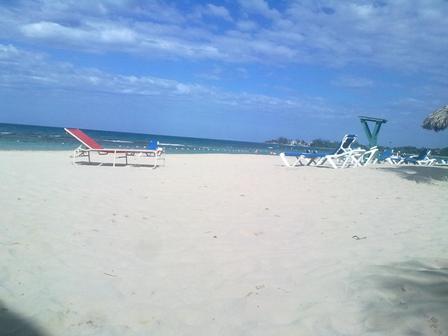 Jewels Beach Runaway Bay Jamaica

Equipped with our own canvas for lounging and towels we had a nice swim in the warm waters and relaxed on soft golden sands before we had to leave for the long drive back. 
Return from Day trip to FDR Runaway Bay to Jamaica Resorts
My Jamaica Blog keeps you up to date with news and reviews of the Best of Jamaica please subscribe below.  Thanks, see you again soon.
---