Jamaica All Inclusive resorts

best in the Caribbean
Jamaica All Inclusive Resorts - Jamaica has some of the best and the largest in the Caribbean.
If you prefer the convenience of an all inclusive vacation, book early and countdown to your perfect sun, sea and soft white sands Caribbean vacation getaway.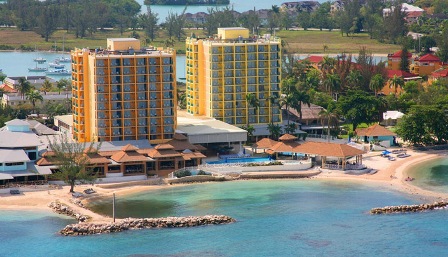 Sunset Jamaican Grande Mo Bay Jamaica
The majority of Jamaica's larger resorts line the 10 miles stretch of Montego Bay's coastal area with crystal clear aqua marine waters on some of the prettiest beaches in the Caribbean.
Below are a selection of Jamaica's all inclusive resorts
Jamaica All Inclusive Resorts - Montego Bay 
Round Hill Hotel and Villas - This all inclusive resort is very stylish inside and out.
Picturesque gardens, beautiful white sand secluded beaches, a world class spa and friendly Jamaican hospitality. This hotel is considered to be one of Jamaica's best and most beautiful boutique hotel in the Caribbean.
Round Hill offers families a relaxed and safe environment to enjoy and for children to explore. Their kids club offers many activities for children and after hours nannies are available at additional costs if required.
Half Moon Royal Villas - The Half Moon Royal Villas is a favourite place for families, friends and groups. Each villa is like mini resort, elegantly furnished with its own keyed entry.

Relax and let your personal butler, housekeeper and cook spoil you in luxury and privacy.
Whatever you need to create your dream vacation, just ask and they will take care of your desires for a perfect vacation.

Jamaica All Inclusive Resorts - Negril 
Moon Dance Villas Negril - Moon Dance Villas is a small classic luxury villa property fully staffed, consisting of 6 luxurious private villas of varying sizes. Amenities are similar to a large Jamaica resorts. Relax by one of their 4 swimming pools or Jacuzzis around the property surrounded by lush green gardens.
Relax and unwind at one of these private Jamaica vacation villas.
Breezes Grand Resort and Spa Negril - This is a super-inclusive adults only Jamaica resort located approx 45 miles from Montego Bay airport.

Amenities include water sports, tennis courts, fitness centre and much more. Breezes Super clubs offer top shelf amenities to thrill and fill you thoroughout your super inclusive resort vacation.
Couples Negril – This adults only all inclusive resort sits on a secluded part of Negril's seven miles pure white sand beach with crystal clear waters on the calm waters of Bloody Bay Negril.
Enjoy the amenities and many activities at this romantic Jamaica resorts.
Jamaica All Inclusive Resorts -Ocho Rios
Sandals Grand Riveria Beach and Villa Golf Resort Ocho Rios - This is a Sandals adults' only property with all the comforts of the Sandals group. Amenities and activities are numerous and all creature comforts and more are available. T
The Sandals brand have hotels in Montego Bay, Negril, Ocho Rios and Whitehouse on Jamaica's south coast...they all offer full top-shelf packages.
Their exchange packages gives guests access to other Sandals properties in Jamaica.
Couples San Souci This is an adults only Jamaica resort in Ocho Rios elegantly placed on Jamaica's emerald coast overlooking the beautiful dazzling Caribbean Sea.

Enjoy the breathtaking view of Jamaica's white sand beach; its tropical greenery and indigenous birds. Take a dip in the natural mineral springs that flows from the mountains complimenting this resort.
Couples Tower Isle  - This is an adults only Jamaica resort which dates back to the 1950s. It has been recently renovated and updated with the changes of time and technology.
The amenities of the Couples Tower Isle include several restaurants and bars, freshwater pool, hot tubs, catamaran cruises, beach parties and much more.
Find the best Jamaica Resorts here
Golden Eye Hotel and Resort - This Resort sits on James Bond Beach in Oracabessa St Mary near Ocho Rios on the Jamaica's North Coast. The original owner, Ian Fleming, named the property which at that time was his home where he wrote many James Bond novels.
This Jamaica hotel has been fully renovated and extended and sits on a wide expanse of beach complimented by lush green mountains down to the sea.
The property boasts a fine restaurant and a bar where you can relax and enjoy a cocktail while listening to some Jamaican reggae music, with the sound of the Caribbean waves in the background.
Return from Jamaica all inclusive resorts to Jamaica Hotels
My Jamaica Blog keeps you up to date with news and reviews of the Best of Jamaica please subscribe below.  Thanks, see you again soon.
---