Jamaica Arts And Culture
Jamaica Arts and Culture - Jamaica's literal, performing and visual arts have grown exponentially post independence of the 1960s.  Expressions often take shape from the experiences of Jamaicans past and present.
Harmony Hall Ocho Rios Arts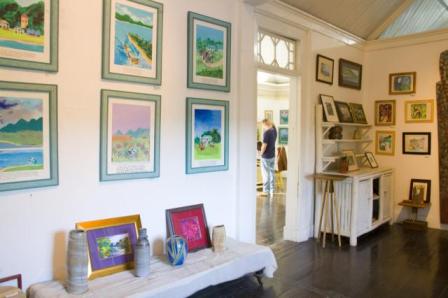 Craft Markets
One of Jamaica's largest craft markets is at Harbour Street Montego Bay where you will find numerous outlets displaying their wares. Prices are competitive and both US$ and J$ are accepted.
Find the best Jamaica family hotels deals here

Jamaica Arts and Culture - St Ann
In St Ann you will find art and craft at Ocho Rios Craft Park, Dunn's River Craft Park, Pineapple Place, Fern Gully and Coconut Grove Shopping Village.  At these locations you will find various items including paintings and carvings.
| | |
| --- | --- |
| | Wassi Art – This is a family owned company where artists make colourful terra-cotta potter.  You can visit, take a tour of this company and they also offer shipping services. |
Wassi Art courtesy of JTB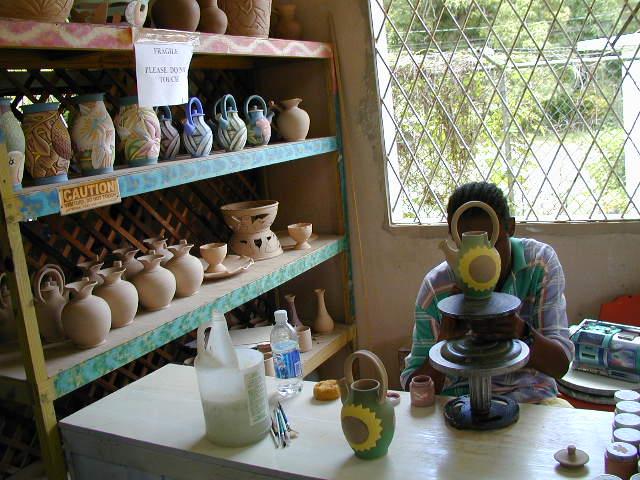 At Harmony Hall's Art Gallery – Jamaica's finest display their works here.
Find the best Attractions in Montego Bay here

Portland
If you are in Portland look out for Philip Henry's Art Bus, Port Antonio for an array of woodcarving and assorted craft items.

Jamaica Arts and Culture - St Elizabeth


Find the best vacation rental deals in St Elizabeth here
At the Accompong Craft Shop craftsmen make hand carved "goombay drums" covered with goatskin and the "abeng horn" among others. 
| | |
| --- | --- |
| | At Island Sculpture Treasure Beach, you will find carvings of abstract animals and other forms.  |
For local woodwork and tie-dying Mermaid Art Gallery in Treasure Beach is the place to visit.

Jamaica Arts and Culture - Kingston and St Andrew
At Things Jamaican in down town Kingston, you will find the best and highest quality crafts and gift items which are 100% Jamaican. 
Find the best Kingston activities here
Visual Arts - The National Gallery Jamaica downtown Kingston displays a collection of art going back to the indigenous peoples of Jamaica; to Spanish and English colonial art; to the latest works by Jamaican artists and others.  
Visit the National Gallery and learn more about Jamaican Art  through the ages.
Other Kingston Art Galleries include:

Grosvenor Gallery – Manor Park
Gallery Jamaica Pegasus – Knutsford Boulevard
Chelsea Galleries – Chelsea Avenue
Mutual Life Gallery – Oxford Road

Jamaica's Cultural Events
The Jamaica Cultural Development Organization (JCDC) keeps Jamaica's cultural events alive by hosting annual Arts Competitions such as:  
Dance - Creative folk, modern, contemporary, Praise, Popular Jazz and dance drama giving teachers, choreographers and performers the chance to showcase and compete for prizes
Find the best Kingston vacation rentals here
Drama – this highlights Jamaican stories from the communities portraying situations in a real life situation usually familiar to the ordinary people.  
Deaf Dance Competition – The aim is to sensitise the hearing impaired to dance forms which allow them to build confidence in expression of self. This encourages the development of rhythm, creative expression and communication.
JCDC Dance for the Deaf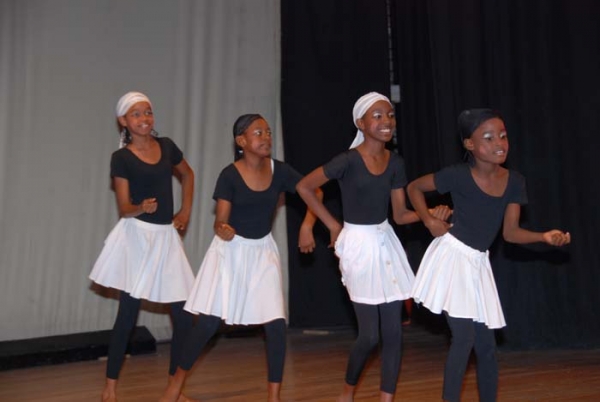 Music Competition – this includes classical and semi classical a gamut of genres.
Drum Fest this incorporates budding drummers and professional drummers island wide.
Popular Band Competition – this encourages the growth and development of band music in Jamaica and the Caribbean as a whole.
| | |
| --- | --- |
| | Speech Competition – This attracts audience both local and international.  Categories include poetry, speaking ensemble, storytelling, Jamaican dialect, and Shakespeare to name a few. |
Find the best hotel deals in Negril here
Traditional Folk Form – Here we go back to folklore dances, stories of the past allow the audiences to reflect and rediscover the roots of Jamaican heritage and personality highlighting our African and European mix.



The Entertainment Arts side highlights the competitive spirit and creativity of Jamaicans from all walks of life in the forms of:

Miss Jamaica Festival Queen Competition
Jamaica Gospel Song Competition - 
Festival Song Competition 
World Reggae dance Championship



Return from Jamaica arts and culture to Jamaica Information
My Jamaica Blog keeps you up to date with news and reviews of the Best of Jamaica please subscribe below.  Thanks, see you again soon.
---