Little Ochi Jamaica

Seafood Restaurant on the Beach
Little Ochie Jamaica - Alligator Pond south Manchester Jamaica – often mistaken for being part of St Elizabeth - is home for this well known Seafood Restaurant on the beach. 
Find the best St Elizabeth Hotel deals here
Entrance to Little Ochie Beach Restaurant Manchester Jamaica
It is a rustic environment with huts on a black/grey sandy beach where you relax by the sea and enjoy your chosen seafood dish.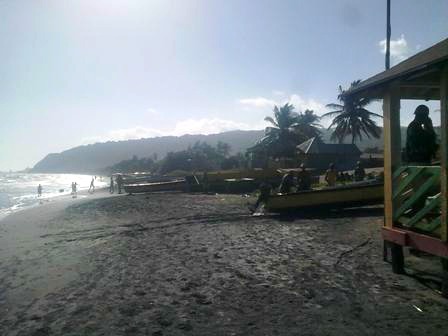 Views from Little Ochie Beach Restaurant Manchester Jamaica
Find the best attractions in Saint Elizabeth here
Little Ochi Jamaica
A friend and I recently visited Little Ochi Seafood Restaurant for a late lunch and it was nice to return after quite a while and I noticed that they had expanded since my last visit.
If you have not  been here before, dishes are cooked fresh to order - first, you choose your seafood from any of the large fridges in the kitchen/bar; tell them how you would like it done and your choice of side order.  
Pay the cashier then find an available hut to sit, have a cool Jamaican red stripe beer while you wait for your melt-in-the-mouth seafood experience.  
In the meantime, the unmistakable vibe of Jamaican reggae music permeates the air  and before you know it, there is an involuntary bobbing of heads and tapping of toes.  Its ok, its just the music getting into your soul! 
Little Ochie Restaurant Hut Manchester Jamaica
No need to dress-up for this venue – it's a rustic and very relaxed atmosphere – which is part of its charm and attraction.   The waves are rough and the choppy seas are, in my opinion, not conducive to swimming.
Find the best vacation rental deals in St Elizabeth here
Children feeding the Birds
Little Ochie Beach Restaurant Manchester Jamaica

Little Ochie Beach Restaurant Manchester Jamaica
While waiting for lunch, we watched the children have fun splashing in the shallow waters of this black/grey soft sand beach shimmering in the light of the setting sun in the distance.  
Black  Sand at Little Ochie Beach Restaurant Manchester Jamaica

The menu includes steamed snapper (my absolute favourite!), shrimp done in at least 6 different ways not to mention lobster also done in many ways. If you love your taste buds to burst with flavour - the jerk lobster is a must try.  
Fish is also done in several delicious ways. Prices are quite reasonable too.  For more details click here for menu list.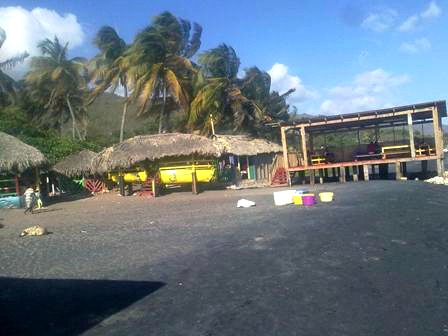 Patrons come from all over  – often making a day trip of it – to enjoy the delicious cuisine of this rustic on the beach seafood restaurant.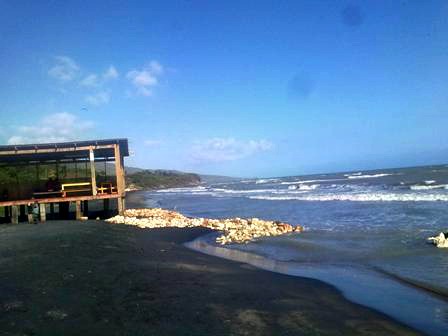 Seaview at Little Ochie Beach Restaurant Manchester Jamaica
So wherever you are on your Jamaica vacation, if you are doing a south coast tour and you love seafood, find a tour operator that includes Little Ochi on its schedule and visit this rustic Jamaican venue on the border of Manchester and St Elizabeth.
Return from little ochi jamaica to Jamaica Beaches 
Return from little ochi jamaica to Jamaica Vacations

Little Ochi Seafood Restaurant Jamaica
Describe your most recent Little Ochi Restaurant visit and what did you have to eat.
My Jamaica Blog keeps you up to date with news and reviews of the Best of Jamaica please subscribe below.  Thanks, see you again soon.
---