Jamaica Breakfasts 

What Would You Like For Breakfast?
Jamaica breakfasts are wide ranging from pretty simple to a full meal.  You may be spoilt for choice depending on your early eating habits.  Of course what you get offered for breakfast in Jamaica will depend on where you are – hotel, restaurant or private home. 
Here  you will find a few every day simple Jamaican breakfast choices.
Find the best Restaurants in Montego Bay here
Cooked Jamaican Breakfast choices
Steamed callaloo with fried dumplings
Ackee and salt fish with boiled banana and dumplings
Boiled banana with mackerel run down
Boiled banana with steamed calalloo
Steamed vegetables with fried plantain and fried dumplings
Stewed chicken with boiled bananas and dumplings
Egg noodles with steamed veg and butter beans
Find the best Restaurants in Negril here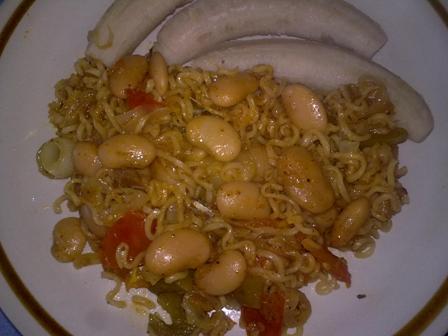 Egg noodles steamed with veg and butter beans
If you prefer a cooked breakfast that will keep you to well beyond lunch time, try something from the above list.  
Apart from the chicken, all the above are regular breakfast meals prepared in my kitchen in the mornings which often help to reduce my evening meals to a snack.

The best part is, you have the entire day to burn any excess calories.  It works too!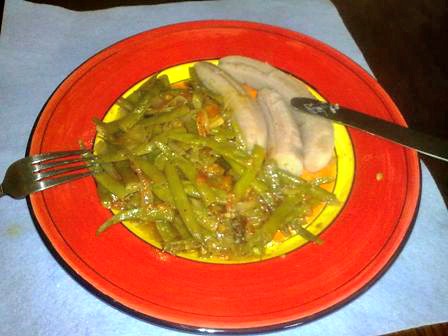 Steamed string beans with boiled bananas
Mixed Fruits - fruit basket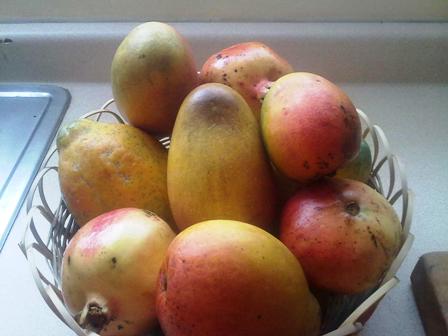 Fruit Basket
A fruit plate is usually a starter but, is ideal for light morning eaters… this is made up of a a mixture of several different Jamaican fruits such as melon, paw paw, mangoes, pineapple or whatever fruit is in season at the time.
Freshly made fruit juices such as Orange, June Plum and other citrus fruit juices are traditionally served at breakfast. 
Find the best restaurants in Kingston here
Fried Finger-Food Choices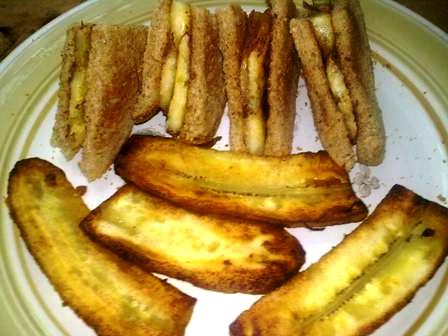 Fried Plantain breakfast on toast
Jamaican Breakfasts - a few choices
Fried plantain on toast
Fried dumplings (Johnny cakes)
Fried roast breadfruit and salt fish 
Salt fish fritters with fried bammy (Cassava bread)
Callaloo fritters 
Ripe banana fritters
If you are at a buffet style setting, you will find a spread of the above together with other traditional breakfast choices such as eggs bacon, toast, cereals, fruit plates etc. 
Porridges 
Porridge is another common Jamaican breakfast dish, here are a few choices:
Corn meal porridge
Green banana porridge
Peanut porridge
Oats porridge
Corn hominy porridge
If you prefer a light breakfast; a nice bowl of porridge is not only ideal, but also filling time.  If you are watching your budget, it's an ideal choice.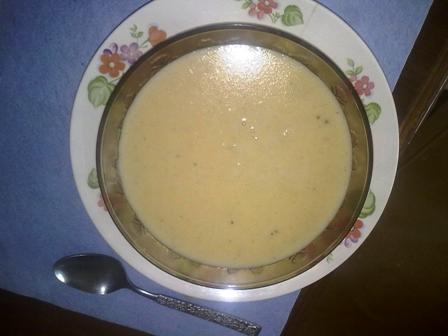 Corn meal porridge jamaican breakfast
 Jamaican's eat chicken daily, so stewed chicken is more than likely to be on the breakfast menu s catering for the heavy morning eaters. 
Return from jamaica breakfasts to Jamaica Food
My Jamaica Blog keeps you up to date with news and reviews of the Best of Jamaica please subscribe below.  Thanks, see you again soon.
---