Jamaica Culture1 
"Out of many one people"
Jamaica Culture1 - What is the "culture" of a people? Culture means different things to different people, but I think it's more to do with where you grew up and how you were socialised.
I say where you grew up because, for me, I did not grow up where I was born, so although my roots lie where I was born, my culture and socialisation are grounded where I grew up.
Jamaica has a diverse mix of peoples that make up the population and in turn, its culture…was colonised at least twice…according to history.
The culture of Jamaica evolved over time through its many nationalities that have lived and adopted this land as home and created families.
Jamaica Culture1 - Blend
First there were the indigenous people of Jamaica, believed to be the "Tainos" who originated from the Arawak Indians of South America.   They inhabited the Island and named it Xyamaca, which means "land of wood and water".
Then came the European colonisers...first the Spanish...and then the British a couple centuries later.
People from west African were first introduced to Jamaica as slaves to work the sugar plantations, soon after the indigenous peoples, the Tainos, were eradicated through overwork and disease by the Spanish.
Having conquered the island from the Spanish the British renamed it Jamaica and continued the slave trade for a further century.
At the abolition of slavery in Jamaica circa 1807 enforced in 1838), the enslaved peoples were freed.

With no slaves to work their sugar plantations, the planters as they were known then imported indentured labourers for this purpose.  

Hence the initial introduction of Indians and Chinese to Jamaica. 
While, the Spanish were deposed by the British, their culture and influence, together with the British, the Africans, Indians and Chinese....not forgetting the relics of the indigenous Taino, evolved and developed into what today forms the basics of  the Jamaican culture.

Jamaica Culture1  - Out of Many One People - Jamaica's Motto
Today, Jamaica is made up of diverse mix of nationalities - African, Jewish, Chinese, Cyrians, Lebanese, British, Spanish, Indians, Canadians, Americans to name a few.
| | |
| --- | --- |
| | The majority of the Jamaican people are of African decent, and the mix of  people of other origins mentioned above, make for the melting pot of the Jamaican culture giving true meaning to the motto of the Jamaican Coat of Arms "Out of Many One People". |
Jamaica Culture1 - Food
With many cross culture mixes making up the society, the foods of Jamaica have evolved into some unique dishes enjoyed by locals and visitors alike. Different ways of cooking with the different Jamaican herbs and spices produce some of the most delicious Jamaican foods that are now enjoyed by people worldwide.

Jamaican herbs and spices were world renowned during the sugar plantation days and today, Jamaican herbs and spices are much in demand by international food industries. 
Ackee and Saltfish served with potatoes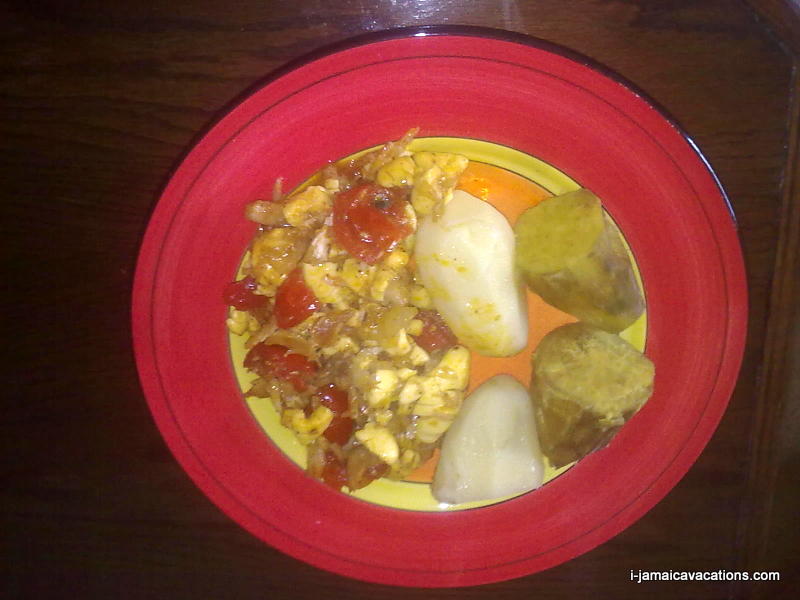 Ackee and Saltfish -National Dish with potatoes
Jamaica's national dish is ackee and salted codfish (although nowadays, other types of salted fish are also on the market) is prepared with spices such as onion, hot scotch bonnet pepper, thyme, sweet peppers, escallion (spring onion) and garlic. Served with anything you fancy is simply delicious.

Jamaicans  serve this dish at breakfast with boiled green banana,  roast bread fruit or fried dumplings.  It can also be served at lunch or  for dinner with white rice or, yam and dumplings.
And for those who know exactly what I am talking about, your mouths watering at the thought, right?!
Curries are another Jamaican favourite - mostly curried chicken or curried goat.

Curried meats were originally introduced into the Jamaican diet by the indentured Indians and down the line have been adjusted and adopted as a favourite Jamaican dish.

The Africans, Chinese and others also have their unique ways of food and preparation. Over time all these different ways of cooking were tried, tested, watered down and changed along the way and this has resulted in what is loosely known today as Jamaican food. 

Jamaica Culture1 - Theatre 
Jamaicans love to laugh so Jamaican Theatre is very comedic based – often very good stories but mostly presented in comedy 90% of the time.  Some plays in standard English but the local Jamaican patois is popular with most local audiences.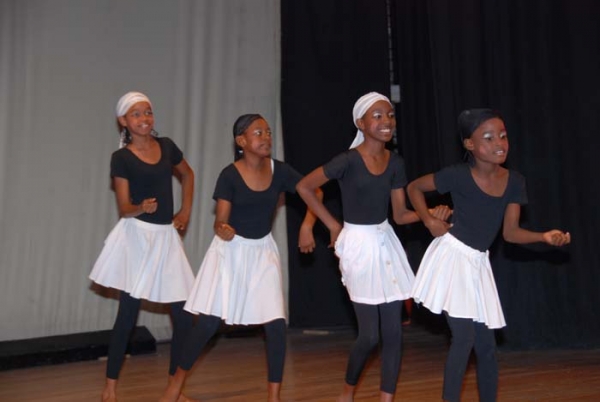 Jamaica Cultural Development Corporation
The Jamaica Cultural Development Corporation (JCDC)has some excellent classical dancers and their presentations whether live or on television are always very professional and colourful.

What I found most amazing about these young dancers the first time I saw them was that they actually danced barefooted which I imagined must be really difficult.

Jamaica Culture1 -  Pantomime
Pantomime is also very popular in Jamaican Theatre and here the performers get the opportunity to display old time Jamaican culture.   The older people can easily identify with and reminisce and the younger enjoy while learning about their ancestry.
The Ward Theatre in Kingston Jamaica was the focal point of pantomimes in the past. The older generation Jamaican theatre goers have some great memories of events held at the Ward Theatre back in the day.  

The Little, Little Theatre in Kingston now hosts Jamaica's Pantomimes and there are a handful of other venues in Kingston that hosts Jamaican plays and on stage shows.  
The Ward Theatre is in a state of disrepair but the hope and aim is to get it restored to its original splendour in the near  future.
Return from Jamaica culture1 to Jamaica
Favourite fun things to do in Jamaica
Share your favourite fun things to do in Jamaica and tell us the story behind them.
My Jamaica Blog keeps you up to date with news and reviews of the Best of Jamaica please subscribe below.  Thanks, see you again soon.
---