Jamaica Demography
Jamaica  Demography - Population 
Jamaica Demography -  The Statistical Institute of Jamaica (STATIN) reports that Jamaica's current population count is just over 2.7 million, of which over 662,000 live in Kingston and St Andrew.  The breakdown by sex is shown as 1.34 million male and 1.36 million female.  These figures are based on the findings of the 2001 to 2012 Jamaica census.  www.statinja.com
View Larger Map
Population Mix
Jamaica motto is "out of many one people".
Jamaica's extremely rich culture is derived from a mix of nationalities such as Africans, Indians, Chinese, Irish, German, British, Spanish, Lebanese... among others who live together as one people which gives credence to the motto of the island.
Others nationals have also adopted Jamaica as their home or second home…these include other Caribbean islanders, Americans, Europeans, North Americans and others and together form a great melting pot of Jamaican people.
Jamaica  Demography - Geography

Jamaica Demography - Jamaica is the third largest Caribbean Island. Positioned in the western Caribbean Jamaica has Cuba, and Haiti as is nearest neighbours.  The island is very mountainous, with the Blue Mountains rising at its highest peak of 2.256 metres (7,402 ft).  
A hike up this peak which borders the parishes of Portland and St Thomas will reward you with the most breathtaking sunrise ever seen, with a bonus view of Cuba in the distance.
The island is divided in to three counties and fourteen parishes with Kingston being the capital city with Montego Bay as the second city.
Hanover         451.15 sq.km
St James        592.28 sq.km
Trelawny        874.62 sq.km
St Ann           1210.28 sq.km
St Mary           610.44 sq.km
Portland          815.06 sq.km
St Thomas       742.48 sq.km

Source STATIN Jamaica.  

St Andrew          432.9 sq.km
Kingston           22.66 sq.km
St Catherine     1197.2 sq.km
Clarendon       1195.59 sq.km
Manchester      829.01 sq.km
St Elizabeth    1205.67 sq.km
Westmoreland  789.54 sq.km




Beautiful beaches, coves, waterfalls, rivers and the jagged coastlines of Jamaica are some of the unique land marks that enhance brand Jamaica. The north coast of Jamaica which incorporates Ocho Rios, Montego Bay and Negril are the main tourist attractions. 
Jamaica's Kingston Harbour is the 7th largest in the world.  Jamaica has many beautiful sites that attract tourist from all over the world to its shores.  

It also boasts some of the best beaches in the Caribbean complimented by some of the largest all inclusive resorts in the region. 
Jamaica  Demography - Climate
Jamaica Demography - The climate of Jamaica is tropical…hot and humid in parts.  In the more mountainous regions of Jamaica such as Mandeville and parts of St Elizabeth on the south coast, temperatures are much cooler.
On the plains or lowlands of south coast, however, the climate is arid will little rainfall.

On the north east side of Jamaica such as Portland and parts of St Mary, rainfall is higher which is evident from the consistent lush greenness of these parishes.   www.go-jamaica.com/weather.

Jamaica lies within the region's hurricane belt and the caribbean hurricane season is between 1st June and November 30th as storms and hurricanes are likelihood.  Major hurricanes in Jamaica for the past 50 years with devastating effects were Andrew in 1953, Gilbert in 1988 and Ivan in 2006.  
Communication
Jamaica has a fully digital communication system with a mobile penetration of over 95%, with Flow (Cable & Wireless) and Digicel Jamaica being the major providers.  cwjamaica.com; digicel.com.
Transportation - Road Transport – Urban Jamaica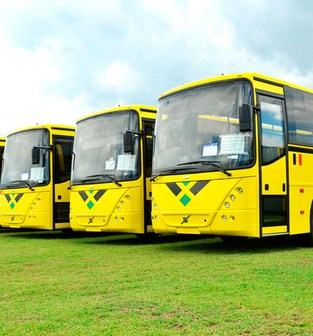 Urban Transport buses Kingston Jamaica
Buses
Jamaica Demography - In the urban areas of Kingston and St Andrew, Jamaica you will find the Jamaica Urban Transit Company (JUTC) with its central bus terminal at Half Way Tree.  
From this bus terminal and along the routes you can get buses to travel within the Kingston and St Andrew metropolitan areas.
Fares are set for different stages of the ride and a timetables are available on site and can be downloaded from  www.jutc.com
Taxis
The Bus system is augmented by taxis and other registered carrier of public passengers. Taxis operate under set routes and will pick up other passengers along their routes.
Hailing a cab on the road in Jamaica, like anywhere else is a daily practice but you will have to share with others on the way.  If you prefer to be picked up at the hotel or your villa, this can be arranged but this will be considered a chartered arrangement. It will cost more but you will have exclusivity.  In other words, you will not have to share the ride.
Road traffic in Kingston Jamaica is often bumper to bumper in rush hour 7-9 am and 3-7 pm weekdays approx.  

Traffic in Kingston consists of corporate Jamaica and parents dropping off or picking up kids from school.  In my experience, main roads of Kingston and St Andrew flow freely when schools are on vacation/break. 
In central Montego Bay the road traffic problem is similar to Kingston and St Andrew. What I find, however, is that in Kingston, there are more side roads and turn offs for detour. 

Road Transportation - Rural Jamaica 
Long distance public passenger buses traverse parishes between Kingston and other parishes island wide on scheduled daily runs from the  Bus Park in downtown Kingston and other points.  
In rural Jamaica, however, most people rely  on public passenger vehicles - taxis - to get around. School buses in the rural areas are privately owned buses hired out on contract for this purpose.  These buses are also available for day trips and other group excursions  outside of school hours. 
Jamaica has two main international; Norman Manley International Kingston and Donald Sangster International Airport, Montego Bay.   These are complimented by an internal shuttle services between Kingston and Montego Bay and other main points such as Negril, Port Antonio, Boscobel, near Ocho Rios. 
Hotels in Norman Manley International Airport (KIN)
 Jamaica  Demography - Shipping

Passenger Cruise Ships  play a big part in the Jamaica tourism sector and they come into the docks of Ochi Rios, Falmouth and Montego Bay Jamaica  on a weekly basis.  
Some of the largest cruise ships have weekly stop overs at these ports with Ochi Rios often being the busiest -  with regular  stop overs of Cruise Ships three times per week.  
Hotels in Sangster International Airport (MBJ)
Jamaica also gets high container cargo shipping traffic - some of which are in transit. The Port of Kingston has been extended over the years to accommodate increased capacity of container traffic.  Montego Bay's Port also handles a large variety of mainly agricultural product cargo traffic. 
There are at least 5 other ports of entry around the island.  Jamaica has at least 9 lighthouses aiding the navigation of shipping to the island.
Return from Jamaica Demography to Jamaica Information
My Jamaica Blog keeps you up to date with news and reviews of the Best of Jamaica please subscribe below.  Thanks, see you again soon.
---