Jamaica FAQs Answers



Jamaica FAQs Answers - This page address questions asked on line as shown.  I will add as they come and if you have a question on Jamaica now is the time to send it in for inclusion.
Jamaica FAQs Answers - Parishes and sizes
What are the 14 parishes of Jamaica and their districts?
Below are the 14 Parishes of Jamaica and their sizes.
Hanover         451.15 sq.km
St James        592.28 sq.km
Trelawny        874.62 sq.km
St Ann           1210.28 sq.km
St Mary           610.44 sq.km
Portland          815.06 sq.km
St Thomas       742.48 sq.km

Source STATIN Jamaica.  

St Andrew          432.9 sq.km
Kingston           22.66 sq.km
St Catherine     1197.2 sq.km
Clarendon       1195.59 sq.km
Manchester      829.01 sq.km
St Elizabeth    1205.67 sq.km
Westmoreland  789.54 sq.km



Find the best Jamaica hotel deals here
What parishes border St Elizabeth?
St Elizabeth is bordered by Manchester to the east, Westmoreland to the west with St James and Trelawny on the north side.
Which parish gets the highest rainfall in Jamaica?
Portland in the north east coast of Jamaica gets the highest rainfalls in the island. which is evident from the perennial greenness of this parish.
Jamaica FAQs Answers - Food
Do I boil water before adding ackee?
Fresh ackee, requires cooking for 7/10 mins before adding to your seasonings.  You can do it by either adding to cold water and bring to the boil, reduce heat and cook for 7/10 mins.  
My preference is to bring water to boil and then add the ackee; cook for about 7/10 mins, which results in a nice firm texture.  
Drain as soon as cooked – if left to sit in the boiling water, they will get soggy.  The longer you you cook ackees the softer they will get – careful it does not turn to soup! 
NB: Tinned ackees are already cooked.  Just drain and add to your seasonings and leave in for as long as it takes for your seasoning to sauté .  Avoid over stirring.
Hotels in Saint James Parish
Jamaica FAQs Answers - How long to cook dried gungo peas?
Dried gungo peas are pretty tough, so the best way to avoid spending all day in the kitchen and save energy is to soak in cold water over night.  This softens up the peas and reduces cooking time to about 90 mins.  
Pre-soaked gungo peas takes about 90 mins to cook.  Add salt to water and place on medium heat.  Check often and top up as water boils away quite fast. 
Check consistency after an hour.  If not cooked to your taste, after 90 mins, allow additional time.
For dried gungo peas, you will need as good two hours of boiling before they are edible.  
Do not allow your peas to burn or you will have to start from scratch.
Burnt peas cannot make rice and peas!
Jamaica FAQs Answers - Food
Once the peas are cooked, you are ready to add your seasonings and rice. Reduce heat further and leave to steam until cooked.  Avoid stirring rice and peas until you are ready to serve.
Can you use precooked rice in rice and peas?
Precooked rice is not suitable for use in rice and peas as the rice needs to be cooked in the prepared peas.
You can try it and create a new dish maybe, but it may not be recognised as rice and peas as we know it.
Find the best luxury Jamaica hotel deals here
How to steam Callaloo?
Wash and cut callaloo into small shreds.  Add to an ounce of butter or oil to the pan with callaloo, cover and steam for 5/10 mins.  Add salt and seasonings if you prefer but callaloo can be steamed plain.
If you would like to spice it up a little add, onion, thyme, green pepper, tomato and black pepper. Serve with whatever you like or as is.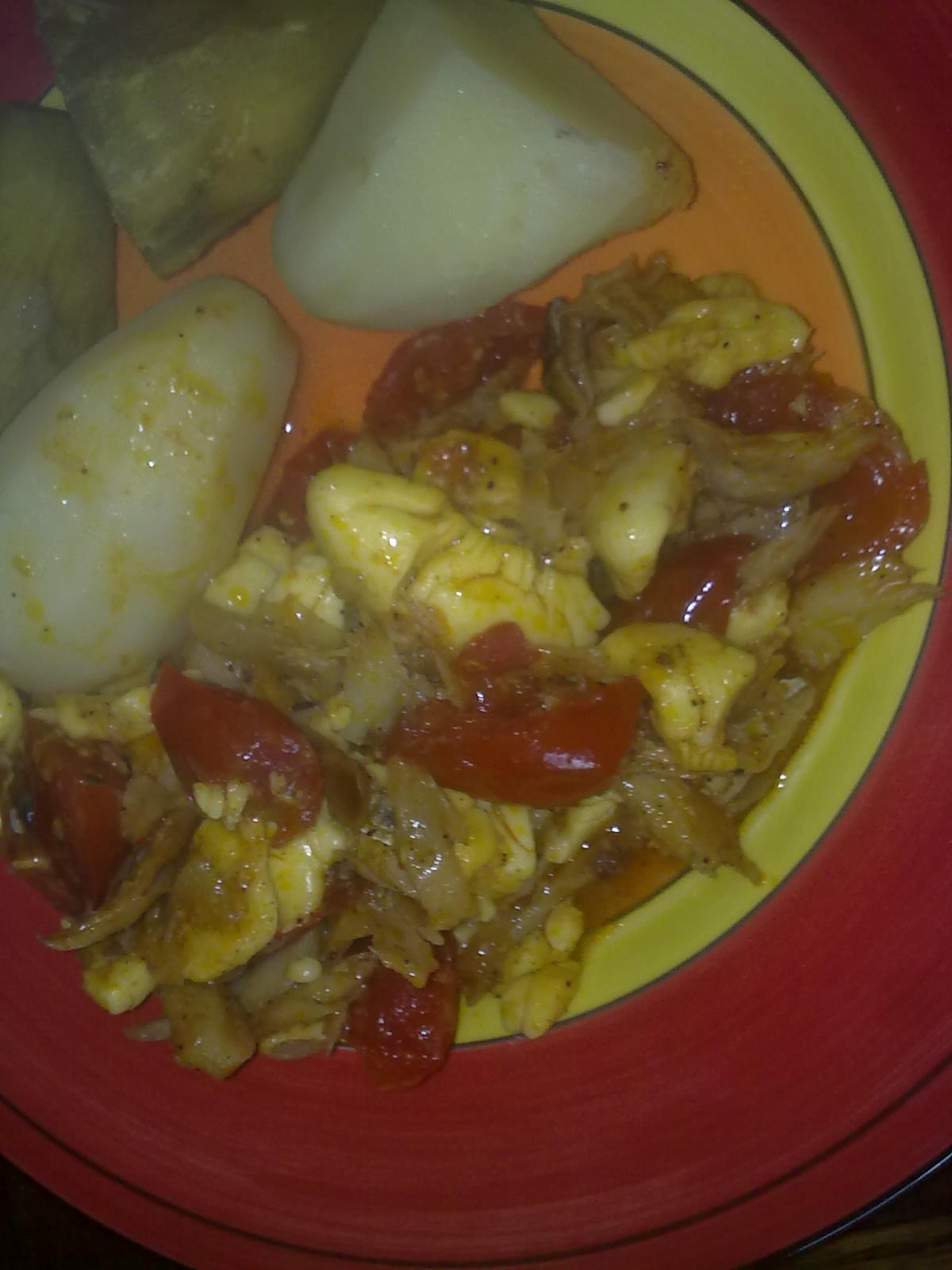 Jamaica National Dish - Ackee and Saltfish
What seasonings do you put in ackee and saltfish?
Seasonings in ackee and saltfish include; onion, scallion, thyme, sweet pepper, scotch bonnet peppers, garlic, tomato, carrots, black pepper and oil to toss the seasonings.  
Of course you can choose to limit the number of seasonings used or really  tantalise your taste buds by using a little of all the above. 
How to remove the excess salt from fish cured with salt (salt fish)?
Jamaica FAQs Answers - To remove excess salt from salted fish, soak in cold water over night.  Clean-up (remove scales/bones)  and wash the fish when ready to use.  If salt content is still high, place in water and bring to the boil  for 5/10 mins to further reduce excess salt and drain.
If there is no time to soak cured salt fish; boil salt fish for 10 mins, drain, refill water and boil again for another 10/15 mins.  If salt content is still high repeat boiling and draining until it suits your taste.  
Jamaica FAQs Answers - Food
How to soak dried gungo peas before cooking? 
Put one cup of dried (washed) gungo peas in a medium size pan and add 4 cups of water.  Cover and leave to sit over night or for at least six hours before use.
What is authentic Jamaican rice and peas
Authentic Jamaican rice and peas is that which is cooked the traditional Jamaican way with seasonings and coconut milk.  See more here
Red/Kidney Beans Rice and Peas
How to make seasoned kidney beans
Jamaica FAQs Answers - Prepare beans same as for rice and peas and add desired seasonings when cooked. Leave to simmer until most of the water has evaporated down to gravy stage.   Serve with white rice or side dish of choice.
Jamaican traditional breakfast
Jamaican traditional breakfasts include Boiled green banana and ackee; porridges; fried dumplins and fried plantain; steamed callaloo with boiled green bananas and dumplings to name just a few.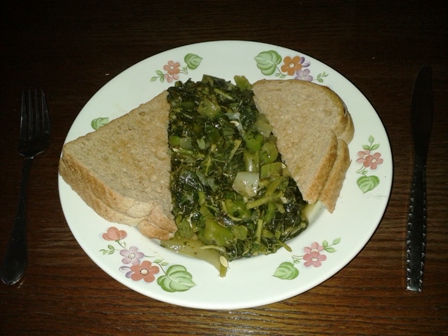 Steamed Callaloo Breakfast with Toast
How to cook Jamaica national dish
See more about Jamaica's National Dish here Ackee and saltfish
Jamaica FAQs Answers - Getting Around
 Is there a highway from Montego Bay to Black River?
Currently there is no direct highway, per se, from Mo Bay to Black River but there are two main routes.   Plans are on the table for that phase of Highway 2000 to be constructed but that will be in the near future.
Find the best last minute Jamaica hotel deals
In the meantime you can take the main road along the coast which will go through Lucea, Negril via Savanna-la-mar.   This is the coastal and more scenic route which gives you the opportunity to stop off of Negril on the way.  
For the more direct and shorter route, turn off the Bogue Road as you exit Montego Bay towards Lucea at Long Hill through to Anchovy to Ferris Cross.  Turn left at Ferris Cross on the A2 road which takes you through to Black River and beyond.
The coastal route with the Caribbean Sea in view,is obviously more scenic, but the in-land through the mountains route is shorter and has its own unique areas of interest.
Hotels in Runaway Bay
Jamaica FAQs Answers - General
What is the speed limit on the toll roads of Jamaica?
The maximum speed limit on Jamaica's toll roads is 110 km per hour.  If you prefer to drive below this speed on the toll roads then ensure you stay within the inside lane. 
How many schools in Jamaica wear khaki uniforms?
The majority of Jamaica's schoolboys' wear khaki uniforms.   They are complimented by the colours of the girls' uniforms which identifies the particular schools island wide.
Are there extended families in Kingston Jamaica?
Kingston in made up of a high volume of Jamaicans with their roots in other parishes and over time, vice versa.  
The majority of Kingstonians have extended families in another parish of Jamaica and if you speak to them they will happily tell you which parish they are from.  
More precisely they will tell you which "country"  they are from, as everywhere outside Kingston is considered "country" in the rural sense.
Hotels in Kingston
What does the Jamaican motto "out of many one people mean"?
The population of Jamaica is made up of many different peoples eg, Chinese, Indian, Africans, Tainos, Europeans etc.  This is the meaning of the motto, as whatever people you originate from, all Jamaicans live as one people and consider themselves  100% Jamaicans.  Hence out of the many, we are one people.
Jamaica FAQs Answers - When is Kingston's rush hour?
Kingston's rush hour in the morning is usually between 6.00 am and 9.30 am.  It starts again between 12.30pm and 3.00pm (lunch and school pick up time).  The evening rush hour is usually between 5.00 pm and 8.00 pm. 
Find the best Kingston Restaurants here
All inclusive resorts close to St Elizabeth
The majority of Jamaica's all inclusive resorts are on the north coast but an unforgettable experience can be found at Sandals Whitehouse Westmoreland, which is within 20/30 driving distance of Treasure Beach St Elizabeth.
Treasure Beach has Jakes Hotel and Villas while not an all inclusive resort, is a favourite of visitors to Treasure Beach of St Elizabeth. 
Jamaica FAQs Answers - General
Are white plated taxis licensed in Jamaica?
White plated vehicles are licensed and registered under the Jamaica road traffic act for personal use only.   If they operate as taxis, they may fall foul of the law and public passengers who use them do this at their own risk. 
By how much is Clarendon bigger than St Catherine?
Clarendon parish is 1195.59 sq km and St Catherine is 1197.20 sq km.  
Jamaica FAQs Answers - Please complete the "Contact Us" form below and send my your queries for response.  I will do my best to respond as quickly as possible.  
Return from jamaica faqs answers to Jamaica information
Return from jamaica faqs answers to Jamaica Vacations
My Jamaica Blog keeps you up to date with news and reviews of the Best of Jamaica please subscribe below.  Thanks, see you again soon.
---