Jamaica News and Events
Annual Jamaica Events 
The Montego Bay Chamber of Commerce and Industry's Expo takes place at the Montego Bay Convention Centre in Rose Hall, St. James mid October annually. 
Jamaica News and Events -Month of May.
Food for the Poor 5k run/walk Emancipation Park Kingston Jamaica
Jamaica Intl Invitational Meet – National Stadium Kingston Jamaica
Jamnesia Surf Camp 8 Miles Bull Bay St Andrew  Starts 8.00 pm.  Live music, food and drinks on sale.
 Mother's Day Jazz at Red Bones Café –  Argyle Road Kingston  2.00 pm to 9.00 pm. 
Lime Golf Academy New Kingston  Mothers' Day event - 5.00-7.00 pm.
Club Kokonutz Reading Montego Bay St James – Mother's Day Event 
 Style Week Jamaica Fashion Block - Saint Intl Ja Kingston.  Fashion Show
Speed Race Meet Dover Race Way St Ann – 4 day Speed Race event starts 8am.
Another Jamnesia Session Jamnesia Surf Camp Bull Bay St Andrew
 Annual Rose Hall Roast Festival at Long Beach Montego Bay -  Great food and live performances.  10.00 am to 2.00 am.
Manchester Flower Show Mandeville  Manchester – 9.00 am to 3.00 pm – 
Find the best Kingston vacation rentals here
National Labour Day Concert on the Waterfront, Downtown Kingston Jamaica.  - Live music 8.00 pm till late.
 Monthly exhibits  including special films and performances held at National Gallery of Jamaica 12 Ocean Boulevard Kingston.  11.00 am to 6.00 pm. 
Jamaica News and Events - April
Montego Bay Yacht Club St James -   Easter Regatta 
Bird Watching Walking Tour Hope Gardens Kingston/ All day event from 6.45am to 8.30am 18 and over.
Smirnoff Bacchanal James Bond Beach, Oracabessa All inclusive with food and sale  1-10 pm 
Find the best Jamaica family hotels deals here
April - St Elizabeth Jerk and Seafood  Festival  Manley Horne Park, Ballard's Valley Junction  St Eliz.   – family based event with great foods.   Music by local artists Gates open 1- a 
 Apr - Marbana Port Antonio, Frenchman's cove Portland  Carnival celebrations  with music by  well known musicians  11 to 7pm.
 April - NDTC, Little Theatre presents celebrates the life of Eddy Thomas with dance.
April - Fantasy Beach Prior St  Ann Intl Soca  artist and others - promises a fun filled day.  
April Easter Mon – St Eliz horticultural society annual flower show Held at Independence Park Black River St Elizabeth
April -  Carnival Breakfast celebration at Trident Castle Portland Must be 18 and over – 4 – 11pm
Apr  - Dover Raceway  in St Ann Annual Easter Monday racing competition at Dover .  8am to 6pm
Find the best Jamaica Resorts here
April - Bourbon Beach Party Negril  Westmoreland 
April - Annual Easter Monday kite festival at Richmond Priory St Ann
April - Hope Botanical Gardens Easter Sunday family fun day 1- to 7pm in Kingston
April - St Mary Agri Expo – farmers market and family fun day 
April - Agricultural show case. Montpelier Show Ground St James.  Start as at 9.00 am 
April - Another kite festival and family full day scheduled to start 10 am at Seville Heritage Park, Priory St Ann.
April -  Appleton Bacchanal Carnival at Mass Camp Stadium Kingston start 10.00 pm till late
April - Jamnesia Surf Camp Bull Bay St Andrew  – live music, free entry and food and drink on sale. 


April -  Annual Carnival festivities in the streets of Kingston.  See the array of colours of parade bands and choose a winner while having a great fun day
 April – James Treasure Beach Off Road Triathlon,. So get ready for a 500 meter swim , 25k mountain bike ride and 7k country run or like me, just be spectator! 
April  - Half Moon Bay Resort Montego Bay  Jamaica ITF Senor Tennis Championships.
Poem Words and Agro Festival, Hope Bay Beach Portland Listen the words and relax to the roots reggae performances -  10am to 6pm
October – Octoberfest – Alhambra Inn Kingston An annual German festival organised by Jamaica's German society-  featuring German foods beers and wines.
Find the best Attractions in Montego Bay here
 October  – Intl Reggae Wine Festival – MoBay – Wine displays and music by  well known Jamaican reggae artist, fair including fashion show, arts and crafts etc.  This events attracts wine enthusiasts worldwide
October Annual Port Morant Banana Festival – Held at Cotton Tree Port Morant St Thomas.
Find the best Port Antonio Attractions here
 Oct - Nanny Day Celebrations – More Town Portland – Family fund day food and entertainment festival.  Entertainment includes live bands, drumming traditional dancing and singing. 
Clean up Jamaica Beaches - Sept 
Thousands of Jamaicans are expected to participate in the removal of garbage and other debris from the nation's beaches, as Jamaica observes International Coastal Clean-Up Day 
The main project will be the cleaning of Fort Rocky on the Palisadoes Strip in Kingston, while the Urban Development Corporation (UDC), and National Environment and Planning Agency (NEPA) are collaborating to remove garbage from the Hellshire Beach in St. Catherine.
Volunteers wishing to participate in International Coastal Clean-Up Day can visit JET's website at www.jamentrust.org to register.
Jamaica Product Exchange  Trade Show - Sept 
Over eighty local suppliers of goods and services, including manufacturers, will participate in the upcoming Jamaica Product Exchange (JAPEX) trade show, through the coordinated efforts of the Tourism Linkages Hub and other partner entities. 
The annual event is staged by the Jamaica Hotel and Tourist Association (JHTA) in association with the Jamaica Tourist Board (JTB). The three-day trade show is usually held at the Montego Bay Convention Centre, St. James.
Courtesy of Jamaica Information Service (JIS)
Jamaica News and Events - July
The Denbigh Agricultural, Industrial and Food Show  is scheduled for first week in August at its usual venue of Denbigh Show Ground, Clarendon St Catherine Jamaica.
Jamaica news and events - July - Portland Jerk Festival Port Antonio Portland, Jamaica
Try some Jerk chicken, fish, pork and sea foods at this annual Jamaican Jerk Festival,
Lots to do for the kids and music by local bands with some cultural entertainment thrown in. A great experience for the whole family – don't miss it.
July - Little Ochie's Seafood Carnival, Alligator Pond - 
A day of fun and great seafood to satisfy your cravings with music to get your toes tapping on Jamaica's south coast. 

Little Ochie Seafood Restaurant on the beach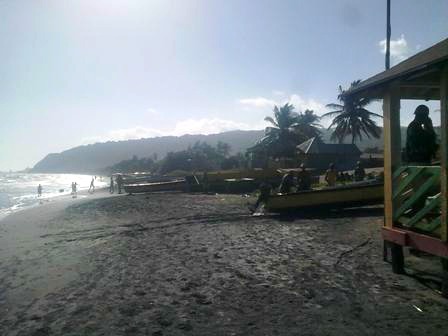 All Jamaica Grill –July   
Email: alljamaicagrilloff@gmail.com  Contact: #8767964008
Jamaican cuisine at its tastiest at this all Jamaican grill event where patrons compete for first prize in their various Jamaican food preparations.  This is a family event so bring the kids and have a wonderful family fun day. 
Best food for the prize will be decided by crowd favourite.
July  - The Best Dressed Chicken Fun In The Sun: , July  10:00 am to 10.pm.  Website:  https://funinthesonjam.com/

A gospel music festival for the whole family.  
July  Reggae Sumfest  Catherine Hall Mo Bay
 http://www.reggaesumfest.com/  
Enjoy Summer in Jamaica - Reggae Sumfest in Montego Bay St James.  Check  their website for line-up.  Tickets also available on line.
Jamaica News and Events 
Jamaica news and events - April  (weekend) - Easter Regatta Montego Bay Yacht Club, Montego Bay, St James -  Easter Regatta cruises and yacht races.  
Contact: Phone:(876) 979-8038 or Fax: (876) 979-8262 
Apr  (Monday) Jamaica Intl Kite Festival  at Chucka Cove, Priory Park St Ann, (near Ocho Rios).

Family fun day with entertainment for all.
April  (Thur to Sunday) ITF Senior Tennis Championships Tryall Tennis Centre, Tryall Club, Montego Bay, St. James.
Watch Jim Courier v Karl Hale participate in this Jamaican Charity fund raising event.  
Find the best Montego Bay hotels deals here
April - (Sunday) Westmoreland Curry Festival at Mannings School, Savanna-la-Mar.
Jamaica News and Events - May 
May  - Manchester Horticultural Society Flower Show at
Showgrounds, Ward Avenue, Mandeville, Manchester
Annual Jamaica labour day horticultural flower show
May -  Annual Margaritaville Rose Hall Roast Festival
Lilliput Playing Field (next to Iberostar Hotel), Montego Bay, St. James
Annual Jamaica Labour Day food festival with live music by local musicians.
Find the best last minute Jamaica hotel deals
 May  - Jamaica Epicurean Escape 
Grizzlyls Plantation Cove, Priory St Ann
Intl food, wine and music festival where first class chefs, celebrity chefs and others create mouthwatering mix of foods,drink and music to liven up your tastebuds and have some fun on this three day event.
https://jamaicaepicureanescape.com/
Jamaica News and Events - June 
May/June   - Calabash Literary Festival Treasure Beach St Elizabeth
A three day festival of the written word presented by renoun author, poets and story tellers of all spheres. This bi-annual inspirational event is one of its kind in the English Speaking Caribbean. 
Literary luminaries and musicians far and wide are expected to be part of Calabash 2014. 
Look forward to seeing you there. no entrance fee. 
httpx://www.calabashfestival.org/2014/schedule.html
June Liguanea Art Festival - 10.00am start -  all day event
Venue: Chinese Benevolent Association 176 Old Hope Road, Kingston 6, Jamaica.
Outdoor exhibition featuring displays of sculptures, Paintings, drawings etc
Food and drinks on sale - free admission - free parking.  They are on facebook.
June  - annual Jamaica Ocho Rios Jazz Festival presents
A Jazz packed week with 30 spectacular events throughout Jamaica
June  - Caribbean Fashion Week
Venue: National Indoor Sports Centre, Kingston Jamaica
Doors open 5.00pm.  Showtime 7.00pm
https://www.caribbeanfashionweek.com/
Jamaica News and Events - travel tax
Change in long haul travel tax to Caribbean 
Jamaica news and events - If travel between the United Kingdom and Caribbean is part of your life, you no doubt would have been affected the increase in Air Passenger Duty (APD) (travel tax) levied on long haul airline travel from the UK to the Caribbean region, introduced in 1994.
Since the inception of this tax, the tourism organisations such as the World Tourism Organization; World Travel & Tourism, Caribbean Tourism Organisation and others have relentlessly rallied the British Government against this tax which they considered to be unfair on Caribbean destinations.
The unwavering efforts of these organizations over the past 20 years have finally paid off, with an announcement made on March 19, 2014 by the Mr George Osborne, the British Chancellor of the Exchequer in his Budget Speech that long haul air travel to the Caribbean will be taxed the same as to the USA. This comes into effect April 2015.
The Jamaican Tourism Minister, welcomed the move and  no doubt Jamaicans in the UK and others travelling long haul flights to the Caribbean region will be breathing a sigh of relief.  

If this has affected you over the years, share your experience here below.
Jamaica News and Events - Spring Break - annually  
Jamaica News and Events - Spring Break has an estimated patronage of 1.5 million students flocking to Florida, Texas, Las Vegas, Mexico and Caribbean destinations such as the Dominican Republic, Puerto Rico, The Bahamas and Jamaica each March.
According to spring break companies STS Travel & Sunsplash Tours, the upcoming staging of the month-and-a-half-long event is set to explode on Jamaica's North Coast.
The companies are reporting a sharp increase in advance bookings for the same period when compared to last year.
In fact, the official spring break Jamaica Twitter page @springbreakja calls Jamaica 'the tropical island paradise of sun, sand, sea, booze and babes'.
"We haven't seen this much buzz for Jamaica in a very long while," said Jake Jacobsen, vice-president of Sales for Maryland-based STS Travel.
Jamaica News and Events - Dec  - April 
Carnival in Jamaica, Kingston - March - April 
Jamaica Carnival is  a lot of fun in the city of Kignston.  So if you have the energy for nonstop partying over a period of several weeks, note Jamaica Carnival in your list of things to do. Bacchanal Jamaica has a full schedule planned which is a combination of soca music and dance exercises – dubbed Socacise.
So, join in where you can and get fit while you have fun.  All this kicks off with Bacchanal Opening Night on Friday March 7 2014 and culminates with the road march on Sunday April 27th with lots of fun during the weeks leading up to road march. For more visit www.bacchanaljamaica.com
Jamaica news and events - Negril Reggae Marathon – Dec 
Have you ever taken part in the Jamaica Reggae Marathon?  If not this is your chance to join in the fun.  You can choose to do the full marathon, half marathon or 10K.
Start out in Negril's coastal resort and run along the north coast of.

It's famous for its early start – 5-15am torch lit pre-dawn start – walk or run and have a great experience!

The course is IAAF certified and the venue is Negril's famous coastline. Interested?

For more go to www.reggaemarathon.com
Jamaica News and Events 
Accompong Maroon Festival, St. Elizabeth - January 6 annually
Jamaica news and events - The Maroons of Accompong Town St Elizabeth are preparing for their annual Maroon Festival  be held on January 6.   January 6th is celebrated as the birthday of Cudjoe forefather and leader of the Leeward Maroon of the past.
This is a worldwide event with people from many countries travelling to Jamaica to attend this annual event.  If you would like to read more about this festival go to www.jamaicanmaroons.com 
Jamaica Jazz & Blues Festival, Trelawny Multi-Purpose Stadium, Falmouth - January 30 - February 1
The Jamaica Jazz & Blues Festival is an Air Jamaica sponsored event. Here you will find the who is who on Jamaica's society, visitors from overseas, wannabees and a diverse mix of Jamaicans all having fun together.  
Big names in local and international artistes make up the bill with usually one big name to draw the crowd.  So if you want to be where it's all happening in Jamaica between 30th Jan and 1 Feb 2014; the Trelawny Multi Purpose Stadium is the place to be.Visit www.jamaicajazzandblues.com for more.
Reggae Month, Kingston - February
Jamaica news and events - February is Reggae month in Jamaica – look out for live music shows in honour of past and present reggae musicians who have contributed to the development of Jamaica's music.  
Salute for Reggae Month brings out some unforgettable performances recorded and live of the icons of Jamaica Reggae Music for the Month of February.  Visit www.jariajamaica.com for more
Jamaica Fat Tyre Festival, St. Mary and Ocho Rios - February 
The St. Mary off-Road Bicycling Association (SMORBA) is a non profit organization that hosts biking events such as Jamaica Fat Tyre Mountain biking Festival; Jamaica Bicycle Bash and Jamaica BMX Racing.  
The Fat Tyre Festival is a week-long event. Places for Fat Tyre Festival are quickly sold out, so if this is your kind of thing, get on their mailing list for next year.  visit www.smorba.com for more.
Air Canada Rouge comes to Kingston 
Kingston Jamaica has been selected as the lead destination for the new Air Canada Airline, Air Canada Rouge.   The service commences July 1st 2013, for weekday flights from Toronto to Kingston Jamaica.  The flights are scheduled to arrive daily at Norman Manley International Airport Kingston at 1.05pm and depart at 2pm local times.  
Minister of Tourism and Entertainment, Dr Wykeham Mcneil welcomed passengers on the inaugural flight from Toronto on July 1st 2013.
Source Jamaica Tourist Board 1 July 2013.
Jamaica News and Events - August 
Jamaica News and Events - Mobay Jerk Festival, Catherine Hall, Montego Bay - August 
This is a one day outdoor event of food and entertainment suitable for the whole family.  This event will be held at the Catherine Hall complex in Montego Bay.  If you plan to be in Montego Bay around 1st August stop by and give your taste buds a treat with some authentic Jamaican cuisines.  See the line up on www.montegobayjerkfestival.com
Jamaica Intl Reggae Film & Music Festival, Ocho Rios,
Montego Bay & Port Antonio - August 
This event features short documentaries/animation  and music videos celebrating Jamaica's music culture and local based film makers.  Women in film will be celebrated with special recognition given to the late Madge Sinclair who was of Jamaican origin.  www.reggaefilmfestival.com
 International Reggae Wine Festival, Montego Bay - August 
Montego Bay hosts the Intl Reggae Wine Festival over two days on 2nd and 3rd August.   This event will be held at the Secret Sea Wind Club in Montego Bay, 7pm to 2 am, and you can expect some of the best intl wines and Jamaican spirits. 
A fashion show featuring the latest trends in Caribbean fashion will be part of the entertainment. www.internationalreggaewinefestival.com
Summer Playground Fantasy- SPF Weekend, St Ann- August 
St Ann once again hosts its Summer Playground Fantasy between 2nd and 5th August.  This event attracts the more mature minded (over 21) patrons who will enjoy the long weekend partying at different locations. See www.spfweekend.com. for details on costs etc
Jamaica Independence Day - August 6
The Jamaica Cultural Development Committee (JCDC) plans to celebrate Jamaica's Independence Day in the streets of Kingston on  August 6.  Floats decked in the Jamaican colours will line the streets of Kingston.  Groups in their various costumes will celebrate together with music trucks, marching bands and a lot more.  For more info the website is www.jcdc.gov.jm
Jamaica News and Events  - July
Makka Pro Surf Contest, Makka Beach, St. Thomas, Jamaica- July 
The Makka Pro Surf Contest held in St Thomas Jamaica is the largest surfing contest in the English speaking Caribbean and helps to promote Jamaica as a surfing destination and is part of the Caribbean Challenge Cup.  If this sounds like fun to you, be sure to be there on the weekend of July 20-21.   Check out the website for their calendar of events. www.jamsurfas.webs.com 
Caribbean Shrimp Festival  - July month - Rose Hall Montego Bay
Jamaica News and Events - Look out for this year's Caribbean Shrimp Festival which is due to be held at the Whitter Village, Rose Hall,  Montego Bay Jamaica . 
Music and fashion show will be part of the evening's entertainment.  
President of Air Canada Leisure Group, Michel Friisdahl has recently announced that commencing July, 2013, Air Canada's Leisure Airline, Air Canada Rouge, will make its maiden flight to Jamaica.  
The announcement was made at a meeting between Jamaica's tourism officials and representatives from Air Canada, during a business lunch at Iberostar Grande.  
Source Jamaica Tourist Board June 2013
Hurricane Season
Jamaica News and Events - The Caribbean hurricane season officially starts today 1st June and goes through to 30th November.  
If you are thinking of visiting Jamaica during the summer, July is the middle of summer in Jamaica so is generally hot (30/32 degree during the daytime) and drops at nights.  
There may be a shower or two  in the afternoons but not necessarily everyday and it dries up as quickly as it comes.
Hurricane season hots-up around August/September time, so if you are planning to travel between August and October, ensure that you check the weather forecasts regularly to be on top of things.
Whatever you do have wonderful time and be safe.
Source: own experience.
Jamaica News and Events - Weather - For regular update on the weather in Jamaica click here
Source: Jamaica Gleaner.

Jamaica - Favourite Worldwide Destination
JAMAICA WINS FAVOURITE WORLDWIDE DESTINATION' AT BRITISH TRAVEL AWARDS
Jamaica has been named 'Favourite Worldwide Destination' by the British Travel Awards (BTA). The prestigious BTA is the largest awards programme in the UK, created to recognise the most successful travel companies and destinations.
Elizabeth Fox, Regional Director of the Jamaica Tourist Board (JTB) in the UK and Northern Europe, remarked, "We are incredibly proud that Jamaica was voted 'Favourite Worldwide Destination. As the only award voted for by the public, this accolade is especially significant. " The winners were announced at a ceremony in London, on 1 November 2012.

(Source: Jamaica Tourist Board)
EXPEDIA BOOKINGS A RAY OF SUNSHINE FOR JAMAICAN TOURISM

Expedia has announced that demand for travel to Jamaica during the first half of 2012 increased nearly 10 per cent compared to the previous year. Its network of online travel booking sites includes more than 100 branded sites and more than 10,000 affiliate sites.
Expedia said that demand was coming from consumers in the United States, Canada and the United Kingdom. Over the past year, Expedia has worked closely with Jamaican tourism officials and the local hospitality community to generate incremental travel demand to the Caribbean destination.
(Source: Jamaica Gleaner)
JAMAICA IS 'BEST ISLAND FOR FAMILY VACATIONS FOR 2012'

The Caribbean World Magazine has announced that Jamaica has been voted the Best Island for Family Vacations for 2012. This prestigious award is voted for by the Caribbean World Travel and Living Magazine and its readers. This is the first time that Jamaica is copping this category award.
Recognition by our visitors is especially rewarding as they are at the heart of what we do, said John Lynch, Director of Tourism at the Jamaica Tourist Board. Each day we strive to satisfy our customers by ensuring that their vacation experience is unforgettable. Their opinions matter and we are always seeking ways to anticipate their needs. We are very encouraged by this award as it says to us that we are doing something right."
(Source: Jamaica Tourist Board)
Jamaica Tourist Board- Meet the People Program
Would you like to meet the people of Jamaica on your visit to Jamaica? The Jamaica Tourist Board has a wonderful Meet-the-People program where you can meet and spend a day with a Jamaican person or family. The program also includes children meeting Jamaican children where can interact and get to know each other for a day or maybe they may become pen pals and develop lasting friendships.
You will have a chance to increase your knowledge of Jamaica and its people. Share a day of your vacation visiting with a Jamaican family who will host, entertain you and fill you with some nice Jamaican cooking.
If you are interested in the Jamaica tourist Board Meet-the-People program, you can sign up on the JTB website.
Source: Jamaica Tourist Board
Return from Jamaica news and events to Jamaica Information
Return from Jamaica news and events to Jamaica Vacations

My Jamaica Blog keeps you up to date with news and reviews of the Best of Jamaica please subscribe below.  Thanks, see you again soon.
---