Jamaica Tourism 
Jamaica Tourism - Start
The Jamaica Tourism industry started in the early 1950s with the booming export trade of bananas from the plantations of Portland Jamaica to the United States of America.  
The more affluent visitors of the day including movie stars and the well to do of the USA came to Jamaica on these banana boats and Port Antonio, Portland rapidly became their vacation playground.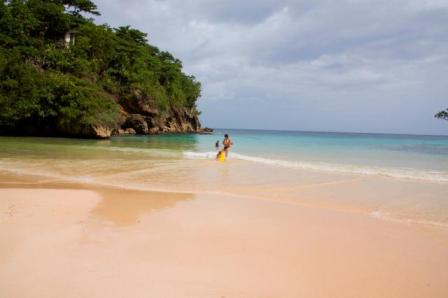 Frenchman's Cove Port Antonio
Find the best Port Antonio Attractions here
| | |
| --- | --- |
| | The trend quickly developed into a tourist trade and the Titchfield Hotel in Portland was built to accommodate vacationers to Jamaica and thus capitalising on this new trend.  |
Jamaica Tourism - Today
Today, Portland Jamaica still attracts tourism but to a lesser extent - but still attracts the rich and famous.  
The main Jamaica tourist destinations are Ocho Rios, Montego Bay and Negril, collectively known as the north coast tourism belt.
Find the best Ocho Rios Attractions here
The Tourism dollar is a major contribution to the GDP of Jamaica and the Jamaica Tourist Board and others work assiduously to promote Brand Jamaica worldwide.
Jamaica Tourism - Highway 2000
View along My Pen Highway 2000
Infrastructure on Jamaica's north coast has been greatly improved to accommodate and encourage increased tourism.  
| | |
| --- | --- |
| | From personal experience Highway 2000 (toll road) particularly stands out as having greatly improved travelling time getting around Jamaica by road.  |
The Mount Rosser leg of the north/south highway is now completed and scheduled to open August 5 2014.  
This section  of Jamaica's Highway 2000 links Kingston via Caymanas in St Catherine to Mammee Bay, St Ann, bypassing the Bog Walk Gorge and Mount Rosser.
It is anticipated that when the entire north/south link is completed (scheduled for 2016)  travelling time between Kingston and Ocho Rios will be reduced by one hour and 15 mins.   
Find the best hotel deals in Negril here
Additional Rooms
Other improvements include additional hotel rooms - The Spanish hotel chain including Riu and others have built additional resorts on Jamaica's north coast, providing accommodation choices in Jamaica – from all inclusive resorts – to luxury hotels – to small family run properties to villas of various sizes and levels.
Find the best Montego Bay hotels deals here
High Volume Tourism
Montego Bay in the parish of St James by far attracts the majority of Jamaica's tourism.
Montego Bay is home for the Donald Sangster International Airport, the main tourist gateway to Jamaica.  This airport is the busiest in the Caribbean region and is the hub for several international airlines.  
Sangster International Airport (SIA) Montego Bay
Sangster International Airport (SIA) is the largest of two international airports in Jamaica, and is ideally located in the heart of the primary tourism destination region.
Approximately 95% of total passengers at SIA are passengers travelling internationally.
Of the approximately 1.7 million annual visitors to Jamaica, 72% use SIA as their primary airport.
Peak arriving and departing capacity is 4,200 passengers per hour. 

Click here for more www.mbjairport.com

Jamaica Tourism - Cruise Ship Ports
If you prefer to take your vacation on a cruise ship with a stopover in Jamaica; Jamaica currently has 3 cruise ship ports – Ocho Rios, Falmouth and Montego Bay.  The Ocho Rios port is by far the busiest with three stopover cruise ship days per week accommodating Caribbean Cruises via Miami.  
| | |
| --- | --- |
| | The Ocho Rios Port accommodates up to 4 ships at any one time and their several stopovers per week bring a high volume of visitors to Ocho Rios on a weekly basis. |
Visitors have the choice to see Dunn's River Falls, Mystic Mountains, Ocho Rios Town, and other sites of interest in the parishes of St Ann and St Mary.  
The more recent Falmouth Trelawny cruise ship port accommodates larger ships such as Oasis of the Caribbean giving more stopovers the chance to see a piece of Jamaica and a tour of Falmouth and its surrounds.  
In 2013 Falmouth received the highest number  of cruise ship passenger stopovers on record for that year.
Jamaica Tourism - Getting Around
Jamaica provides several modes of transport for tourist travel throughout the island.
These include air conditioned buses like the Knutsford Express with several trips between Kingston and Montego Bay daily with via Ocho Rios to Montego Bay and Kingston to Negril via St Elizabeth on Jamaica's south coast.  
Find the best Jamaica Hotel deals
Internal Air Transport - Privately run internal air transport is also available by small aircraft and helicopters from both main airports to aerodromes and airfields on the island within the main tourist areas.
For example you can fly internally from Montego Bay to Negril, Ocho Rios, Port Antonio and Kingston. 
Taxis - Official taxis such as JUTA transfer visitors to their resorts and are also available for tours and trips.  Many other tour operators and regular taxis operate for the benefit of the moving the public around Jamaica.

Bike rentals and self drive rentals are also available options. 
Return from Jamaica Tourism to Jamaica Information
Return from Jamaica Tourism to Jamaica Vacations
My Jamaica Blog keeps you up to date with news and reviews of the Best of Jamaica please subscribe below.  Thanks, see you again soon.
---