Jamaican Callaloo

Steamed Callaloo With Boiled Bananas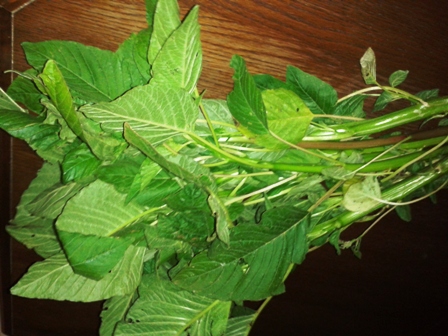 Jamaica Callaloo Leaves
The Jamaican Callaloo is a leafy green vegetable similar to spinach.  It is planted at home or on the farm but it often grows wild in the garden. 
Callaloo  can be steamed and served as the side vegetable on your plate; it can also be steamed with other vegetables and seasoned to taste.
Jamaicans regularly serve this steamed vegetable as breakfast with boiled green bananas, or with fried dumplings and fried plantains.  

Steamed callaloo is also used in Jamaica to make  vegetable patties. 




Jamaican Callaloo 
My house overlooks a farmer's garden and occasionally I get the opportunity to visit and cut my own bunch of callaloo which I love to eat steamed with boiled green bananas or just with toast at breakfast.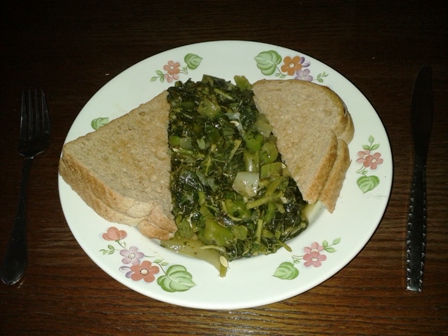 Steamed Callaloo and Toast breakfast
Of course, for variety on the Jamaican style breakfast/dining table add your fried roast breadfruit, ackee and saltfish, fried ripe plantain and create a delicious combination.  
Another favourite Jamaican breakfast is callaloo with ackee and saltfish and roast breadfruit.
Get free SAMPLES of healthy products. Visit QualityHealth.com!


My Steamed Callaloo Recipe
 2.2k (1 lb) callaloo
 2 medium onions or scallion
 Sprig of Thyme
2 cloves garlic
1 large sweet pepper
3 medium tomatoes
Salt to taste
Black pepper to taste
 2 tablespoon (30ml) coconut  oil or 2 oz (60g) butter  - (your oil of choice is fine)
Method
Wash and chop callaloo, onions, garlic, green peppers and tomatoes
Saute the onion, peppers tomatoes and seasoning in medium pan/wok for 3 mins.
Add chopped callaloo, mix and cover to steam on low heat for 5-10 mins – stir after 3 mins.
Check at 5 mins – if cooked to your satisfaction serve – if not leave for another 3 mins and serve.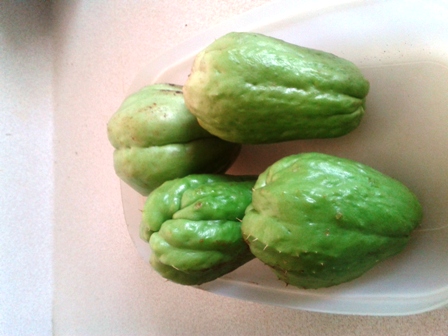 Cho cho
Steamed Callaloo is also served in Jamaica as a side vegetable with the main meal.  This vegetable can also be blended with other vegetables to make a paste or a dip.  In some Jamaican supermarkets you will also find a callaloo juice which is extremely refreshing.
Callaloo also makes a delicious pepperpot soup.  See Jamaica Recipes 
To add variety to your steamed callaloo dish, add another veg such as diced cho cho carrots or cucumber.  No problem in adding all three if that suits your taste - experiment is good for the soul or even stomach!  Have fun and its all healthy eating.
Return from Jamaican Callaloo to Jamaican Recipes 
My Jamaica Blog keeps you up to date with news and reviews of the Best of Jamaica please subscribe below.  Thanks, see you again soon.
---