Jamaican Mangoes

So Many Types...All Delicious
Jamaican Mangoes are many in shapes sizes, aroma and tastes.  Some parishes have more than others and parishes such as Kingston and St Andrew and St Catherine seem to have year round crops.
Find the best attractions in Saint Elizabeth here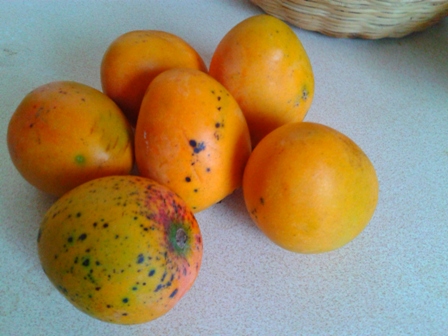 Jamaica Common mangoes
Free Winter Samples from QualityHealth!
The types I can think of at the moment are, Julie, Bombay, East Indian, Black Mangoes, #11, Robin and common mangoes.  There are many more but I am not the connoisseur, so can only recall the ones I particularly like.
Find the best Kingston activities here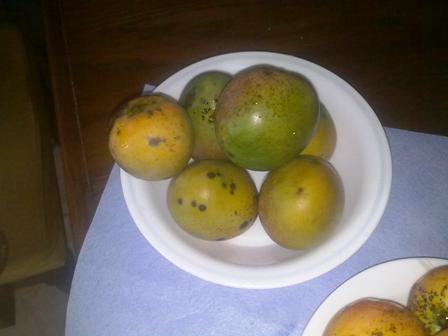 black mangoes
I am not too keen on common mangoes but they are found everywhere (hence common) and they taste different depending on which parish they are from.  Those grown in St Elizabeth parish I find to be very sweet - it must be the bread basket soil!
Find the best Jamaica hotel deals here
Jamaican mangoes are simply delicious - those mentioned above definitely represent the all sizes, shapes, tastes and aroma mentioned.  They are all juicy and with a natural sweetness that you have to experience to fully appreciate.  
The Julie Mango is  a favourite of many.  It is sweet and fleshy with a small seed. Ideal for slicing or cutting into cubes as part of a fruit salad.  They are usually larger than  common mangoes and smaller than  the east indians.    
| | |
| --- | --- |
| | Blend your mangoes and make  delicious natural juices/fruit punch.  Other fruits such as pineapple or passion fruit can also be added for that special combination taste.   |
Mangoes are eaten in different ways, you can peel them with a knife and slice on a plate and serve with ice cream, full cream or just as a mango fruit plate.  They can also be cut away from the seeds on both sides and eaten with a spoon scoping from the skin (usually the larger mangoes).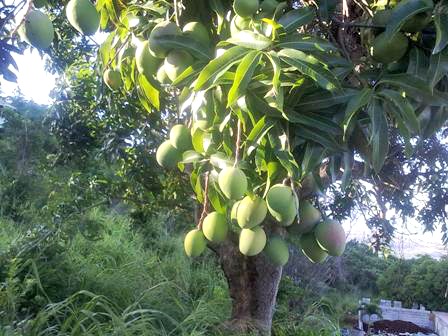 Low hanging fruit - Common Mangoes
Jamaican Mangoes
You can also eat them the way we did as children by biting into it and peeling away the skin and tucking into the flesh of the fruit with the juices running down your arm (some say yum yum).

| | |
| --- | --- |
| | It's a bit of a mess but when you are a kid who cares.  However you eat them, they are simply delicious.  |
Rural Jamaicans have this saying that when it's mango season  "you wash the pot and turn it down".  This means that when mangoes are in season, people cannot be hungry, and as such there is no need to cook.  So set aside your cooking pots until the end of the season and enjoy some great tastes!
Free Winter Samples from QualityHealth!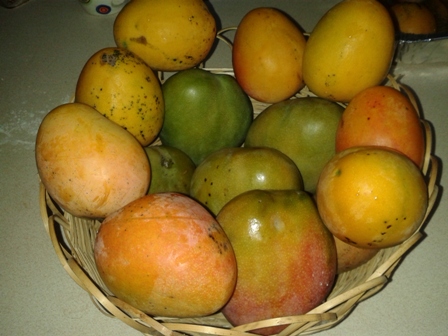 Jamaican Mangoes
Return from Jamaican mangoes to Jamaican Food
Return From Jamaica mangoes to Jamaica Vacations
My Jamaica Blog keeps you up to date with news and reviews of the Best of Jamaica please subscribe below.  Thanks, see you again soon.
---