Jamaican Patties - Try One Today 
Jamaican patties are pastry pockets filled with cooked fillings which can be beef, chicken, seafood or vegetables.  
You can also get cheese patties which is a beef and cheese filling.   They are quite delicious and a great pick-me-up snack. Vegetable patties with mixed vegetable filling and the callaloo loaf are also available.
Jamaican patties are available in many food outlets around the island.

The original Jamaican patty is the Tastee Patty still available in Half Way Tree Kingston.  

Other companies have come along such as Juici Patties (Clarendon Park), Mother's Patties (Kingston) and others.  
Juici Patties started out small but now have outlets across all parishes of Jamaica. 

Jamaican Patties - Frozen  for warm up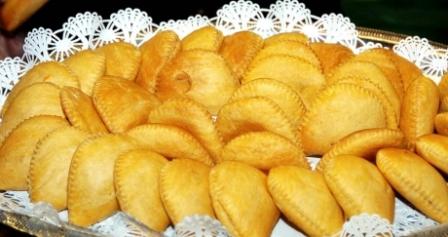 Jamaican Patties
If you would like to take some home or maybe back to your Villa,  stop by at Juici Patties rest stop at Clarendon Park on your way into or out of town and pick up a box of frozen Juici Patties for your refrigerator.
They also do  breakfasts, meals, fried chicken and other snacks.
Jamaican Patties - Devon House Patties
Devon House in Kingston also have patties and other pastries made in-house at their brick oven kitchens.  Devon House patties include chicken, beef, vegetable prawns (shrimp).
Devon House also have several other delicious savoury snacks, special occasion cakes, natural juices and of course their famous Devon House Ice Cream.  
The Jamaican patty can be a quick snack for both adults and children out on a picnic or just a stop-gap between lunch and dinner.  

Jamaicans often eat patties with a coco bread which is a small butter based loaf made particularly to compliment the patty.  
A Patty, coco bread and a drink is a standard meal for many working class Jamaican families.

A Jamaican patty is a must try – they are filling as a meal or as a delicious snack to fill a gap.  

The chicken patty is very tasty too but my favourites are the the mixed vegetable and the callaloo  patties. 
Return from jamaican patties to Jamaican Food
Return from jamaican patties to Jamaica Vacations
My Jamaica Blog keeps you up to date with news and reviews of the Best of Jamaica please subscribe below.  Thanks, see you again soon.
---