Manchester Jamaica Parish
View Larger Map
Manchester Jamaica parish is 829.01 sq km and is bordered by Clarendon to the east, St Elizabeth to the west and northerly by Trelawny.
Mandeville is the capital and the population of Manchester as at  of year end 2012 was 190,812.  
Source STATIN Jamaica
Find the best Kingston vacation rentals here
Mandeville town has several very busy shopping centres surrounded by attractive residential areas.
The temperate climate of the cool hills of Mandeville attracts a high percentage of returned Jamaicans and others from colder climes who become residents based on the fresh cool climate.
Mandeville has several medical centres, two hospitals and several charming old churches. 
| | |
| --- | --- |
| | Manchester for the most part is a mountainous parish which limits cultivation to specific crops such as coffee, bananas, and citrus fruits produced for export and home markets.   |
Speaking of citrus , the Ortanique Orange (cross between the orange and tangerine) indigenous to Jamaica, was developed here in the early 1900s.


Places of interest
At least a dozen places of interest are registered as Heritage sites.  Source: Jamaica National Heritage  Trust).  These include:
Find the best deals in St Elizabeth here


Mandeville Court House – the oldest building in Mandeville Square built circa 1815.
Manchester Club Golf Course – built in 1865 - oldest golf course in Jamaica and believed to be the oldest in the western hemisphere
Maidstone District is one of the original "free villages" of the past where direct descendants still live.    
Marshall Pen Great House – a nature's retreat and wild life sanctuary
Bloomfield Great House (now a restaurant and gift shop)

Manchester Jamaica  - Rivers and Beaches


The Alligator Pond River is a bathing spot a couple of miles west of Alligator Pond village off the road leading to Port Kaiser Beaches.
Gut River is a river beach and small hamlet on an isolated stretch of Manchester's south facing coastline. The name is said by the locals to derive from the German word for good.
One Eye River: is a tributary of the black River and runs in the parishes of Manchester and St Elizabeth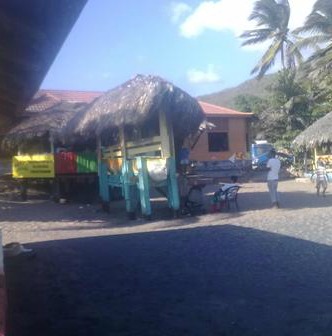 Little Ochi Seafood Restaurant
Alligator Pond Beach lies to the south on the border with St Elizabeth with black sand and rough seas.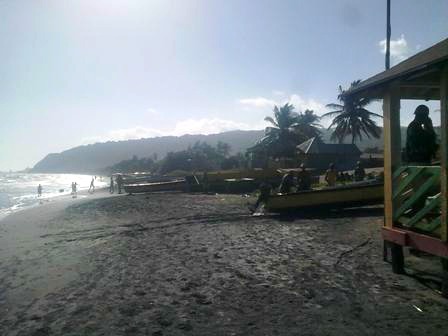 Beach view from Little Ochi Beach Restaurant Huts
Little Ochi Seafood Restaurant sits on the beach and is very popular site where visitors from home and abroad come to enjoy delicious seafood in a rustic atmosphere. 
Return from Manchester Jamaica to Jamaica Parishes
Manchester Parish
Do you live in this parish or are from there? Share your knowledge and favourite stories of your Jamaica home parish.
My Jamaica Blog keeps you up to date with news and reviews of the Best of Jamaica please subscribe below.  Thanks, see you again soon.
---