Obama in Jamaica

Kingston - April 2015
Obama in Jamaica - On 8th April 2015 history was made in Jamaica - USA's first black President, Barak Obama stopped by on a working visit.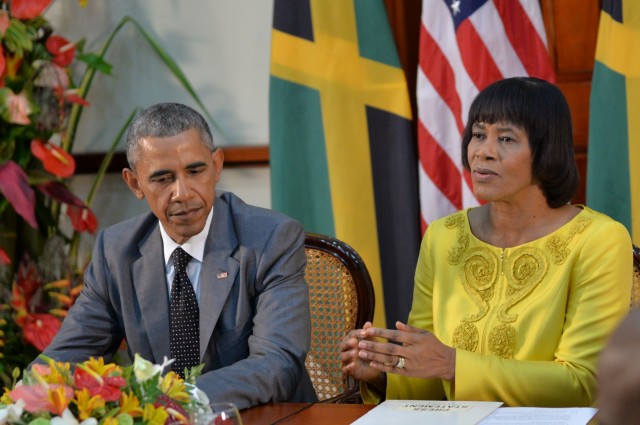 President Obama and Prime Minister Portia Simpson-Miller
Even before the exact date and reason for the visit was announced, Jamaica swung into action. With much media talk and speculations as to what the visit was about and which VIPS would be invited to meet him.  It seemed like everyone had Obama fever!  
Roads and the general environment of parts of Kingston were hurriedly given a well needed overhaul in anticipation of his visit.
Obama in Jamaica
Find the best Kingston vacation rentals here
On his arrival many flag waving Jamaicans were out on the road to welcome the President.  Part of the excitement was the Presidential official vehicle "the Beast".   Everyone wanted to see it and hoped to get a glimpse of the President passing by in it.   
Unknown to the people on the road with cameras in position; the President travelled from the airport by official helicopter to his first Kingston stop - later announced to be Up-Park Camp -headquarters of Jamaica Defence Force (JDF).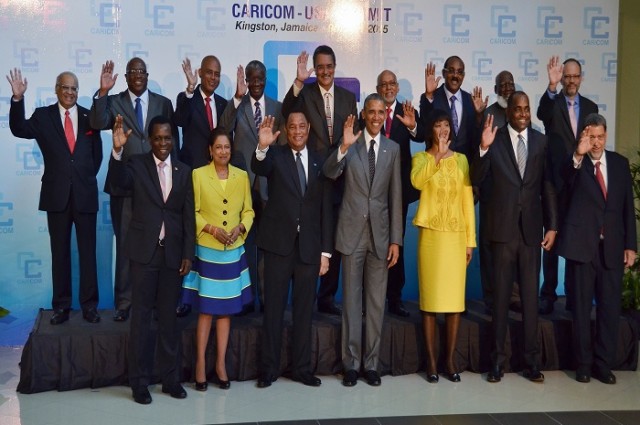 President with Caricom Leaders
He later went by road to a Kingston hotel where he met with US Embassy Personnel.  He also managed to squeeze in tour of the Bob Marley Museum in Kingston.  The excited tour guides Natasha, later related President Obama's brief visit to the delight of the media and the population as a whole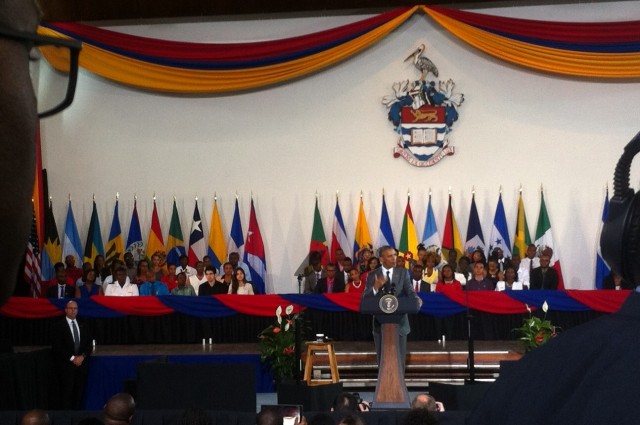 President addresses Caribbean Youth Forum at University of the West Indies
Obama in Jamaica
After his summit meeting with Caribbean Leaders, he had an interactive Youth Forum with Caribbean Students at the Town Hall of the University of the West Indies.  Politicians, other VIPs and sports stars such as Usain Bolt, Shelly Ann Fraser were also in attendance.
Opening the Forum the President greeted the audience with a couple of familiar Jamaican greetings using his best Jamaican accent which delighted the audience. 
Find the best Kingston Restaurants here
After his initial speech and announcements, the President removed his jacket, rolled up his sleeves and got into the question and answering session. After several questions were posed and detailed responses given, the session ended.  

Before leaving President Obama laid a memorial wreath at the cenotaph at Jamaica's National Heroes Park.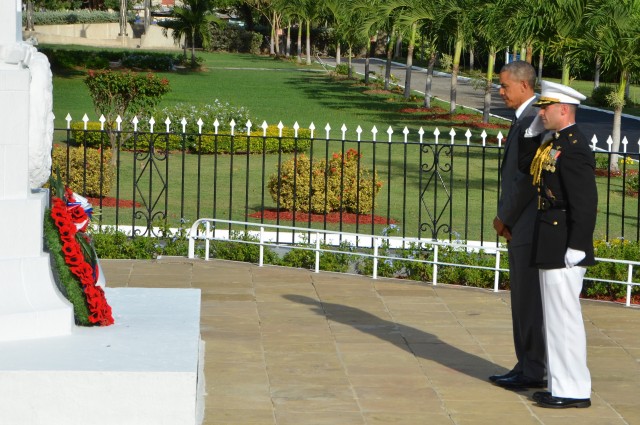 President lays wreath at the Cenotaph National Heroes Park Jamaica
It was a truly heart warming experience for most Jamaicans to welcome President Barak Obama to Jamaica.  A historic occasion many say they will tell their future grandchildren about. 
Find the best Kingston activities here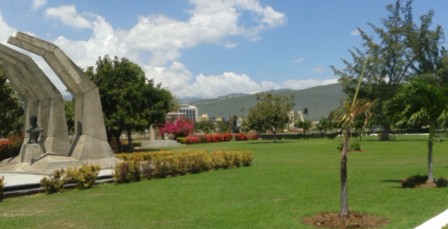 National Heroes Park Jamaica
Two weeks later I visited the spruced up Heroes Park which looked great but I was disappointed as the wreath was no longer there.  No doubt it has been preserved for posterity.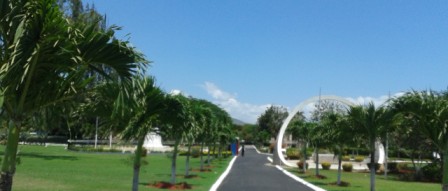 National Heroes Park Jamaica
Return from Obama In Jamaica to Jamaica Information
My Jamaica Blog keeps you up to date with news and reviews of the Best of Jamaica please subscribe below.  Thanks, see you again soon.
---