Portland Jamaica

Jamaica's Lush Green Parish

Portland Jamaica is 815.06 sq km and known as the "green parish". Located on the eastern side of the island with St Mary to the west and St Andrew and St Thomas to the south.  
This Parish records the highest rainfall levels in Jamaica.  It is known for its fertile soil and lush green beauty with superb waterfalls, great beaches and magnificent views of the Caribbean Sea.  
The capital is Port Antonio and the population of Portland as at end of year 2012 was 82,183. Source STATIN Jamaica
Find out here what lush green Port Antonio Jamaica has to offer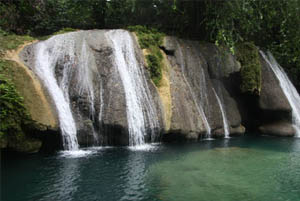 Reich Falls
Find the best Jamaica Hotel deals
The calm beauty of this parish has attracted film directors to film on location.  
It is also the parish where movie stars of the past e.g, Errol Flynn among other high profile people names of the 1950s made their home and playground.  Portland Jamaica is still a quiet getaway for big names and the more affluent of current times.  
My first trip to Portland some years ago was by a bus from Kingston to Port Antonio to visit "Folly".
The bus was packed with regular everyday locals about their business and it was great fun to interact with regular everyday people.  
The journey then was just over 3hrs but has much improved with new roads etc.
Portland Jamaica - Folly
Folly is the ruins of an old 19th century mansion built on the beach by an American for his family but unfortunately he died soon after; his wife later returned to her home country (or so the story goes!) 
The property has become dilapidated ravaged by nature and time, but still stands as a tourist attraction.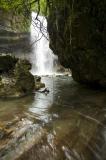 Moore Town Falls - JTB
Hotels in Portland Parish
Portland Jamaica

Frenchman's Cove, Port Antonio is one of Jamaica's most beautiful beaches.   Take a drive about 5 miles east Port Antonio and you will discover San San Beach, another great Portland beach.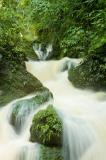 Cranbrook Falls - courtesy of JTB
Find the best luxury Jamaica hotel deals here
Frenchman's Cove, Port Antonio is one of Jamaica's most beautiful beaches and not too far from Frenchman's Cove you will find another of Jamaica's finest beaches, San San Beach – a favourite for snorkelling.    
Take a ride a little further east and you will find beautiful Boston Bay Beach at Boston, the home of Jamaican Jerk.
Portland is also famous for its waterfalls such as Reich Falls, Summerset Falls and others. 
Experience rafting down the Rio Grande or do some tyre bumping on the river with the family. 
The Blue Lagoon is another must see/experience body of water in Port Antonio.
Portland Jamaica
Take a tour of Portland and discover parts of Jamaica at their natural best –Home of the John Crow Mountains and the Blue Mountain Peak.  The more mature traveller will find so much to appreciate in Portland.  
Arrange an internal flight transfer from your Jamaica airport of entry to the Ken Jones airstrip near St Margaret's Bay Portland and discover one of Jamaica's hidden treasures.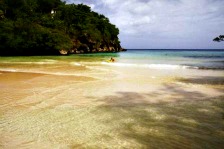 Frenchman's Cove Beach Port Antonio
Jamaica's Tourism industry started in Port Antonio via the banana trade of the 1880s.  The plantation owners shipped bananas to the Americas and tourists would visit Jamaica on the banana boats. 
This type of tourism developed into a thriving business and boosted tourism from America to Jamaica's north east coast.
Find the best Port Antonio Attractions here
In the early 1900s the thriving tourism trade created the need for a large hotel in Port Antonio and the then luxurious Titchfield Hotel was built. 

By mid 1950s, Port Antonio became the playground of the rich and famous and today, it still boasts its natural beauty and is a haven for the more laid back visitor who appreciates the quality of a relaxed coastal vacation with some of the most beautiful views of Jamaica.
Portland Jamaica - Accommodation
Hotels such as Geejam, Hotel Mockingbird, Jamaica Palace Hotel, Goblin Hill Villas at San San and Frenchman's Cove Resort are just a few of the best family friendly hotels in Portland.   
These  hotels are favoured by reviewers on line who rate them among the best in Jamaica.  Portland also has many small hotels, villas and vacation rentals. TripAdvisor lists Hotel Jamaican Colours as the best value hotel in the parish.
Other places of interest include:
Reich Falls
Somerset Falls
Blue Lagoon 
Rafting down the Rio Grande 
Percy's Riverside Retreat 
Errol Flynn's Marina

Navy Island 
De Ole Marina
Caves of Nonsuch
Fort George


Night Life in Port Antonio
The Roof Club – West Street
The Tree Top Bar in Goblin villas
Xtacy Nightclub
Well known Portland Beaches 
Winnifred Beach
Frenchman's Cove
San San Beach
Boston Beach
Long Bay Beach
Take a tour of Portland and experience some of Jamaica's most serene and unspoilt sites in this lush green north east parish.
Return from Portland Jamaica to Jamaica Parishes
Return from Portland Jamaica to Jamaica Vacations
St Mary Parish
Do you live in this parish or are from there? Share your knowledge and favourite stories of your Jamaica home parish.
My Jamaica Blog keeps you up to date with news and reviews of the Best of Jamaica please subscribe below.  Thanks, see you again soon.
---