St Ann Jamaica

 Explore Jamaica's Garden Parish
St Ann Jamaica is known as  the "garden parish" with much flora and fauna and natural beauty.  Ocho Rios, its capital, is a busy tourist town with several cruise ship stopovers per week.    
Bordered by Trelawny to the west, St Mary to the east with Clarendon and St Catherine to the south; this is Jamaica's largest parish with a reported population of 173,232 as at end of year 2012. Source STATIN Jamaica
Find the best Jamaica Resorts here
St Ann Jamaica
Ocho Rios St Ann is a resort town home with many hotels and villa accommodation.  It is home of the famous Dunn's River Falls which cascades down the cliffs to the sea front.  
Have your camera at the ready to capture this invigorating waterfall experience.  www.ochoriosjamaicatours.com
Walk the Dunn's River Falls...starting at the beach…join hands for support and make your way up to the top of the cliff.  Guides are on hand if you need help, so enjoy the experience. Every time I do this walk it's as exciting as the first. 
Find out here what Ocho Rios Jamaica has to offer
Prospect Plantation St Ann
Take a tour of Prospect Plantation Ocho Rios; enjoy the Jitney ride tour that takes you through the many acres of plant produce - coffee, all spice, bananas and much more.  Learn the history of this Jamaican Plantation which dates back to the 18th century. 
Go horseback riding and you may even be able to try camel riding…yes real live camels!  Take part in feeding the Ostriches and other birds on the plantation.
Hotels in Saint Ann Parish
Nine Miles - Bob Marley's birthplace
St Ann is the birth parish of Bob Marley.  He was born in Nine Miles just outside Ocho Rios where he lived up to up to early teens.  
Bob Marley's Mausoleum at Nine Miles St Ann Jamaica is a popular tourist attraction.  Bob Marley's birth is celebrated with a reggae concert at Nine Miles annually on Feb 6; his birthday.  
Find the best vacation deal rentals in Ocho Rios/Runaway Bay, here
Drive through the hills of St Ann…the roads to Nine Miles  are very narrow in parts so hire an experienced driver or take a tour bus and enjoy the scenery.  This tour is interesting for Bob Marley and reggae music fans.  
It may not ideal tour for young kids as you may find the air thick with smoking on this tour and at the venue.  People may offer to sell you their wares including marijuana.  
Please note… possession and use of marijuana is illegal in Jamaica, and tourists are not exempt from the law. 
St Ann Jamaica - Green Grotto Caves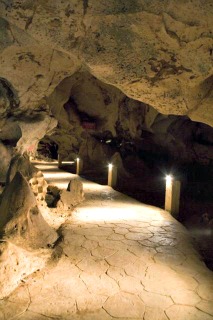 Green Grotto Caves Jamaica
The Green Grotto Caves Ocho Rios spans between Ocho Rios and Montego Bay. These Caves can be likened to an underground world which comes out into the open at times. 
A guided tour will help you explore these caves. Hard Hats are provided and comfortable shoes are advised.   The guides will talk you through the Caves and you may even recognise parts seen in movies such as James Bond and others.  www.cheftours.5u.com
Find the best last minute Jamaica hotel deals
 Mystic Mountain Ocho Rios
The Mystic Mountain attraction is a great rain forest adventure. Activities include the Sky Explorer, the Bobsled, Canopy Zip Line and the Mystic Waterslide.  For nature lovers, this is a must visit.
Caribbean cuisine dining at 700 ft, with facilities for special occasions, and weddings are available. 
Facilities at the park include, gift shops, rest rooms and parking.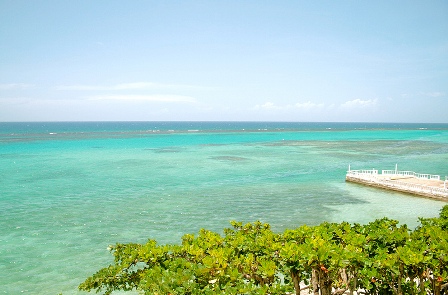 Overlooking Ocho Rios Bay - pic courtesy of Jeremi Harrison
Mystic Mountain rainforest adventure park is roughly 700 feet above sea level with a spectacular view of Ocho Rios Bay.   Explore this Adventure Park and be sure to capture the breathtaking views of the Ocho Rios Bay below. 


  Other St Ann activities include:
White River Rafting
Great Houses
Chukka Cove
H'evan Scent
Shaw Park Botanic Gardens
Explore the best of Jamaica. yourjamaicantourguide.com
St Ann Jamaica - Beaches
Beaches in St Ann include:
White River Bay
Ocho Rios Bay
Dunn's River
St Ann's Bay
Ocean View Runaway Bay
Discovery Bay
Puerto Seco
Return from St Ann Jamaica to Jamaica Parishes
Return from St Ann Jamaica to Jamaica Vacations
St Ann Parish
Do you live in this parish or are from there? Share your knowledge and favourite stories of your Jamaica home parish.
My Jamaica Blog keeps you up to date with news and reviews of the Best of Jamaica please subscribe below.  Thanks, see you again soon.
---