St Catherine Jamaica Parish
View Larger Map
St Catherine Jamaica at 1197.2 sq km is the third largest parish and is bordered by Clarendon to the west, St Andrew to the east and St Ann and St Mary to the north.
The Capital is Spanish Town and the population count as at  year end 2012 was 518,343.
Well known towns are Spanish Town, Old Harbour, Linstead and the fast developing, Portmore.
The northern side of the parish e.g., Mount Rosser and above are mountainous, whereas the southern end like Old Harbour across to Greater Portmore and beyond is relatively flat.
Find the best Jamaica family hotels deals here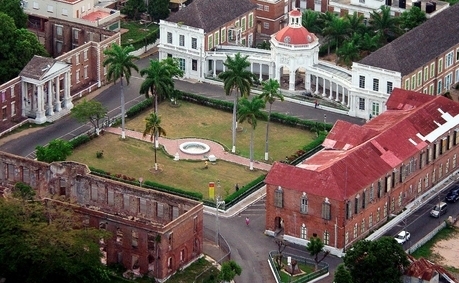 Emancipation Square Spanish Town
St Catherine Jamaica - Spanish Town
In the main square of Spanish Town, the old House of Assembly building is a land mark and is now used as offices by the Parish Council.
You will also find relics and facades of other old buildings such as King's House (from where the proclamation of emancipation was read in 1838); Rodney's Memorial; the St James Anglican Church and the Old Barracks Building among others.  
The Cast Iron Bridge, erected in 1801, is possibly the oldest bridge of its kind in the western hemisphere. 
The Spanish architectural influence dominates the main square of Spanish Town declared a Jamaica National Monument in 1994.
 Production
St Catherine is a busy industrial centre and several minerals are found in this parish eg., limestone, copper, bauxite  and salt among others.  Ewarton is home for the Alcan Bauxite Plant and the Salt production plant – largest in the Caribbean - can be found in Spanish Town.
St Catherine was big in sugar production in the past and today the two largest Jamaica sugar mills - Worthy Park and Bernard Lodge still operate in St Catherine.
Agricultural goods include vegetables, coffee, bananas and more produced mainly for the export market.  
The coastal districts such as Hellshire, Port Henderson and Passage Fort specialise in the fishing industry.  
St Catherine Jamaica - Rivers
The Rio Cobre River - Its source is unclear on the best map available; the headwaters being a writhing of unnamed, seasonally dry tributaries. The highest of these rise just above the 1,750 feet (530m) contour.  From here it flows to meet the Caribbean Sea in the north west corner of Kingston Harbour.  
Its most significant feature is perhaps the gorge through which it runs between Bog Walk and northern Spanish Town.  
Source wikipedia
The Stony River (Jamaica) rises just north of Coopers Hill and flows primarily north until it reaches its confluence with the New River.
Source wikipedia
Approx Distances:
Montego Bay to Spanish Town St Catherine - 169km
Negril to Spanish Town St Catherine - 224km
Ocho Rios to Spanish Town St Catherine 64km
Kingston to Spanish Town - 23km
Source: Jamaica Road Map
Find the best last minute Jamaica hotel deals
A few of St Catherine's famous names
Asafa Powell – Athlete
Queen I-frica – musician
Grace Jones – Actor
Beaches 
Hellshire Beach
Fort Clarence Beach Park
If you are in Kingston and looking for a beach; Hellshire Beach is the nearest public beach.  Less than 30 mins drive outside Kingston will take you to Hellshire beach which is located in the Portmore area.
Hellshire Beach also offers seafood restaurant huts where your seafood lunch is done to order.
Return from St Catherine Jamaica to Jamaica Parishes
Return from St Catherine Jamaica to Jamaica Vacations
St Catherine Parish
Do you live in this parish or are from there? Share your knowledge and favourite stories of your Jamaica home parish.
My Jamaica Blog keeps you up to date with news and reviews of the Best of Jamaica please subscribe below.  Thanks, see you again soon.
---