St James Jamaica Parish
View Larger Map
St James Jamaica Parish is 592.28 sq km and is bordered to the west by Hanover, east by Trelawny and south by St Elizabeth.
with Montego Bay as its capital and the population as at year end 2012 was 184,662
Source STATIN Jamaica
Find the best Montego Bay hotels deals here
St James is one of the most picturesque parishes of Jamaica with its white sugary sands beaches and aqua marine waters of the Caribbean Sea complimented by lush green mountains overlooking the coastal waters.  A tourist attraction since the 1800s, the city of Montego Bay, still remains the most visited Jamaica city by tourist worldwide.
Montego Bay is Jamaica's second city with a cruise ship port, world class golf courses, luxury hotels and resorts with first class all inclusive service, that makes this city is a world class destination of choice.  
Find the best Attractions in Montego Bay here
Montego Bay is a fun and romantic city.  The main road is Gloucester Road known as "the hip strip".
Here you will find restaurants serving delicious local and continental cuisine – nice little cafés, beaches, hotels, B&Bs, bars, clubs, lots of souvenirs shops a bird sanctuary and lots more.  
Find the best Restaurants in Montego Bay here
St James Jamaica
Montego Bay is Jamaica's most popular tourist city with high volume hotels and resorts and numerous activities to entertain you.  
Water sports such as water-skiing snorkelling wind surfing to name a few are widely available in St James and are offered as  incentives in the all inclusive hotel packages.   
Find out here what Montego Bay Jamaica has to offer
Montego Bay St James is home for the Donald Sangster International Airport, the busiest in the region and is the Caribbean hub for a range of international flights. 
From Montego Bay airport Jamaica you can fly to Miami in less then 90 min; Atlanta or Houston in less than 3 hours;Toronto or Washington within 4 hours.
St James Jamaica - Great Houses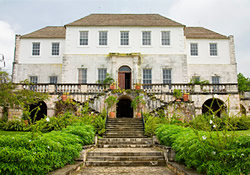 Rose Hall Great House
Rose Hall Great House is a frequently visited historical property where the infamous Anne Palmer also known as the "White Witch of Rose Hall" lived and is buried.  Take a tour and learn a little on the history of this site.  
Greenwood Great House in Montego Bay is where Elizabeth Barrett Browning is said to have resided in the past is now a national monument and a tourist attraction.
Places of Interest
If you are down town Montego Bay on the Harbour Street side, check out the craft markets for arts and crafts items.  
The Old Fort Crafts Market is nearby and if you are interested in relics, the 18th century water wheel (which still works) and the canons pointing out to sea may be of interest to you. 
Harbour Street Craft's Market – located on Harbour Street downtown Montego Bay.
Go rafting on the Great River or take a boat ride down the river and dine and dance the night away.    You can also plan to picnic, do a nature trail or just relax fishing or just having lunch and a nice cool red stripe to wile the time away.
At Sam Sharpe Square Montego Bay, you will find a life size sculpture of Samuel Sharpe, one of Jamaica's National Heroes
On the "hip strip" near Doctor's Cave Beach you will find Rockland's Bird Sanctuary.
Adventures and Attractions
Great River Rafting and Plantation Tours
Glistening Waters
Doctor's Cave Beach 
Rose Hall Great House 
Rose Hall Golf and Country Club
Captain's Watersports – Halfmoon Hotel
Canopy Tour – Chukka Caribbean
Flight of the White Witch – Chukka Caribbean

Ziplining – Chukka Caribbean
Ride and Swim – Chukka Caribbean
Dreamer Catamaran Cruises – Mobay and Negril
Jamaica Zipline Adventure Tours

Bellfield Gt House
Caribbean Bus Tours 
Rockland Bird Sanctuary
Jungle River Tubing – Chukka Caribbean
Beaches
Beaches
Doctor's Cave
Aqua Sol Beach Park (formerly Walter Fletcher)
Cornwall Beach 
Spring Gardens
Ironshore 
Coral Gardens
Montego Freeport
Find the best Montego Bay Restaurants here
Return from St James Jamaica to Jamaica Parishes
Return from St James Jamaica to Jamaica Vacations
St James Parish
Do you live in this parish or are from there? Share your knowledge and favourite stories of your Jamaica home parish.
In case you were wondering, I created this website using Solo Build It software. It's block building concept makes it super easy to use and there are tons of help articles available to put you on the right road.  
If you are having problems, the Solo Build It Forum  is full of great info and tips ...talk with others...get help and return the favour when you can.  If you want to build your own business website and are looking for reliable easy to use and reliable site building software, Solo Build It may be the answer. https://www.sitesell.com/optimesp.html 
My Jamaica Blog keeps you up to date with news and reviews of the Best of Jamaica please subscribe below.  Thanks, see you again soon.
---