Things To Do Jamaica2 

Explore Jamaica
Things to do Jamaica2 - If you can't find things to do or entertain yourself, your group or family on your Jamaica vacation, it must be that you don't know where to start or how to get there. 
Little Ochi Seafood Restaurant on the Beach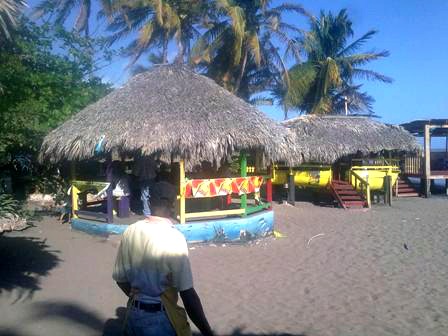 There are many fun filled activities available to fill your vacation days and more. On this page you will find a sample of things to do but if you need more click here for tours
Things to do Jamaica2 - North Coast


Find the best vacation deal rentals in Ocho Rios/Runaway Bay, here
Swim with Dolphins - Need a break from your white sand beach? Take a break and have some fun swimming with the Dolphins at Dolphins Cove Ocho Rios or Negril.
Join the dolphins in the water at a fee but children below 8 yrs old are not allowed. 
Canopy tour and quad biking - www.chukkacaribbean.com If being firmly on the ground is your preference then canopy tours in Montego Bay and Ocho Rios is definitely not for you.
If you are game, swing through the jungle canopy and feel the exhilaration of the wind against your torso above the trees.
Quad biking is fun too, so if you would like a little excitement closer to the ground then quad biking might be for you.
Scotches – Montego Bay - Here you can sample some great Jamaican jerk – pork, chicken fish at very reasonable prices. Relax at their outdoor thatched hut eating areas and sample some great Jamaican foods.
Things to do  Jamaica2


Firefly – St Mary - 'Firefly' was the home of the British writer, Noel Coward, who lived and worked there until his death in 1973. The house is now a museum to the memory of Noel Coward with all his possessions preserved and maintained.
The property was previously known as 'look out' and sits on a cliff with a wonderful view of the Ocean in the distance.
White River Ocho Rios - If you like to relax on a raft and float down a scenic Jamaican river while listing to the birds of the forest, book a tour of the White River Ocho Rios and take a 45 minutes ride on a bamboo raft down river.  River tubing is also part of the White River activities.
Find the best Attractions in Ocho RIos ,and read what other travelers have to say
White Witch Golf Club – Rose Hall - If Golf is your game, this is one of Jamaica's first class golf courses on the grounds of the Rose Hall Great House.
Tour the Rose Hall Great House, hear the stories...stop by the Witch's Bar and participate in a brew! Complete your visit with a game of golf perhaps...
Things to do Jamaica2 - South Coast
Jake's Hotel – Saint Elizabeth - Take off for a quiet romantic weekend at Jake's Hotel on the South Coast.
Enjoy some delicious freshly prepared local dishes and before you leave Jamaica's south coast, take a short boat ride over to the Pelican Bar located in the sea across the way for a cocktail or a cool red stripe beer.
Hotels in Saint James Parish
Little Ochi Seafood Restaurant  Beach View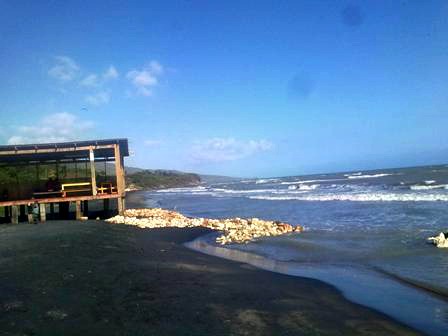 Little Ochie – Saint Elizabeth - While you are on the South Coast, make the most of it and take a trip to Little Ochi restaurant on the sea front at Alligator Pond.
Here you will find some of the best sea foods in Jamaica done to order. You will be able to select what seafood you prefer to eat and say how you would like it done.

Things to do Jamaica2 - Kingston


The Blue Mountains Jamaica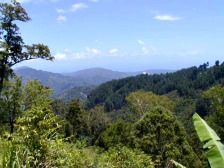 Strawberry Hill – St Andrew - Strawberry Hill is a spa resort up in the Blue Mountains.
You can rent a villa with full board and enjoy the beautiful waters of the Caribbean sea at this secluded area of lush green Jamaica.
Bob Marley Museum Kingston - Visit the Bob Marley's museum and see mementos of his life and love of reggae music. Check out the Bob's Café and try one of Bob's favourite dishes. 
Hotels in Kingston
Jamaica's Blue Mountain at 2256 m (7402 ft) is the highest peak above sea level you will find in Jamaica.
The Blue Mountains are shrouded by mist creating some interesting and rare plant life. Coffee is grown in abundance on the mountain sides and produces the smooth drinking Jamaica famous Blue Mountain Coffee.
If you are fit and the adventurous type, a hike up the Blue Mountains may be your ultimate Jamaica adventure. www.bluemountains-jamaica.net
Comfortable clothing and head wear are essential together with good walking shoes.
Lots of sunscreen, insect repellent, drinking water and a flashlight are basic requirements. Oh, it can get cold up there too, so dress for the weather.
Travelers' Choice Hotels for Families

Things to do Jamaica2 - Port Antonio
River Rafting - Jamaica - Rafting on the Rio Grande Portland, Martha Brae Montego Bay or White River Ocho Rios...whichever one you decide to do...is an absolute post card moment.
Book a tour and enjoy a romantic ride down the Rio Grande or Martha Brae with your nearest and dearest and enjoy the ride and watch the expertise of the rafter as he winds you down river on his bamboo raft.
Somerset Falls Portland Jamaica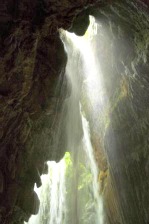 Somerset Falls – Portland - Take some time out to visit and explore Summerset Falls, if you love waterfalls, you will not be disappointed.
Take a swim, chill out and enjoy this refreshing experience. This beautiful waterfall is hidden in the rainforest where the river plunges down a narrow gorge.
After your swim, take a boat ride and visit the caves. Make it a day trip; discover exotic birds and more on these great things to do Jamaica adventure.
Hotels in Portland Parish
Reich Falls Portland Jamaica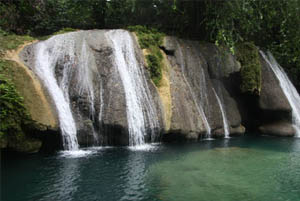 Reich Falls – Portland - Reich Falls is one of Jamaica's most spectacular waterfalls...a very peaceful setting surrounded by rainforests.
The river flows out from the John Crow Mountains with crystal clear waters and the scenery is quite spectacular.
Enjoy the gushing waters of Reich Falls, the deep gorges and different plant vegetation. For waterfalls visits always ensure you have good water shoes for coping with slippery conditions.
Return from Things to do Jamaica2 to Jamaica Attraction
Return from Things to do Jamaica2 to Jamaica Vacations 
---
Favourite fun things to do in Jamaica
Share your favourite fun things to do in Jamaica and tell us the story behind them.
My Jamaica Blog keeps you up to date with news and reviews of the Best of Jamaica please subscribe below.  Thanks, see you again soon.
---