Cheap Jamaica vacations

 packages and last minute deals

Budget Holidays
Cheap Jamaica Vacations deals are the answer for budget travellers.
An all inclusive Jamaica vacation package may work out cheaper, especially for group travel.  With everything included, all you have to do is turn up and enjoy the ride.
If you stay within resort, there is little additional expense. Pack your sun screens insect repellants, light clothing, comfortable sandals and focus on enjoying your Jamaica all inclusive vacation.
Find the best Montego Bay vacation rentals here
Cheap Jamaica Vacations
Customize your all inclusive vacation package by requesting your preferred activities at the outset. Take advantage of the discounts being offered in low season (Apr to Dec) and grab yourself a bargain getaway package.

Booking sites have up-to-date information on best and last minute deals which are mostly sold on line.
Take the time and find out what's available. Deals are for a minimum 3 nights stay.   Packages are very competitive during the off-peak hotel season - mid-April to mid-December.

Get an affordable summer vacation deal...be it an all inclusive resort, a villa rental or a small family-run hotel. Find the one that works for you.
Travelling as a family


For the more mature folks or those travelling with small children and who perhaps do not have the energy or inclination for a trek around the Island, an all inclusive vacation package is the ideal choice. The resorts provide many activities to keep you and your family entertained.  
Jamaica is very kids friendly; family oriented .
Many Resorts have children's entertainment facilities for pre-teen and teens and provide nannies for babies and toddlers.  Read more
Find the best last minute Jamaica hotel deals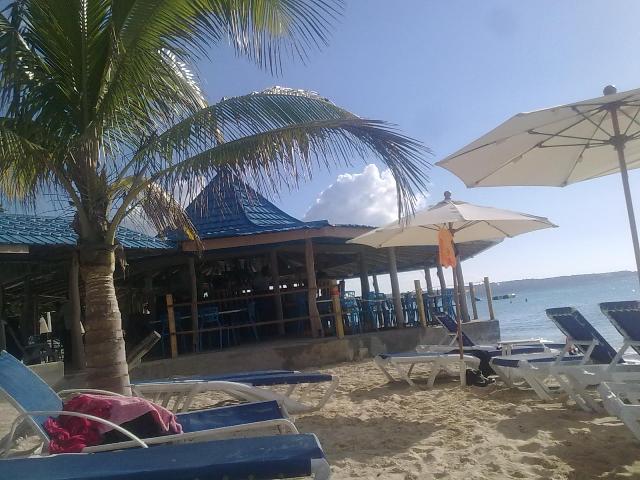 Tree House Hotel Beach Bar Negril

Cheap Jamaica Vacations


Find the best hotel deals in Negril here
Although not all inclusive hotels are at top shelf prices, without shopping around it might seem that a Jamaica vacation is way above most people's budget and affordability.  Nothing could be further from the  truth. 
Jamaica vacation accommodations are many....whether it's all inclusive, small hotels, villa rentals, holiday homes or apartments... there is a place for everyone at competitive rates.

Excellent on-line deals are available particularly during the off-peak season – mid April to mid December.

On line deals
Many are sold on line only – cheap deals become available at short notices and are mostly sold on line. You need to be flexible to take advantage of these deals - be prepared to fly anytime and not be averse to a number of stops before reaching your destination. Cheap flights to Jamaica
Find the best last minute Jamaica hotel deals
Cheap vacation deals are available when airlines need to fill seats at last minute or when agents need to sell off tickets for imminent travel dates.
These packages are often available within a few days of travel. You may need to have your bags pack ready to go to when these deals becomes available.
Find the best villa rentals in Jamaica here
These last minute cheap deals are not ideal for all, but if this will work for you, keep updated and take advantage of last minute on line deals. Sign up to the airlines travel club or travel site and they will notify you when last minute deals become available.  
So with shades and camera at hand and skin protection lotions in your luggage, take off on your vacation experience and have a great time.
Return from cheap Jamaica vacations to Jamaica Holidays
My Jamaica Blog keeps you up to date with news and reviews of the Best of Jamaica please subscribe below.  Thanks, see you again soon.
---