Jamaica Travel Information
get the best from your vacation
Jamaica travel information - For the explorer and the more energetic, Jamaica provides unique getaway opportunities. Go rafting on the Rio Grande or the Martha Brae Rivers; check out some guided horse riding and swim-in in Ocho Rios.
Swim in the deep waters of the Blue Lagoon or Frenchman's Cove of Portland or engage in your chosen motorised or non motorised water sports.

Swim with the Dolphins at Negril or Ocho Rios and record your experience. Things to do in Jamaica are numerous and varied, get as much in as you can on your Jamaica travel vacation package.
Go trekking across Jamaica and visit the famous Bob Marley's museum in Kingston or his place of birth and mausoleum at Nine Miles St Ann.
Now that you have worked up a great appetite take a taste of some of the local food such as Jamaica's delicious jerk meats from the numerous food vendors you will come across along the way.
This snack will keep you until you get back to your all inclusive for your gourmet evening dress-up meal – perhaps!
Find the best Jamaica beach hotels deals here
Ocho Rios Jamaica
Jamaica travel information - Ocho Rios - Ocho Rios sits on the northern coast of Jamaica and has many attractions and gems that make it unique.
Ocho Rios has a busy cruise-ship port where the majestic cruise-ships dock regularly, while passenger come on land to visit Dunn's River falls, Dolphin Cove and its other attractions.

Find the best Ocho Rios Attractions here
Jamaica travel information - Ocho Rios is the first town in Jamaica which was specifically developed as a resort to attract visitors to Jamaica.
Today there are several duty-free shops in the centre of the town as well as bars, clubs restaurants and nightlife, mostly catering to the visitor.
Ocho Rios is home to the Sunset Jamaica Grande Hotel all inclusive hotel and Rooms on the Beach Ocho Rios. You will also find Villa Rentals in and around Ocho Rios.

Ocho Rios is home of IRE FM local reggae music radio station which is also live on the web.
Jamaica travel information - Ocho Rios's most famous land mark and tourist attraction is Dunn's River Falls, a 600ft water fall that runs down from the cliffs of Ocho Rios and empties into the Caribbean sea.
Find the best Ocho Rios Hotel deals here
Countless visitors and locals alike walk the Dunn's River falls daily. It's an exhilarating experience, one not to miss.
Jamaica's newly completed north coast highway connects road users between Negril and Ocho Rios. and has greatly reduced the travel time between Montego Bay Airport and the main tourist destinations.
Jamaica Travel Information - Portland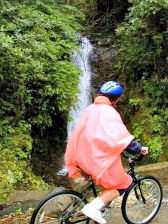 Biking in the Blue Mountains
Portland - Unlike Ocho Rios, Port Antonio, the capital of Portland Jamaica is quiet and resplendent with its green lush environment and some very beautiful sites such as Frenchman's Cove, The Blue Lagoon and Navy Island.
San San Beach is a couple of miles from Frenchman's Cove and is another beautiful Jamaica beach.

Travel a little further easterly and you will come to the town of Boston, the home of Jamaica's jerk pork, chicken fish etc.

Taste some of this delicious local cuisine.
Find the best luxury Jamaica hotel deals here
Jamaica travel information - Much investment has been injected into Portland since 2001 where important sites such as the Portland Hotel, the Court House and the Harbour have been redeveloped/restored.
Marlin fishing takes place in Portland annually and at this time yacht owners fish and celebrate their catch.
| | |
| --- | --- |
| | Trident Castle Hotel - If you are looking for a once in a lifetime place to indulge in opulence and appreciate period British architecture and Italian artistry at their best, the Trident Castle in Portland is the perfect once in a lifetime luxury villa rental. |
It's an 8 bedroom privately owned Castle resplendent on the beautiful Caribbean waters with scenic surroundings and is often frequented by stars of screen and the music industry.

 Portland Hotels - Portland is also home to some beautiful hotel resorts including Geejam, Jamaica Palace Hotel, and Frenchman's Beach Hotel to name a few.
Villa rentals and other smaller vacation accommodation are many in Portland Jamaica.
Find the best Port Antonio Attractions here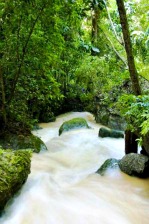 Somerset Falls Portland Jamaica
Portland activities - There is much to do in this laid back parish of north eastern Jamaica.
Swim in the beautiful clear waters of Frenchman's Cove, visit the beautiful water falls - Reach Falls, Summerset Falls - or take a historical tour of the parish to include the Blue Lagoon, Blue Mountains, Bath Fountains, and rafting on the Rio Grande among others.
Find the best Port Antonio Attractions here
Jamaica Travel Information - Kingston
The National Gallery Kingson
 Kingston Jamaica's capital city, buzzes with activities daily and is a side of Jamaica that is not to be missed.  Many do, due to negative press  which causes many visitors  to miss out on the Kingston experience.
Kingston is Jamaica's capital city where people live work and raise families and do fun things. It is home for approximately one-third of Jamaica's population. Visit Kingston on your next trip and share your experience.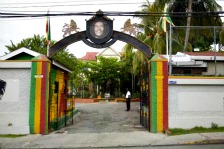 Entrance to Bob Marley Museum Kingston
Kingston Jamaica is the seat of government, corporate business, hotels, villas, apartments, restaurants, theatres, shopping malls, galleries, museums, hospitals etc, ready to accommodate and entertain the visitor.
As in any city, life is Kingston is fast and furious. Apply your street smarts and enjoy Kingston Jamaica.
Find the best Kingston vacation rentals here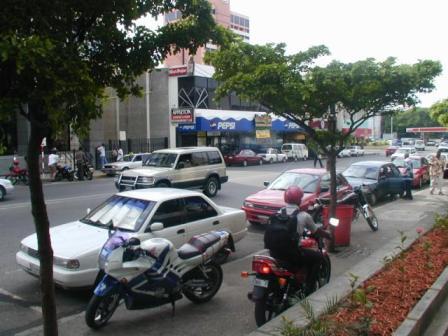 New Kingston Jamaica
If you like city life, Kingston is a great vacation destination. There are no all inclusive hotels in Kingston but some excellent hotels are in and around New Kingston where  amenities are within walking distance or a short cab ride.
Villas and apartments are also available in Kingston for visitor accommodation. Take a cab to Jamaica's National Gallery, the Bob Marley Museum or Devon House to name a few attractions.
Spend a few days in Kingston Jamaica to see and experience the capital first hand.
Jamaica Travel Information - Montego Bay  St James
Montego Bay's busy picturesque town contains many of Jamaica's historic treasures and buildings, some of which are now heritage sites. 
St James Parish Church Montego Bay Jamaica was build circa 1775-1782. It was constructed of white limestone and has a bell-tower at the west end.
The Church also has round-headed sash windows complimented by a large palladium window behind the Alter.
Find the best Montego Bay Attractions here
 Montego Bay Civic Centre - This is the site of the original Montego Bay Court House built in 1772 .  

Here one of Jamaica's National Heroes, Samuel Sharpe, leader of the Jamaica slave rebellion of 1831 was tried and subsequently hanged with many of his supporters.
Today, the building is the  Montego Bay Civic Centre. Not unlike Abraham Lincoln's emancipation declaration, Sam Sharpe's act did not result in the freedom of all slaves, but it accelerated the abolition of slavery in Jamaica which came about within three years of the rebellion.
A statue of Samuel Sharpe adorns the Square named after him and the Burchell Church in the square houses  his remains. 
Greenwood Great House -The Barretts of Wimpole Street London England built and lived at this property  back in the 1790s.
Greenwood Great House in St James is a fine example of eighteen century construction. Richard Barrett a relative of Elizabeth Barrett Browning the English Poet,  was a leading sugar cane planter in Jamaica at that time and became very wealthy from his sugar plantations.
The Great House is now a museum and contains the original library of the Barrett family.
Find the best Restaurants in Montego Bay here
Rose Hall Great House - Rose Hall Great House stands majestic on the hills of the former Rose Hall Sugar Estates, overlooking the Caribbean Sea.
Approx. 10km from central  Montego Bay, Rose Hall Great House was built mid 19th century of Georgian architecture. Restored to its former glory, visitors are invited to take a guided tour of the property.
Rose Hall Great House
Hear the stories of the original owner, Annie Palmer, dubbed "the White witch of Rose Hall" and the cruelty she meted out to her slaves and apparently each of her 3 husbands!

Ghost stories abound – stop by the Witch's Bar or for a brew or browse the several gift shows and snack counters on the grounds of this immaculate property. The property also boasts one of Jamaica's finest golf courses.
Jamaica Travel Information - dinner attire
Dress for dinner - At some Jamaica Resorts, restaurant dining requires semi-formal dress – a jacket may not be a requirement but long sleeved shirt,long pants and closed shoes for men is the standard. Ladies are also expected to be elegantly casual.
So, remember to pack some smart attire for such occasions. Most sit-down restaurants at the all inclusive Jamaica resorts operate a booking system for dinner, so  bear this in mind prior to dressing for dinner. 
Currency to use Jamaica
Currency - At most shops and hotel resorts in the tourist areas, you will be billed in US$ but J$ are acceptable everywhere. If you use US$ cash, ensure you have smaller bills; no one on yout Jamaica travel gives change in US$.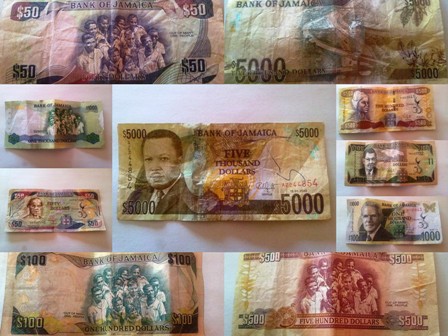 Jamaica Notes
If you opt to use J$, local banks give a better exchange rate than airports or hotels. On the road the J$ currency will give you better value for your purchases.
J$ paper money comes in J$100, J$500, J$1000 and J$5000 bills.  Coins mostly in use are J$20, J$10 J$5 and $1.
Jamaica South Coast
Jamaica travel information - South Coast Jamaica - The quiet rustic beaches of Treasure Beach and their surrounds are a pleasure for the more laid back visitor at any time of year.
Walk the beach or around the village and meet and mingle with the locals and see a little of "real Jamaica" – no hustlers here – just friendly local Jamaicans.
If you prefer some cooler weather on your Jamaica vacation travel to the south coast between December and March is at its coolest.
Travelers' Choice Hotels for Families
Jamaica's south coast has several small hotels and B&Bs to accommodate you, some of which have received great online reviews.
No all inclusive or white sands here, but you will be pleasantly surprised by the quiet laid back, hassle free atmosphere of the communities.
Main Street Black River St Elizabeth
Hotels in Treasure Beach
Jamaica travel information - South Coast Tours - Spend a few days in on Jamaica's south coast and take advantage of the Black River Safari tour and meet the Jamaican crocodiles among other wildlife.

Take the Appleton Estate Tour and see how Jamaica rum is made; look at their collection and learn about the many different Jamaica rums are produced by Appleton Estate.
Sample at your own behest and get to take away from Appleton Estate your souvenir bottle of Jamaica rum.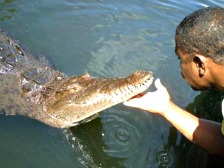 Black River Safari St Elizabeth
Black River - When entering Jamaica's south coast from the west, you enter via Black River the capital of St Elizabeth.
Black River was the first parish in Jamaica to receive electricity at the the property now known as the Waterloo Hotel.
Spend some time at the Waterloo Hotel and enjoy so real Jamaican hospitality. The Black River parish Church was built in 1700 and still stands. The Black River public library was the first library in Jamaica.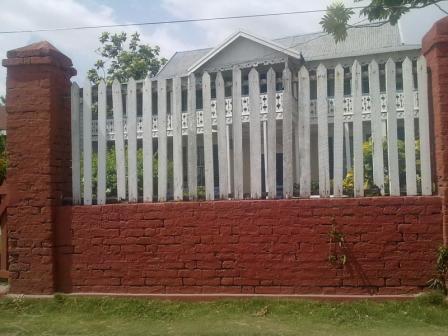 Waterloo Hotel Black River St Elizabeth
Jamaica Travel Information - New Highways
North Coast Highway - The North Coast highway was built to improve the north coast Jamaica travel road from Negril to Port Antonio.
The government's objectives were to facilitate a safer environment for all and to improve access to tourist attractions.
The completed highway is approx 225 kilometres in length from Negril to Port Antonio.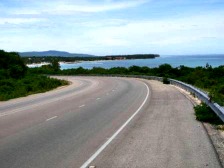 Highway 2000 Jamaica
Old Harbour Bypass - The Old Harbour bypass is the highway 2000 toll road that takes you in and out of Kingston from Ferry to Sandy Bay.
The toll fee is broken down into three types of vehicle classification. Level 1 starts at J$270 one way for cars and all vehicles falling within this category.
Highway 2000 Maypen Clarendon
Use the highway 2000 in and out of Kingston - maximum speed limit on the toll road 110k per hour. An extension of this roadwas opened August 2012 which will further reduce travel time in and out Kingston to the south coast. Additional toll fee is payable here of J$60 one way for cars.
Enjoy the beautiful scenery of the Jamaica travel environment and lush green countryside this toll road takes you through.
Return from Jamaica travel information to Jamaica Travel
Return from Jamaica travel information to Jamaica Vacations 

My Jamaica Blog keeps you up to date with news and reviews of the Best of Jamaica please subscribe below.  Thanks, see you again soon.
---