Lovers Leap Jamaica Visit 

St Elizabeth Jamaica
Lovers Leap Jamaica Visit
At my recent Lovers Leap Jamaica visit I had  lunch at the Restaurant, enjoyed the breathtaking view and listened to the story as to how the spot got its name.  More in the story later.... 
Find the best Attractions in Saint Elizabeth
Lovers Leap Jamaica is a popular attraction in the district of Yardley Chase St Elizabeth.  The site is a bluff on the Santa Cruz Mountains with a 520 metres (1,700) ft drop to the shores of Cutlass Bay. 
It offers a spectacular view of Jamaica's southern coast stretching from Rocky Point, Clarendon in the east to Treasure Beach St Elizabeth in the west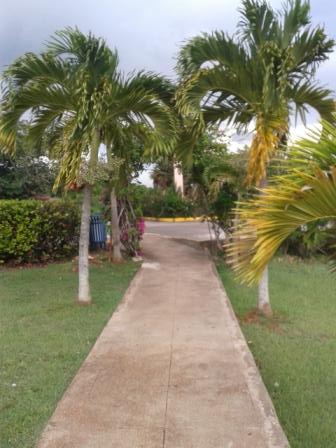 Entrance from Lovers Leap St Elizabeth
Lovers Leap Jamaica Visit
Find the best restaurants in Saint Elizabeth
At the gate I was met by Oniel the  smartly dressed gate keeper/security guard who greeted me with a welcoming smile.  After a brief chat I paid entrance fee  (J$300) – approx. US$3.00 and entered the property.  

Oniel pointed out the car park and introduced me to Yolande, my tour guide.  Lunch is prepared to order here so with limited time I ordered lunch prior to the tour. 

Although I had heard it before, I listened keenly to Yoland'e presentation and took a few notes.  But before I get into the story, here are a few features of Lovers Leap St Elizabeth.

Features of Lovers Leap
Restaurant area  - capacity approx. 150 seated
Menu consist of regular local dishes
The bar serves a selection of drinks
The site is managed and run by  Govt Agency (TPDCo)
 Peaceful kept grounds
Parking space on property
Spectacular views
Property available for rent for special occasion events - (self catering)
Opening hours: Mon to Sat - 9.00am to 5.00pm


Find the best deals in St Elizabeth here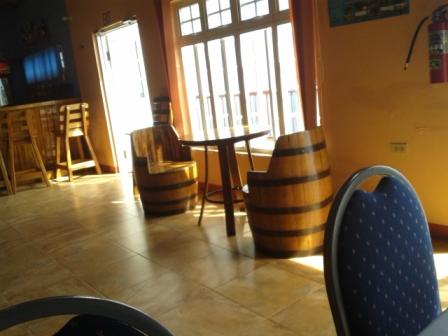 Bar area at Lovers Leap Restaurant
View from Restaurant Balcony
From the restaurant balcony the spectacular view of land and sea takes in the mountains of Alligator Pond in Manchester parish and beyond to Clarendon parish to the left.  To right the view is of the coastline of St Elizabeth, Great Bay and the Treasure Beach area.   
 
A four mile track down to sea level starts at the Lovers Leap Ball Ground.  Trek at your own risk as no guides are provided.   Cutlass Bay at sea level with its sharp rocks guarding the seafront - hence the name Cutlass Bay.


Find out here what cultural Treasure Beach Jamaica has to offer here
Lovers Leap Jamaica Visit

The menu consisted of several local dishes at reasonable prices – my lunch was fried chicken and chips and a bottle of water which set me back J$600 – approx US$5.00.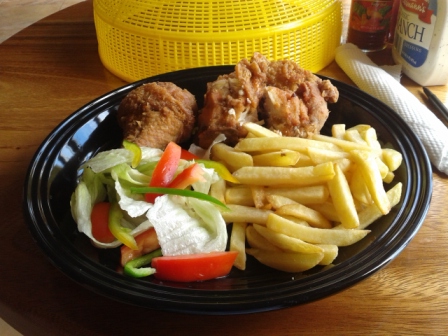 Lunch at Lovers Leap
Where is Lovers Leap St Elizabeth?

Lovers leap is located at Yardley Chase near Southfield, St Elizabeth, Jamaica – approx. 2.5hrs drive from Montego Bay and approx. 2 hours from Negril.   Distance: approx 103km from Montego Bay and 108 from Negril.
The Legend of Lovers' Leap
The Legend of Lovers' Leap surrounds the tragic love story of two enslaved Africans who refused to be separated in life.   According to folklore, Richard Chardley one of the early owners of the Yardley Chase Plantation was in love with his house keeper. 
The young woman however was in love with someone from a neighboring plantation.  In order to have her to himself Chardley plotted to sell her lover.


The enslaved couple fled the plantations only to be chased and rounded up at this site.  In a final embrace the lovers jumped from the cliff to their death.  It is believed that this incident gave rise to the name of the area as Yardley a corruption of Chardley and "Chase" is the planter's pursuit of the couple. 
There are however many versions of the story of Lovers' Leap and Yolande's  version which incorporated all the above was also quite captivating.


Historic Lovers' Leap Area 

In prehistoric times the area was once inhabited by the indigenous Taino people of Jamaica (AD650-1600).  Under the Spanish (1494-1655) it is believed that the site was used as cattle range. 
From the 18th century onwards Yardley Chase was a coffee and cotton plantation which up to 1500 acres (part of which was the current Southfield and Top Hill Districts) with a population of 80 enslaved Africans.
Lovers Leap Lighthouse
Lovers' Leap Visit Jamaica
Lovers Leap is protected area for both its natural and cultural resources.  The site is a part of the Lovers Leap Forest Reserve which is managed by the Forestry Department.  Established in 1950 the reserve is both terrestrial and marine and covers 176 hectares (435 acres)
Lovers Leap was designated a Protected National Heritage Site on May 9 2002.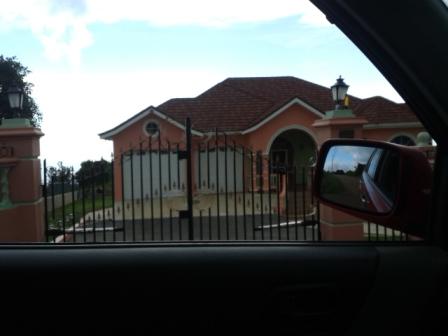 Home in the Yardley Chase Community

Read more on Southfield St Elizabeth
Return from Lovers Leap Jamaica Visit to St Elizabeth Jamaica
My Jamaica Blog keeps you up to date with news and reviews of the Best of Jamaica please subscribe below.  Thanks, see you again soon.
---