Port Royal Jamaica

A Historic Jamaican Site
Port Royal Jamaica - The Present
Part of Port Royal Jamaica today is a museum and the rest is home for regular Jamaicans and is a fishing village. 
It is an important Jamaican historic site visited by locals and tourists far and wide fascinated by the history and  relics of the former Fort.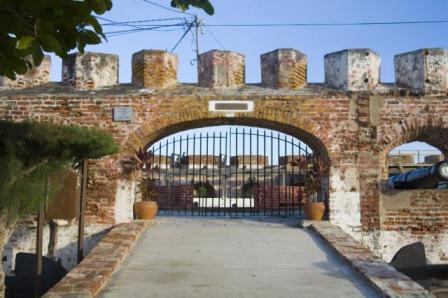 Entrance to Port Royal Museum Kingston Jamaica
Visit Port Royal and take a look at the relics such as
 St Peter's Church originally built pre 1692 destroyed by fire some 25 years later and after much restoration still stands.
Find the best Kingston Restaurants here
 Fort Charles built 1656 – one of six in Port Royal used to guard the entrance of Kingston Harbour and survived the 1992 earthquake.
 Giddy House – was the old Royal Artillery Store...named such because of its tilted standing position (45 degree angle) after the 1907 earthquake .
Find the best Kingston Hotels deal here
 The old Naval Hospital built early 1800s still stands today and is used for a variety of purposes.  Source: Jamaica National Heritage Trust (JNHT). 
To organise a tour of Port Royal:  Tel: (876) 967 8438 or email tours@jnht.com. 
Port Royal Jamaica - Attractions
Anglier's Club
Fort Charles
Fort Rupert Plaque
HMJS Cagway
Lighthouse United
Morgan's Harbour 
Old Gaol
Old Naval Hospital

Port Royal All Age School
Port Royal Basic
Port Royal Heritage Site
St Paul's Methodist
St Peter's Anglican
The Giddy House
The Monument
The Parade Ground
The Royal Engineer's Arch
Find the best Kingston Restaurants here
Socialise in Port Royal 
Gloria's Fish Restaurant - After the historic tour of Port Royal, have lunch at Gloria's, a popular fish restaurant opposite with friendly staff and delicious seafood dishes prepared to order.  
Morgan's Harbour Hotel - If you prefer a little more ambiance, have drinks or dinner by the shore, at the restaurant at the Morgan's Harbour Hotel across the road on the seafront. 
Remember to take your sun screen for the day time and bug sprays for late evening.  
Morgan's Harbour Hotel is the closest hotel to Kingston airport and could be a convenient for stop-over after a late flight into Kingston.  Its about 10 mins drive from the airport.
Find the best Kingston vacation rentals here
Beach, off Port Royal Jamaica
Lime Cay - If you would like a nice white sand beach in Kingston where the habitation is strictly birds and nature's creatures.  Lime Cay is a tiny island just across the water from Morgan's Harbour Hotel. 
Fishing boats are available to take you across at a fee or maybe, like me, you may have a friend with a yacht moored at the Morgan's Harbour Mariner who could take you out in style for the day!
Take a picnic basket to Lime Cay as it's just a lovely beach area…like I said no human habitation.  This is a favourite place where Jamaica's uptowners hang out on weekends. 
It was a great experience for me, give it a whirl and let me know.
 The Past
Port Royal Jamaica is about 10/12 miles outside of Kingston Jamaica and Fort Charles bears the scars and remnants of Port Royal's history.
The original inhabitants of Jamaica (the "Taino" people) used the area  now know as Port Royal as a fishing camp. 
The Spanish came to Jamaica  in 1494  took over and turned it into a port where they moored and serviced their shipping vessels.
The English explorers came later ousted the Spanish and used Port Royal's strategic position to set up a Fort from where they warded off others trying to come in.
Port Royal soon became the headquarters of buccaneers and pirates.  One of the most famous pirate of the era was Captain Henry Morgan who later was Governor of Jamaica until his death.
Earthquake destruction
In 1692 a large earthquake destroyed much of Port Royal, burying a large part of the town at sea together with a large part of the population. 
Although Port Royal was rebuilt soon after the 1692 earthquake, other mishaps...fires and other hurricanes forced the merchants and business owners to abandon the town and moved across to Kingston which became the main town of industry.
Later in the 18th century Port Royal became a British Naval Station headed by another famous buccaneer, Horatio Nelson.  
In 1907 another earthquake further devastated Port Royal and the hurricane of 1951 finished it off and left it to what it is today.
Return from Port Royal Jamaica to Jamaica
Return from Port Royal Jamaica to Jamaica Vacations
---
Have a great story on your best or fun Jamaica hotel?
First time visitors always want to know the best hotels to stay in Jamaica. Special treatment never goes unnoticed, share your best Jamaica hotel experience and let's get some feedback.

My Jamaica Blog keeps you up to date with news and reviews of the Best of Jamaica please subscribe below.  Thanks, see you again soon.
---