Kingston Jamaica1

The Heartbeat of Jamaica
Capital City of Jamaica
Kingston Jamaica1 - The capital city, home of Devon House, Bob Marley's Museum, Theatres, Jamaica's National Gallery, other private Galleries, Hope Gardens and a host of other places of interest.
Kingston is the seat of government and home to almost one-third of the island's total population. For some, Kingston is Jamaica.
The incorporated city of Kingston and St Andrew is divided into two parts – Downtown Kingston (which is the original Kingston parish) and uptown Kingston which is St Andrew Parish, know as uptown Kingston.
The demarcation line of these two parts is Cross Roads - below is seen as down town and above Cross Roads uptown Kingston.
Find the best Kingston Hotels deal here
Kingston Jamaica1 - Devon House
Devon House is one of Kingston's most well known landmarks. For me, a recent visit to Devon House took me away from the hustle and bustle of Kingston's traffic.  
As I turned off the main road into the gates of Devon House, I am welcomed by the greenery of the well kept grounds and park its its gardens.
 I did not take a tour of the House this time but several visitors were there, taking pictures or waiting to sign up for the tour of Devon House.  

You can walk the property, and take pictures on the exterior but you will not be allowed to take pictures inside the House.
Find the best Kingston Hotels deal here

Kingston Jamaica1 - Visiting Devon House
 I parked and took a walk to the actual House to shoot a few pictures.
While doing this I met a few of the gardeners who attend to the upkeep of the grounds and as you can see below, the grounds are immaculate.

Having done my scenery pictures, of course I could not resist a Devon House Ice Cream, so I had my favourite pistachio single cone (just one of at least a dozen flavours or more), which cancelled my lunch at the Grog Shoppe Restaurant.  Maybe next time!  
If you are looking for souvenirs or gifts, check out the gift shops on the property.  

I particularly favour the shop that sells everything lace, e.g., a lace pillow case, a lace table cloth, etc and more....  
If you just need a snack, check out the Devon House Pastry Shop. They have delicious mouth watering difficult to resist cakes and pastries, natural juices etc. Have fun!

Find the best Kingston activities here

Kingston - Jamaica1 
Devon House was declared a national monument by the Jamaica National Heritage Trust (JNHT) in 1990.
JNHT are responsible for the upkeep of Devon House and the property is often used as a venue for arts and crafts fares and other events.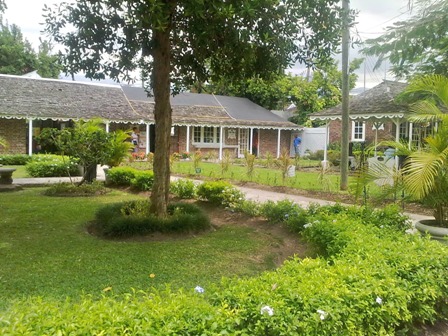 Devon House Gift Shops
Devon House is a famous Jamaica tourist attraction where locals and visitors alike come to enjoy the beautiful green space of the park, to shop, to dine or just to enjoy Jamaica's famous Devon House ice cream.
Hotels in Saint Andrew Parish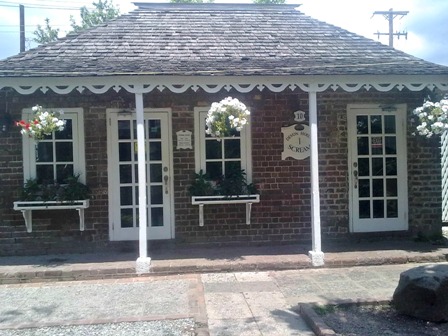 Devon House Ice Cream Shop
Devon House trivia
Devon House was voted the 4th best place in the world to enjoy an ice cream by National Geographic's Food Journeys of a Lifetime publication in 2011.
Kingston Jamaica Airports
Kingston is served by Norman Manley International Airport and for smaller internal flights, Tinsen Pen aerodrome.

Kingston Jamaica1 - Climate
Kingston is surrounded by mountains and as Kingston is in the rain shadow of the Blue Mountains, it does not benefit from the moisture brought by winds off the northeast coast as parishes such as St Mary or Portland.
Find the best Kingston vacation rentals here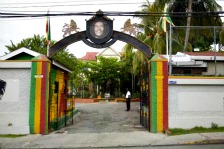 Entrance to Bob Marley's Museum
Kingston is often very dry...in summer temperatures can get pretty high (33-35 degrees cetigrade) so turn up the a/c and relax – after all you are in Jamaica.
Kingston Jamaica1 - Crime in Kingston
There are many opinions on crime in Kingston Jamaica, and it is sad that people seem to believe that they should not visit Kingston because of perceived crime rate.
It is hard to sell Kingston as a tourist destination as even people in some of Jamaica's rural communities who have never set foot in Kingston, have horrow stories about what they believe happen in Kingston.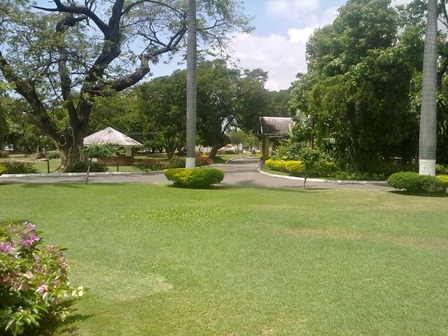 Grounds of Devon House
Kingston Jamaica1 - Living in Kingston
I have lived in Kingston for over ten years now and would invite you to visit Kingston and form your own opinion. Kingston is the centre of Jamaica. Some would say if you have not been to Kingston, you have not been to Jamaica!
So visit Kingston and make up your own mind.
For me, street smarts is the key to having a safe and enjoyable visit to any city.
Kingston hosts most of the best events that happen in Jamaica - shows - plays -reggae shows - football - athletics - you name it.

There is always something to do in Kingston.
Montego Bay has its crime problems too, yet Montego Bay is Jamaica's favourite tourist destination.
The same should be true for Kingston; as a tourist/visitor, where you stay and where you spend your time, you choose carefully and as such, it is unlikely that you will be exposed.
Jamaica's National Gallery
Do not be put off by the hype about Kingston – it always sounds worse second hand – see is for yourself.
My initial visit to Kingston Jamaica was temporary, but I soon returned and now Jamaica is my second home.
Find the best restaurants in Kingston here

Kingston Jamaica1 - Getting Around Kingston


All public passenger vehicles in Jamaica are required to display red plates.
The red plates signifies that the vehicle is insured to carry you, the public passenger.  These vehicles can be cars, vans, mini buses or large coaches.  No red plate...no cover is something happens.
Jamaica Uran Transport Buses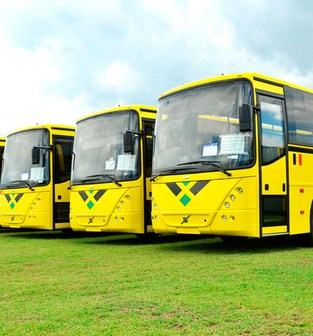 Jamaica Uran Transport Buses
By Bus - In Kingston travelling by bus is cheap and gets you where you want to go – there might be a wait at times but if you can – you will learn much about real life Jamaica and its people.
Rush hour Kingston Jamaica traffic is to be avoided if possible – sleep late and leave out after rush hour - by then everyone should be in work or school.
By Taxi –If waiting for a bus in Kingston and Jamaica's hot sun is too much for you, hail a cab and remember to choose the red PPV plated vehicles (legal taxis).
Most places in central Kingston that you may need travel to or visit (e.g., Bob Marley Museum, Devon House, shopping plazas, restaurants, hotel pool bars, pharmacy, hospital, etc) are within a 5 mile radius.

Kingston Jamaica1
If you need a cab to pick you up at your location, it becomes a hired taxi, so agree the fare before you start your travel. If you go out and hail a cab it is cheaper but then you will have to share with other passengers.
A cab on the road travels a set "route" (between certain points only). If you want to go beyond their set route, you will need another taxi.
Route taxis have set fares for their particular routes, so once you know the fare, it should be the same each journey.
Kingston Jamaica1 - All Jamaica's public passenger vehicles (PPV) must carry red plates and drivers are required to be registered by the Jamaica Transport Authority and are required to have their ID displayed on their person and within the vehicle.
Remember "route taxis" with red plates are Jamaica's official taxis and they have set rates within certain boundaries and are cheaper to use.
When taking a taxi in Kingston Jamaica or indeed any other town or city, ensure you have small bills for taxi fare – change for some reason is always short!  Use J$ for these journeys.

Kingston Jamaica1 - Night life
New Kingston Jamaica is a buzz with life at nights; all the hotels have pool bars, restaurants, disco bars, gyms and other amenities on property. If you are looking for a casino, that's there too.
On the roads in and around Knutsford Boulevard, you will find the night clubs where the young and trendy hang out and have fun.
If you need a quick snack, a smart restaurant, or a place to watch a big game, they are all at your finger tips.
Taxis do not run all night in Kingston Jamaica so you will need to have a ride home or make special arrangements when you plan to stay out late.
For the taxis that are willing to run late nights, book one at a rate to be agreed beforehand.  Drink responsibly (if you do) and let the music of Jamaica penetrate your soul.
Kingston's night life is mostly uptown. Like in any other city travel light – leave your valuables behind and have your wits about you as you enjou the night life of Kingston Jamaica. 

Kingston Jamaica1- Uptown Kingston – New Kingston
St Andrew parish is "modern Kingston" and known as 'uptown Kingston' – from Half Way Tree to Papine and its surrounds is St Andrew or uptown Kingston or just simply Kingston.
Your vacation in Kingston Jamaica will afford you great accommodation, restaurants, clubs, bars, gyms, spas, shopping malls etc.
If you love city life, make Kingston your Jamaica vacation destination...meet the people, explore what Kingston has to offer and then make up your own mind. Read more here 
Return from Kingston Jamaica1 to Jamaica
---
Kingston Parish
Do you live in this parish or are from there? Share your knowledge and favourite stories of your Jamaica home parish.
Where is your favourite Jamaica vacation location?
Share your great story with others!
My Jamaica Blog keeps you up to date with news and reviews of the Best of Jamaica please subscribe below.  Thanks, see you again soon.
---