Southfield to Black River

St Elizabeth
Southfield to Black River St Elizabeth - Drive downhill from Southfield to Cross Roads; turn left at the shell gas station into Pedro Plains  Saint Elizabeth .  
Continue on the plains through to the Treasure Beach coves of Great Bay Calabash Bay Frenchman's Bay Bill's Bay on the narrow winding roads to Fort Charles District and beyond.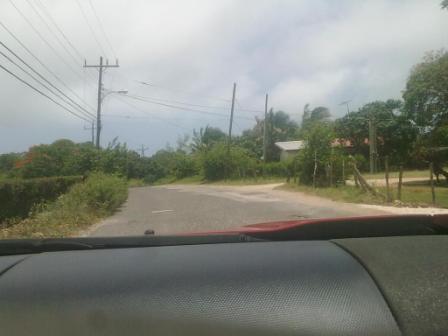 Driving downhill from Southfield
Pick up the main road near Parrottee (a seaside village) through Black River westwards.  I was amazed by the number of properties on the Treasure Beach stretch offering vacation accommodation, places to eat and interesting sea view stops.   

Southfield to Black River St Elizabeth
On the Pedro Plains the temperature edged up a few notches....Houses and Cottages are beautified by pretty trees and shrubs of a mix of orange, pink, white and yellow blooms.  
Animals grazed in the fields along the route while in the distance Great Pond is transformed into dried clay – water totally absorbed by the Jamaica summer heat. 
Properties on Route
Treasure Beach Shopping Plaza – several shops here including: 
Southfield to Black River St Elizabeth
Turn right after the shopping plaza – straight ahead for Taino Cove Hotel - with the entrance to Great Bay Beach is on the left.   On the straight into the Treasure Beach more properties:
Mountain View Cottage
Bar on the Corner
Sunset Resort Hotel
Jack Sprat Rest n Bar 
Waikiki Guest House Rest n Bar

Craft Shops
South Jamming Sports Bar
BBs Place - rooms for rent
Frenchman's Reef Restaurant
Golden Sands Beach Resort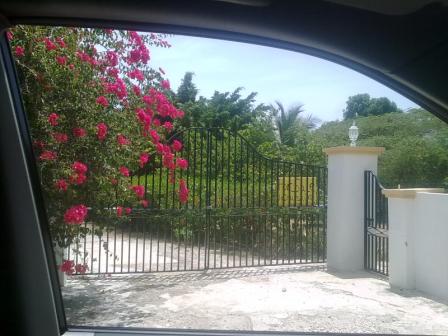 On the Road to Billy's Bay
The Tree Stop – (a tree in the road on right)
Beyond the tree the following properties: 
Fair Hill Villas 
Silver Dawn Villa 
Shakespeare Cottage 
Treasure Beach Hotel 
Yabba Restaurant
Southfield to Black River St Elizabeth
After the Yabba Restaurant a sign points to the South View Hotel the pot holes became wider causing my already crawling speed to reduce further.  The upside was, I had a chance to enjoy the remoteness of the area.  More properties:
Rooms for rent at – Ashante 
Villa Estra Guest House – classic thatched bar on left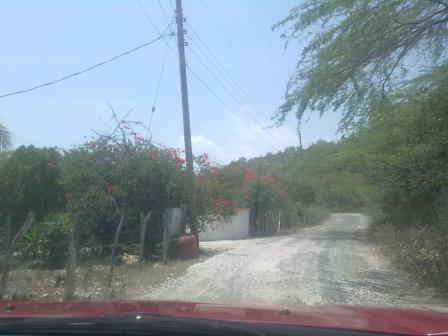 On the Road Billy's Bay Area
Now into the The Billy's Bay area - extremely dry with a forest of logwood trees  to the right contrasted by the amazing view of the Caribbean Sea on my left.    More properties:
La Casa Duna Resort on seafront
Terrazzo Guest House
Minerva Guest House on sea front
Coal Hotel and Restaurant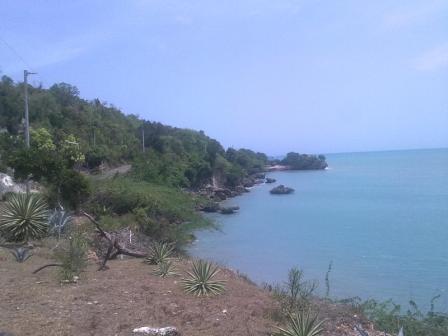 Cliff View at Fort Charles area
On a cliff overlooking the seafront at Fort Charles I met a visiting family enjoying the ocean view below and stopped and chatted with them for a while - guests at Pon the Rock Guest House directly across the road. 
Southfield to Black River St Elizabeth
Back On the main to Black River
After Fort Charles the road became more inland leading back to the main.  At a fork in the road, go left for Parrottee (seaside village near Black River) and right for the Old Iron Bridge – entrance to  Black River Town.  
On the road into Black River more properties: 
South Shore Guest House
Cloggy's on the Beach – Seafood Beach Bar
Spring Garden Hotel and Spa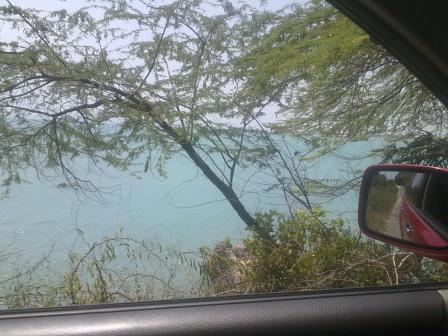 South Coast St Elizabeth
Across the old Iron Bridge is main street Black River where the seashore is up and personal to the road  separated only by the sea wall on main street Black River.  
Accommodations of the Black River sea front: 
Waterloo Guest House
Invercauld Hotel
Black River Hospital
Black River High School
Waterloo Guest House Black River St Elizabeth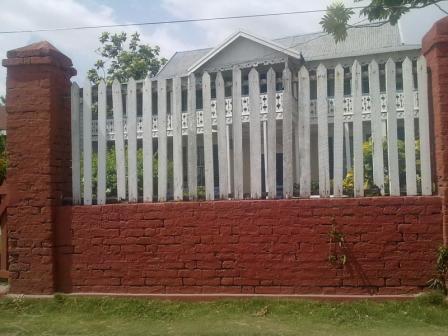 Waterloo Guest House Black River St Elizabeth
Heading out of Black River 
My rear view mirror reflected Black River High School as I headed out of town, next stop "Border District" – literally on the border of St Elizabeth and Westmoreland parishes - a well known food stop for fried Fish and Bammy (cassava bread).   
This off-the-beaten-track drive on narrow this  potholed road through these Treasure Beach coastal communities was a great experience with pleasant surprises.  
Ideal for a quiet no fuss, no hassle Jamaica visitor experience.
more on Southfield St Elizabeth
Return from Southfield to Black River to St Elizabeth
Return from Southfield to Black River to Jamaica Vacations
My Jamaica Blog keeps you up to date with news and reviews of the Best of Jamaica please subscribe below.  Thanks, see you again soon.
---