Where to Stay Jamaica

Not Sure Where To Stay?
Where to stay Jamaica depends what you are looking for…if you want all inclusive hotels with white sand beaches to play…much partying and water sports and more… then the north coast of Jamaica may be the place for you.
The main tourist resorts are Negril, Montego Bay and Ocho Rios…including Runaway Bay and Boscobel.
Find the best Ocho Rios Hotels deal, compare prices, and read what other travelers have to say at TripAdvisor
Where to Stay  Jamaica -  North Coast
Montego Bay has the largest volume of all inclusive built on white sand beaches complimented by some of the most beautiful waters in the Caribbean, with a high volume of tourists.
Ocho Rios is a high volume tourist town with its fair share of white sand beaches and all inclusive resorts. Other smaller accommodations such as villa rentals, holiday houses and apartments are available in Ocho Rios.
Hotels in Ocho Rios
Negril is more western Jamaica with its larger all inclusive and the famous 7 mile beach.
West end Negril is much more laid back with several family run small Negril hotels, beach villas, restaurants and other very attractive vacation properties…some built on the cliffs overlooking the Caribbean Sea.
Where to stay Jamaica - North East Coast
Port Antonio on the north east side of Jamaica is low key but has beautiful beaches such as Frenchman Cove, San San Bay, with luxury hotels such as Geejam, Jamaica Palace Hotel and Hotel Mocking Bird to name a few.
Hotels in Portland Parish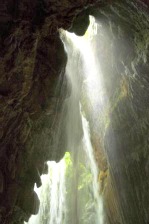 Summerset Falls Portland - JTB
Portland has magnificent waterfalls such as Reich Falls, Summerset Falls…..enjoy activities such as rafting on the Rio Grande….and more…. Visit the lush green parish of Portland and enjoy hidden gems of Jamaica.
Where to stay Jamaica - South West Coast
Find the best St Elizabeth Hotel deals here
If you are not the party animal or high activity driven, Jamaica's south coast…Whitehouse and Treasure Beach...offers off the beaten track experience where you can walk the beaches whenever you choose or to the towns and mingle and meet the locals.
If your preference is all inclusive then Sandals Whitehouse is a favourite for visitors who choose south coast Jamaica to rest and relax.
Treasure Beach consists of several Coves where you can swim snorkel, body surf, picnic, walk or just simply spend time by the sea watching the Caribbean waters. I find sitting by the sea very therapeutic and relaxing…all my troubles seem to float away with the waves.
Share your Jamaica beaches experiences.
Return from Where to stay Jamaica to Jamaica Holidays
Return from Where to stay Jamaica to Jamaica Vacations 

Where is your favourite Jamaica vacation location?
Share your great story with others!
My Jamaica Blog keeps you up to date with news and reviews of the Best of Jamaica please subscribe below.  Thanks, see you again soon.
---