Kingston Jamaica-2

Capital City 



Kingston Jamaica-2 
Devon House entrance Kingston Jamaica
Find here what city Kingston Jamaica has to offer here
Kingston Jamaica-2 - There are numerous places to eat out in Kingston from fast foods to fine dining.
Whatever your taste in food you will find it in Kingston. If you are not sure where to start, just ask at your hotel. At Devon House you will find places to  have a snack, lunch or a formal dinner event. 

Find the best Kingston Hotel deals here

Kingston Jamaica-2
Visit Devon House Park, Take a stroll in the park or a tour of this historical building.   Try some Devon House Ice Cream, and if you still need a snack, visit the Devon House Bakery where you can sample some of their delicious pastries, cakes and savouries freshly made right there on the property.
Shop in the plazas of New Kingston, Half Way Tree Square, Manor Park or Liguanea to name a few.  If you are looking for a variety of tastes, you will find it in Kingston.  
Kingston's restaurants offer a wide range of cooking styles including Italian, Chinese, Jamaican, Thai, Indian and more... all within easy access of your Kingston Hotel.
Find the best Kingston vacation rentals here
The Kingston Jamaica hotels are mainly business types...they offer restaurants of different cuisines within their complexes and you don't have to be a guest to eat there.
They also have pool bars for hanging out just for a drink, lunch or meeting up in the evenings.
Kingston Jamaica-2 - nearby beaches
Kingston parish has no beach of its own - the nearest beaches to Kingston Jamaica are Hellshire Beach or Port Henderson in the Portmore area of St Catherine.
Visit Hellshire which is  the most popular for Kingston beach goers where you can tuck into some delicious freshly prepared seafood done to order.
Alternatively you can visit Port Royal and take a boat or a yacht over to Lime Cay.

This is tiny uninhabited island, off Port Royal with beautiful white sand beach for a day out and have a picnic on the beach.
Hotels in Kingston
 Kingston Jamaica-2 
Kingston Jamaica-2 - Emancipation Park Kingston - If you walk for exercise, and are staying in New Kingston, walk across to Emancipation Park in the late evening and do a few laps and burn some calories.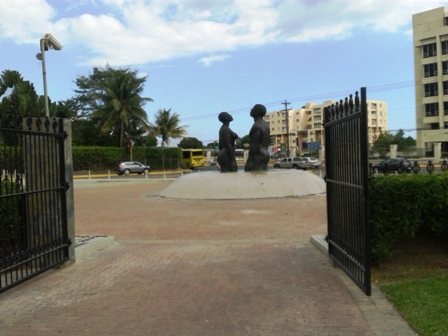 Freedom Statue at Emancipation Park Kingston
It's a beautiful well kept park and if you look closely you will spot Jamaica's National Tree, the Blue Mahoe; the Lignum Vitae the National Flower among the many named trees of the park.   Meet some Kingstonians and learn more about Kingston first hand.


Kingston Jamaica-2 
Find the best Jamaica hotel deals here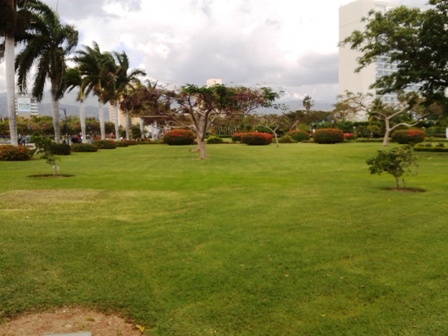 Emancipation Park Kingston
I have done many laps here in the evenings after work and at weekends.
It's a very well kept park and the security personnel and others do an excellent job in the upkeep of the park and the comfort of its visitors. 
The Stage at Emancipation Park
At Hope Gardens  on Hope Road , less than 2 miles out of New Kingston is a botanical garden and if you feel close to nature, you will want to visit here for the flora and fauna.  
You may even be lucky to see the peacocks to spread their wings and reveal their beautiful feathers.

Kingston Jamaica - Downtown Kingston – (old Kingston)
Sir William Grant Park is in the centre of down town Kingston.
Heroes Park is at Heroes Circle where Jamaica's past Prime Ministers and national heroes are laid to rest and memorialised.  Heroes Park is within one mile of the Jamaica Supreme Court also in Down town Kingston.
Find the best Kingston activities here
Kingston Jamaica - Downtown  City Kingston
Kingston Jamaica-2 - Before the incorporation of Kingston and St Andrew, what we now call "down town Kingston" was Kingston Jamaica parish and capital all in one where British architecture dominated and Jamaica's 'who's who lived and had their businesses.  
Though the old architecture is still very much evident; most of these buildings are now offices.

The prominent ones being the Supreme Court of Jamaica, Bank of Jamaica, Jamaica's National Gallery, Scotia Bank Jamaica headquarters, and other head offices of major entities and corporations. 
Parts of down town Kingston today is still home for many inner city people.   The area is dominated by factories, financial institutions, manufacturers, Oil refineries, and Jamaica's Port Authority to name a few.
Kingston Harbour is the seventh largest natural harbour in the world and Jamaica's New Year's eve celebrations are held there on the waterfront annually.
Explore Kingston Jamaica
Kingston Jamaica-2 - Exploring Kingston is great fun in comfortable shoes! You can walk the streets during the daytime and discover some of the gems of Kingston Jamaica. If you get tired of walking grab a red plated taxi or a bus or hire a vehicle and drive, if you prefer.
National Gallery Kingston Jamaica
When in Kingston, visit the National Gallery own town Kingston; walk by the water front of Kingston Harbour...the seventh natural harbour of the world.
Before you leave, stop by at the Kingston Parish Church, the Ward Theatre or Coke Methodist Coke and appreciate a few of Jamaica's national heritages.
Don't be put off by the hype, plan your visit to Kingston Jamaica and enjoy some of the best that Jamaica has to offer. If you have any concerns or questions, please send me a comment by completing the box below and I will respond.
Be street smart and enjoy your visit to Kingston, the heart of Jamaica.
Return from Kingston Jamaica-2 to  Jamaica
See more Jamaica pictures Kingston
---
Kingston Parish
Do you live in this parish or are from there? Share your knowledge and favourite stories of your Jamaica home parish.
My Jamaica Blog keeps you up to date with news and reviews of the Best of Jamaica please subscribe below.  Thanks, see you again soon.
---