Saint Andrew Jamaica

Capital City and Corporate Jamaica
Saint Andrew Jamaica - St Andrew parish Jamaica is 432.9 sq km. Kingston is 22.66 sq km.  These two parishes were amalgamated in 1923 to form the Kingston and St Andrew Corporation and the joint population as at end of year 2012 was 666,041.  Source STATIN Jamaica
Find the best Kingston Hotel deals here
Kingston and St Andrew is Jamaica's vibrant capital city where approx 25% of the island's total population live.
Full of activity – Kingston and St Andrew is the largest Caribbean English speaking city, seat of Jamaica's government, corporations, arts, culture, music and more... 
Saint Andrew Jamaica - residential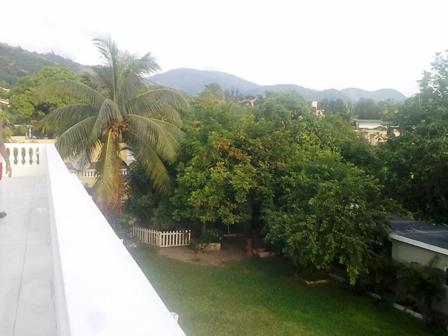 Upper St Andrew Residential Area
Find the best Kingston activities here
Choose Kingston and St Andrew as your vacation destination and experience the heartbeat of Jamaica.  
Amenities are at your finger tips - hotels, villas, holiday apartments, restaurants, social events, stage shows, nightclubs, urban transportation system, shopping, pharmacies, hospitals, tourist board, banks, parks, friendly people and so much more.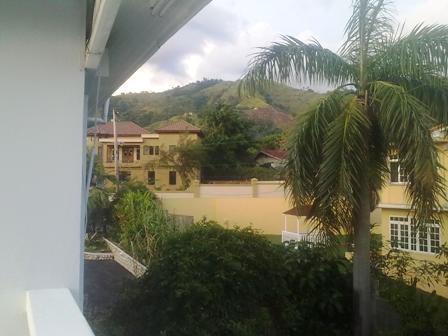 Upper St Andrew Residential Area
Hotels in Saint Andrew Parish

St Andrew Jamaica - Devon House
Devon House Kingston is a beautifully restored 19th century house which was once owned by Jamaica's first black millionaire.
Take a guided tour of this famous house and hear the history of the house and view the 18th century furniture, some of which are pieces from the original family. 
Hotels in Sangster International Airport (MBJ)
Find the best Kingston vacation rentals here
On the grounds of Devon House you will find:
gift shops;
restaurants/cocktail bar
a bakery and pastry shop and, of course
Jamaica's famous "Devon House Ice Cream". 
The Grog Shoppe offers lunch and evening dining.
The Devonshire Restaurant  caters for special functions.  
Food is good and the atmosphere is relaxed.
Saint Andrew Jamaica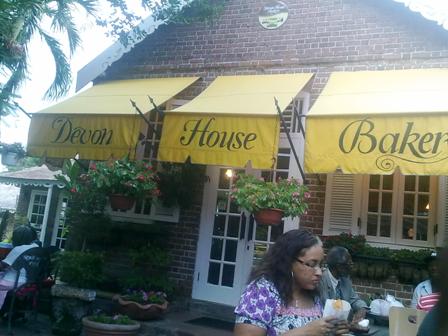 Devon House Bakery Kingston
The Brick Oven has relocated and the Devon House Bakery now occupies the premises and caters for the sweet and savoury tooth.  
The guided tour of the House itself takes you back to its 18th century origins. 
Hotels in Kingston
Saint Andrew Jamaica - Places
Hope Botanical Gardens is located off Hope Road Saint Andrew.    Visit Hope Gardens and experience the different types of flora and fauna...take a picnic basket and enjoy the fresh air of this Saint Andrew Jamaica Garden Park. 
This is a favourite place for students from nearby University of the West Indies (UWI) and University of Technology (UTECH) Kingston to relax and catch up on some studies.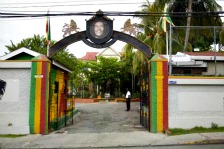 Bob Marley Museum Kingston - courtesy JNHT
Bob Marley's Museum Kingston St Andrew
You will also find the Bob Marley Museum on Hope Road where much activity still takes place.  Stop by,  take a tour of the house and see some of Bob's memorabilia.   Also check out the café on the property and sample some ital food.  
Hope Zoo - Adjacent to Hope Gardens is the Hope Zoo (approx 600 acres) which houses a variety of animals from Jamaica, Africa and elsewhere with their recent addition (last year) of Lucas the Lion.
Look out for the beautiful peacocks and if you are lucky they might just spread their majestic feathers for you to capture the true beauty of their unique colours.
The Zoo has recently been renovated and expanded and a day pass for adult is US$15 and for children US$10.
Saint Andrew Jamaica - Parks
National Heroes Park Saint Andrew Jamaica – This park was originally a horse racing track, then bike racing and later it became the venue of important historical events. 
In 1973 part of the Park was designated as burial site for Jamaica's National Heroes and Prime Ministers.  
Emancipation Park St Andrew - Since its opening in 2002, Emancipation Park has been a great place in central Kingston for a picnic with the kids or just to relax and meet up with friends. 
The jogging track is well utilised by morning and evening joggers. Get your day off to a good start with an early morning jog or walk in Emancipation Park. 
If, like me, you are not an early morning person, jog between 5.00 pm and 7.00 pm.  The park is well lit with 24/7 security and opens to 10.00 pm daily.
St Andrew Jamaica - New Kingston
New Kingston is the centre of corporate Kingston.  Emancipation Park compliments New Kingston and is an ideal place to meet people and even make business contacts.
Several events are hosted at the Park and are usually free to the public.  The National Heritage Trust of Jamaica built and runs the park which is well lit at nights and security is maintained 24/7.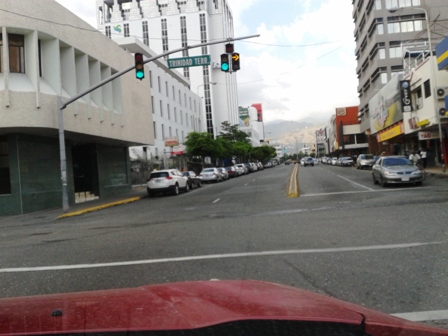 Knutsford Boulevard New Kingston
Add Emancipation Park to your must visit list.  The flora and fauna of the Park is beautiful and well kept and if you are into art, take a look at the magnificent expression of freedom statute that stands guard at the Oxford Road entrance. 
Other displays of artistic talents are visible throughout the Park.  more on Kingston Jamaica 
Saint Andrew Jamaica - Shopping
Half Way Tree Square – where Constant Spring Road meets Half Way Tree Road is St Andrew's central shopping area.  You will find many plazas here such as Mall, Tropical, and several others, where a variety of shops ply their wares from jewellery to everyday items.  
New Kingston and Liguanea are other main shopping plazas for uptown Kingston everyday shoppers with several other plazas throughout the corporate area.  Free parking is available in all plazas where you can leave the vehicle and shop or "eye shop" as we say in Jamaica.  
Find the best Kingston vacation rentals here
 Saint Andrew Jamaica - Keeping fit 
Apart from Emancipation Park, Kingstonians exercise at various spots within their communities.  Places such as Police Officers Club on Hope Road and areas around the Mona Dam are popular for walkers and joggers -early mornings and evenings. 
If you prefer indoor exercise, the larger Kingston hotels  have gym facilities – Gymkhana is on the Hilton Hotel complex and  the Pegasus Hotel a few doors away also has a gym for guests, to name a couple.  
 Saint Andrew Jamaica - Eating out
Find the best Kingston Restaurants here
There is no shortage of nice places to eat out in St Andrew – All Kingston Hotels  have dining facilities, a few offering a variety of choices – local, continental, to a la carte.  No need to be a guest – walk in bookings are welcomed.  
Apart from hotel restaurants, Knutsford Boulevard, New Kingston and its surrounds, there is no shortage of affordable places to eat, whether having or taking out.
My favourite places to eat out in St Andrew include:
Hotel Four Seasons Restaurant – Ruthven Road
Red Bones Blues Café - New Kingston
Whitebones – Manning's Hill Road
Coffee Shop - Manor Park Plaza 
The Terrace Restaurant at Terra Nova Hotel - Waterloo Road


Ackbar on Ruthven Road – Indian/Cantonese - Ruthven Road
Country Kitchen at the Pegasus Hotel – New Kingston
The Grog Shoppe - Devon House 
Jade Garden – Ligannea
Return from Saint Andrew Jamaica to Jamaica Parishes
Return from St Andrew Jamaica to Jamaica Vacations

St Andrew Parish
Do you live in this parish or are from there? Share your knowledge and favourite stories of your Jamaica home parish.
My Jamaica Blog keeps you up to date with news and reviews of the Best of Jamaica please subscribe below.  Thanks, see you again soon.
---